Ten Social Work Seniors Receive Program Distinction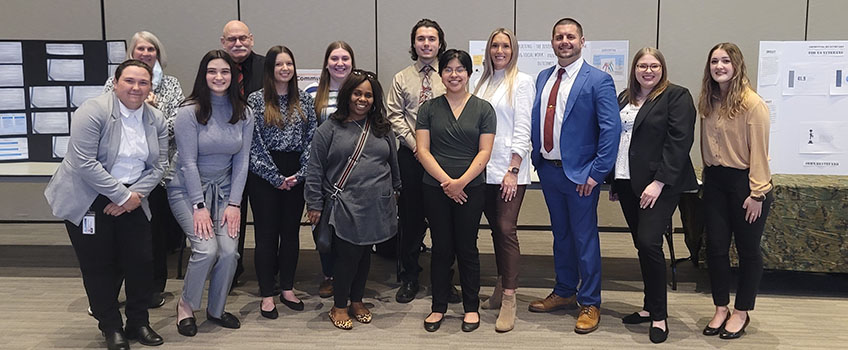 Galloway, N.J. – Ten seniors in the Social Work Program received Program Distinction Honors for presentations and research they prepared.
The students recognized are: Kathryn DeMuro, John DeStefano, Ashley Francesco, Gina Hoffman, Kassidy Lechner, Dana DeMola, Alexandra Mussman, Spencer Salas, Dana Sandoval and Sarah Sharp.
Students gave oral presentations of their work and displayed poster presentations and answered questions from the judges. Assistant Professor of Social Work Ted Alter, Professor of Social Work Lisa Cox and Associate Professor of Social Work Maya Lewis judged the presentations.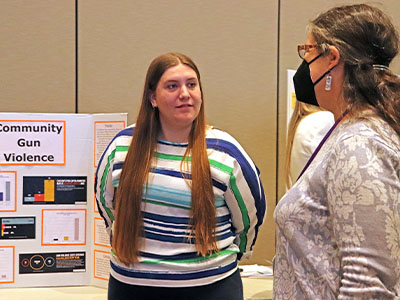 "We were very impressed with their interest and passion," Alter said.
Student topics were:
"Adult Attachment Disorder and Equine Facilitated Psychotherapy" by Kathryn DeMuro;
"Improving Health for U.S. Veterans" by John DeStefano;
"Reconstructing the Juvenile Justice System Using Social Work Values to Improve Outcomes" by Ashley Francesco;
"Stolen from Safety: A Social Worker's Role in Addressing Human Trafficking" by Gina Hoffman;
"The Social Worker's Role in Effectively Responding to Survivors of Domestic Violence" by Kassidy Lechner;
"The Home Health Social Worker's Role in Improving Loneliness/Social Isolation in Older Adults" by Dana DeMola;
"The Social Worker's Role in Promoting Reproductive Healthcare Access" by Alexandra Mussman;
"The Importance of Nutrition in Social Work" by Spencer Salas;
"Minorities in Predominately White Institutions" by Dana Sandoval; and
"Community Gun Violence" by Sarah Sharp.
View a gallery of photos from the event.
Story by Stacey Clapp
Photos by Eliza Hunt and submitted