2nd Issue of Journal of Gaming, Hospitality and Tourism released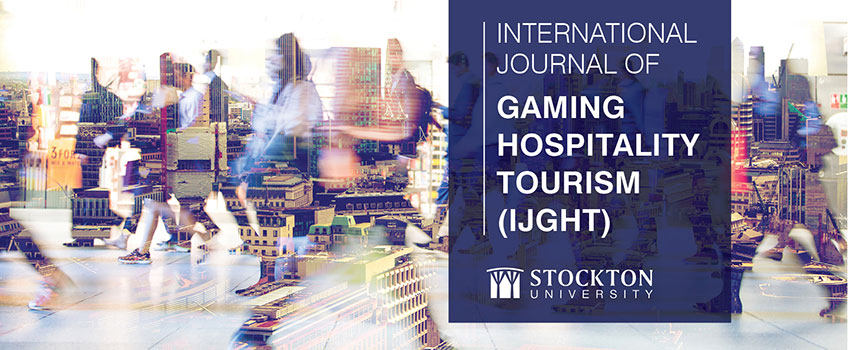 Galloway, N.J. – The second issue of the International Journal of Gaming, Hospitality and Tourism (IJGHT) was released today by the Lloyd D. Levenson Institute of Gaming, Hospitality and Tourism at Stockton University. The peer-reviewed, open access journal was developed to share original research that bridges the gap between industry practitioners and academic researchers and educators.
"We want this journal to provide readers with relevant information that can inform and enhance the gaming, hospitality and tourism industries and those that support them," said LIGHT Faculty Director and IJGHT Founding Editor Jane Bokunewicz. The online journal can be viewed on the LIGHT website at stockton.edu/light.
Articles in the second issue include:
An Economic Sensitivity Analysis of Las Vegas Gaming Revenues

Mark P. Legg, Penn State Berks
Chun-Hung (Hugo) Tang, Purdue University
Haejin Kim, Purdue University
Customer Lifetime Value: A Data Science Approach for Hospitality Applications

Timothy Webb, University of Delaware
Ray Cho, Rutgers University
Mark P. Legg, Penn State Berks
Establishing a Comprehensive Tourism Marketing Strategy for Hunterdon County as a Country Escape Destination

Jennifer Barr, Stockton University
Jim Strong, California State University, Stanislaus
Indicators of Flickr Activity as a Proxy for Hospitality Sales: Social Media VGI in Rural Destination Management

Tracy Michaud, University of Southern Maine
Colleen Metcalf, University of Southern Maine
Todd Gabe, University of Maine
Matthew Bampton, University of Southern Maine
The Perception of Clean: Consumer Trust in Hotels Amidst COVID-19

Suzanne D. Markham Bagnera, Indian River State College
Alec N. Dalton, Hospitality Leadership Academy
Peter Szende, Culinary Institute of America
Mark P. Legg, Penn State Berks
"I hope our readers enjoy the diverse array of articles in this issue. Special thanks to all contributing authors; the editorial board; the section editors, Noel Criscione-Naylor, George De Feis, Jennifer Forney and Theresa Lind; copy editor, Dan Grote; and especially our managing editor Sarah Grady for making this second issue a success," Bokunewicz said.
IJGHT Editors can be reached at IJGHT@Stockton.edu
# # #
Media contacts:
Stacey Clapp
Director of Strategic Communications
Stacey.Clapp@stockton.edu
609-626-3645
609-412-8069
Mark Melhorn
Associate Director of News and Media Relations
Mark.Melhorn@stockton.edu
609-652-4593
609-569-6026
stockton.edu/media
Stockton University