What's Old is New Again in Special Collections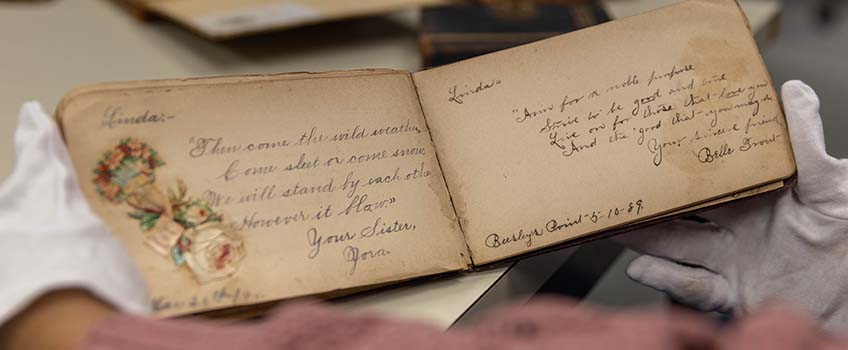 Galloway, N.J. – The Richard E. Bjork Library Special Collections has reached a milestone with its 100th donation of historical materials.
The Paul W. Schopp Collection of South Jersey History, donated by south Jersey historian Paul W. Schopp, is described as a collection of culture, history, people and place.
"We are excited to have reached this milestone of 100 collections donated to Special Collections," said Heather Perez, Special Collections Librarian and University Archivist at Stockton. "Each of the 100 represents some aspect relating to South Jersey history, culture, people, and place."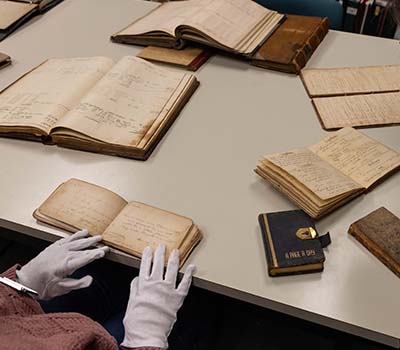 The Special Collections archive is an eclectic mix of documents, photos and items. The library's very first donation was a collection illustrating the life and accomplishments of Elizabeth B. Alton, a founding Stockton Trustee from 1969 to 1980 who was also active for decades in the Miss America Pageant.
Other collections include the papers of local lawyer James Cooper, who represented clients in Mississippi during the Civil Rights era; a collection of Pop Lloyd baseball memorabilia; photos and items from the Chatsworth General Store, built in 1865; and a photo collection of the Evans family farms, which include photos from the early 1900s of dairy, blueberry and cranberry farming.
The 100th donation included 18 books and albums with black and white photos, which were part of Schopp's extensive collection of primary source documents stored in the basement of his home.
Among the donated items were: A handwritten account ledger for construction work on the Atlantic City Rail Line in the 1800s; a handwritten "Page A Day Diary" from 1903; an 1848 'Ledger of Business' from a Woodstown carpenter who recorded charges of 75 cents for a day's work and $1 to build a large fence; a trigonometry book from 1839 and an autograph book from a woman named Linda dated 1903, signed in cursive by her classmates and written using a pen dipped in an inkwell.
Schopp, of Riverside, Burlington County, says his motivation for collecting South Jersey history came from his father and their hikes through the Pine Barrens – as well as reading Henry Beck's series of books on New Jersey towns.
Schopp also has worked as a Cultural Resource Management consultant contracted for road projects and excavations to determine historical records and tangible remains of past human activity. He has studied and collected materials about South Jersey for decades and his areas of focus are transportation, industry and Black communities.
He also serves as assistant director of the South Jersey Culture and History Center at Stockton with Professor Tom Kinsella, director.
The library Special Collections department is open to the public 9 a.m. to 4 p.m. Monday through Friday by appointment. Digital collections are viewable online through the library at stockton.contentdm.oclc.org/digital/
More information about the Special Collections is online at library.stockton.edu/aboutspecialcollections/about.
- Story by Stephanie Loder
- Photos by Susan Allen