Foundation Recognizes Scholarship Donors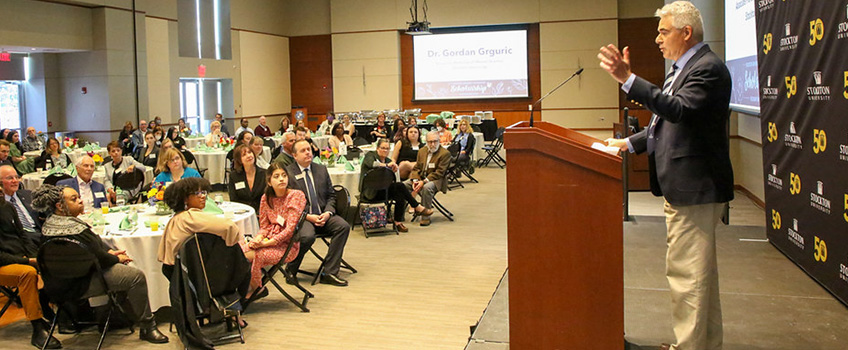 Galloway, N.J. - In 1974 the Stockton Foundation awarded its first scholarships.
"Five students each got $500," said Stockton Chief Development Officer Dan Nugent at the annual Scholarship Recognition Event hosted by the Foundation April 9 in the Campus Center Event Room.
The then fledgling foundation has grown along with Stockton over the last 50 years, and now awards more than $1 million a year to more than 700 students.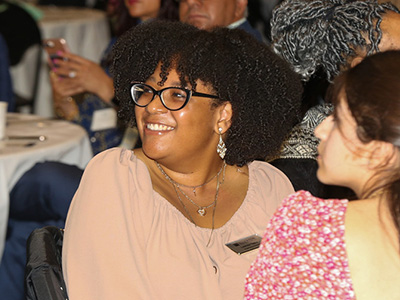 "You hare making the dream of an affordable education a reality," Nugent told donors recognized at the event, which also provides an opportunity for recipients and donors to meet.
Nugent noted that scholarships are endowed for many reasons – to support a cause, honor a loved one, or recognize a mentor.
Associate Professor of Marine Science Gordan Grguric, the guest speaker representing donors, last year endowed a scholarship in memory of his father to support student research in marine science over the summer.
"Now it is my turn to give back," Grguric said, citing examples of others who had helped him along the way.
Loukaia Taylor of Atlantic City, a senior Communications Studies major who graduates in May, and a member of the first cohort of the Engelberg Leadership Scholarship Program, said in a video message that she was worried she might have to leave college because of finances.
She said the scholarship represented someone who recognized the struggles and reached out to help others. The Engelberg program covers all college costs for recipients and provides leadership development opportunities.
"Scholarships enable students to do more than just get a diploma," Taylor said. "I have a community now, and career prospects I've never dreamed of. I thank the Engelbergs for giving me the opportunity to become the Loukaia I've always wanted to become."
Stockton President Harvey Kesselman said every scholarship is an investment in the future of a student, the university and the community.
"We are increasing access to college, and we are able to do that in large part because of you," Kesselman told the donors. "I have seen first-hand the transformative impact of these scholarships."
More information about Stockton Foundation scholarships is on the Stockton Foundation website.
- Story by Diane D'Amico
- Photos by Vern Ogrodnek