Rocket League Team Wins ECAC Tournament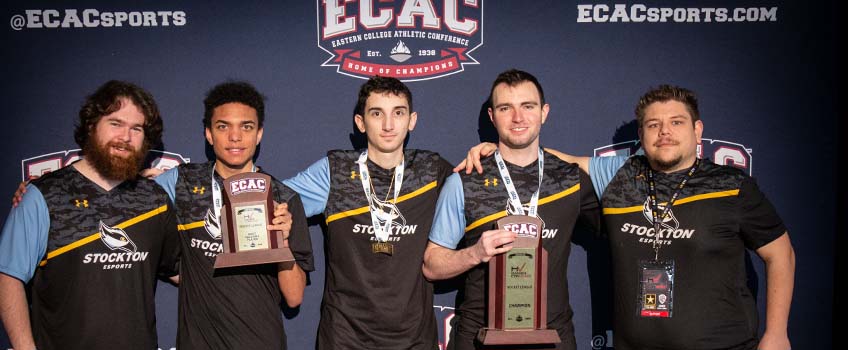 Galloway, N.J. - Stockton's Rocket League team took first place in the national Eastern College Athletic Conference (ECAC) Hudson Valley Gamer Con (HVGC) 2022 on March 19 and 20.
Team captain Brian Busse, a senior Business major from Hazlet, Trey Batson, a freshman Computer Science major from Manahawkin, and John Merendino, a freshman Business major from Hauppauge, N.Y. competed in the live event at the Albany Capital Center in Albany, N.Y., beating University of Kentucky, Boise State, Rensselaer Polytechnic Institute, Florida Atlantic University, and finally Wayne State, to take the win.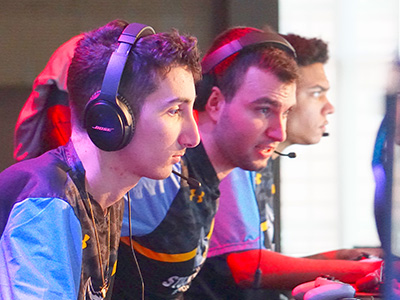 "This was my first in-person LAN tournament since the (COVID-19) virus, so it was a really fun experience getting to play in person again," said Busse, who has been playing Rocket League since 2017. "I love the competitive nature of the game and I love seeing improvement year after year."
Busse transferred to Stockton from Rowan University so he could play in the CRL with Vincent Nelson, a recent Stockton graduate.
The team also recently took second in the East region in the Collegiate Rocket League Spring Playoffs, qualifying them for the CRL World Championships in June.
In Spring 2021, Stockton took first and third place in the ECAC Esports NBA 2K21 PlayStation season. Stockton also won the ECAC Fortnite Championship in 2019 at Gamer Con in Albany.
"Lightning struck again for our players in Albany," said Demetrios Roubos, Stockton Esports Program Manager. "We are so proud of them. This was their first time competing together in a LAN setting and they did not disappoint, exhibiting excellent camaraderie, communication skills, and professionalism throughout the event."
Learn more about Stockton esports at stockton.edu/esports.
# # #
Media contact:
Diane D'Amico
Director of News and Media Relations
Galloway, N.J. 08205
Diane.DAmico@stockton.edu
609-652-4593
609-412-8069
stockton.edu/media