Rocket League Team Takes Second in World Championship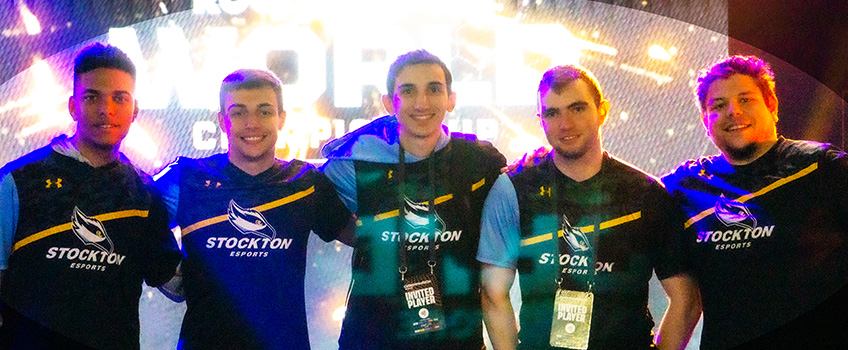 Galloway, N.J. – Stockton University's Rocket League esports team is now second in the world following its impressive showing at the Collegiate Rocket League World Championship Tournament in Dallas, Texas, on June 3-5.
The team of captain Brian Busse of Hazlet, Trey Batson of Manahawkin and John Merendino of Hauppauge, New York, were one of 16 teams that qualified for the international competition. The event, the first collegiate international finals, was part of the DreamHack gaming festival and attracted more than a million viewers in person and online over the weekend.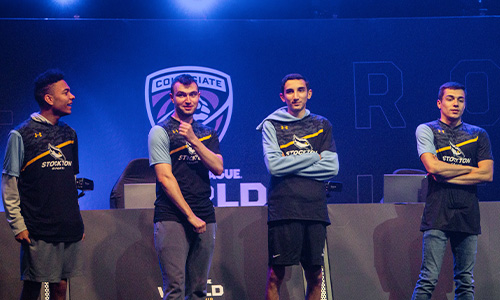 "I'm happy we got second, but then I'm also unhappy we didn't get first," Busse said on Monday as the team prepared for the trip back to New Jersey. "But we did what we came to do."
The team got off to a shaky start on Friday when they were defeated by University of Central Florida in the first round. But they roared back on Saturday, beating Oakland University in Michigan and Berlin Phoenix from Germany. On Sunday, they beat Columbia College in Missouri in the quarterfinals and St. Clair College in Canada in the semifinals, but finally fell to Northwood Blue from Northwood University Michigan in the finals on Sunday, June 5.
"That first round match was close, and it motivated us," Busse said. "We are used to playing at this level. This is what we wanted to do."
Stockton Esports Program Manager Demetrios Roubos said he was a bit nervous on Saturday.
"Coming on in Saturday we were playing from behind since if we lost again we would be eliminated," Roubos said. "But we are known for coming from behind. It was really competitive. This is putting us on the map. I couldn't be more proud of our team. They really brought their A-game this weekend. It was truly a wonderful experience meeting so many CRL players in person and watching them interact, many for the first time."
The team recently won the national Eastern College Athletic Conference Hudson Valley Gamer Con in March and took first place in the 2022 Mid-Atlantic Rocket League online qualifier in April. They got some coaching in Dallas from Stockton alumnus Vincent Nelson, who was part of a winning Rocket League team in 2020 when he played on the team with Busse. Busse transferred to Stockton to play with Nelson.
"It's been nice having Vincent with us to provide continuity on the team," Roubos said.
Batson said it was nice getting to meet new people and "exhilarating" to play in front of such a large audience. For him, a highlight was beating Columbia College, which had beaten Stockton in the nationals.
"We kind of have a rivalry with them," Batson said. "They are the best in the west."
Merendino said he is feeling good about the team's performance and he just enjoyed celebrating when it was over.
"All the stress was off and we did good," he said. He said coming in second is also an incentive to return next year and win.
As second-place finishers, the team will share $11,350 in prize money. Expenses for the trip were covered by the game creators Psyonix, which has supported the collegiate rocket league scene.
Stockton President Harvey Kesselman, who followed the team's progress through the weekend, congratulated them on their perseverance and skills.
"This is simply incredible," Kesselman said. "It is exciting for our students to be on the world stage this way."
# # #
Media contact:
Diane D'Amico
Director of News and Media Relations
Galloway, N.J. 08205
Diane.DAmico@stockton.edu
609-652-4593
609-412-8069
stockton.edu/media