Stockton Rocket League Heads to World Championship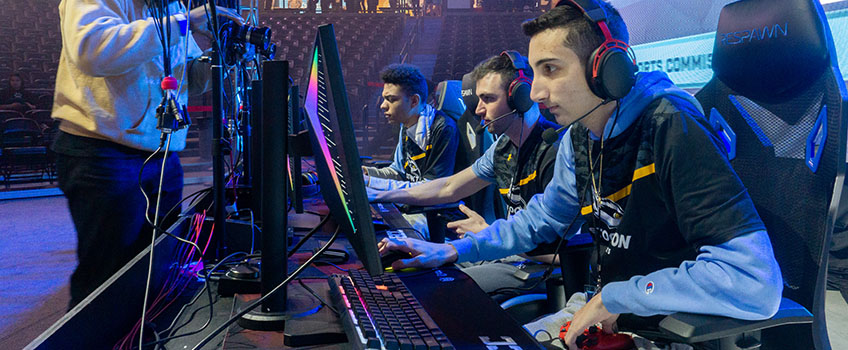 Galloway, NJ - Stockton University's Rocket League team has reached the pinnacle in competitive gaming—qualifying for the first major international competition.
Stockton's team, which includes Brian Busse of Hazlet, Trey Batson of Manahawkin, and John Merendino from Hauppauge, New York, travel to Dallas next week for the Collegiate Rocket League 2022 World Championship June 3-5.
Their second-place finish in the East Region in the Collegiate Rocket League Spring Playoffs in March qualified Stockton to be among 16 teams from North America and Europe competing.
The team is coming off several recent wins, including a third-place finish at the Collegiate Esports Commissioners Cup earlier this month, after taking first in the 2022 Mid-Atlantic Rocket League online qualifier April 17. In March, the team took first place in the national Eastern College Athletic Conference Hudson Valley Gamer Con.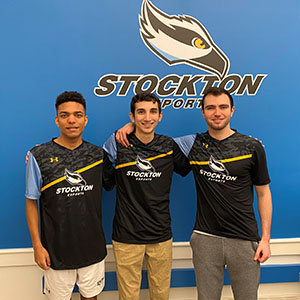 Stockton's team takes on University of Central Florida in the first round at 1 p.m. on June 3. Each day will be streamed live on the official Rocket League Twitch channel.
The tournament is among the first in-person events in the last two years.
"I've been playing collegiate Rocket League for four years. It will be fun to meet all of them and see the players' personalities in real life," said Busse, team captain and Business Studies major.
While the trio is excited to travel to Dallas, in-person competition comes with some drawbacks.
"It's definitely different playing off your own setup," said Merendino, a freshman Business Studies major. "We are seeing these people in person, and it's a war. If we lose, we go home."
Batson, a freshman Computer Science major, said the team has a good balance and a lot of fun playing together, which has contributed to their success.
"Anything can happen, and I will try my best. But I'm looking forward to winning," Batson said.
Rocket League is an arcade-style soccer game played with rocket-powered cars. It was first released in 2015.
Merendino, an avid gamer, has been playing ever since. Batson picked it up a year later. Busse remembers the exact day he first played Rocket League—Jan. 5, 2017. He recalls he was bored and had recently stopped playing soccer. The game was a natural fit and he hasn't looked back.
"A lot of kids don't realize there are so many opportunities in high school and college," Busse said. "I don't think any of us thought we'd be playing video games in college."
Winning tournaments comes with prizes the trio use to help pay their college tuition. The grand prize at the CRL World Championship is $20,000.
A typical Rocket League match draws 10,000-20,000 viewers. Nationals drew 40,000, and they expect the world championship numbers will far exceed that. This attention has placed a spotlight on esports.
All three hope to try going pro and will keep playing as a side gig after they graduate.
"As a business major, my classes have been helpful in learning how to market myself," Busse said.
"This team represents the culmination and successive growth of the Rocket League program at Stockton.
"Year after year, the scene is more and more competitive, and every year, they're ahead of the curve. We couldn't be more of proud of Stockton's Rocket League team," said esports program manager Demetrios Roubos, Stockton's Information Security Officer and adjunct computer science professor.
The Collegiate Rocket League World Championship / Global Finals are part of DreamHack, a large-scale gaming festival that draws more than 15,000 people.
More information on Stockton esports is online at stockton.edu/esports
Story by Stacey Clapp
Photos by Stacey Clapp & submitted