Sen. Polistina Talks Government with Students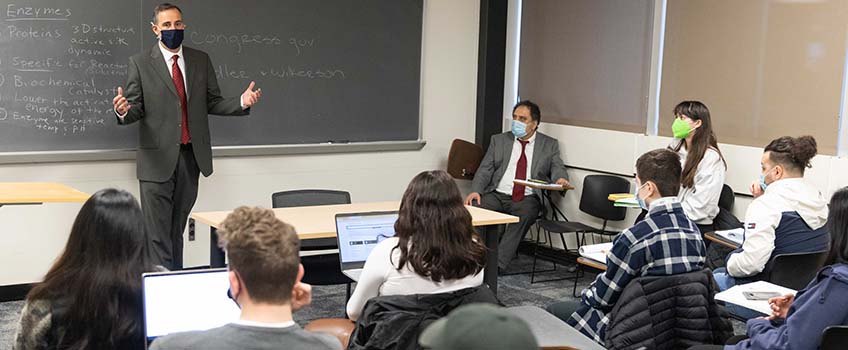 Galloway Township, N.J. – Where do state taxpayer dollars go? How can Atlantic City be safer? What is happening to help New Jersey students with tuition costs?
These were some of the questions state Sen. Vincent J. Polistina fielded March 9 when he visited classrooms and toured the Galloway Township campus of Stockton University as part of the Legislator-in-Residence program.
Sponsored by the William J. Hughes Center for Public Policy at Stockton, the program provides students and faculty with first-hand accounts of the legislative process from New Jersey elected officials. Both Republicans and Democrats are invited for visits.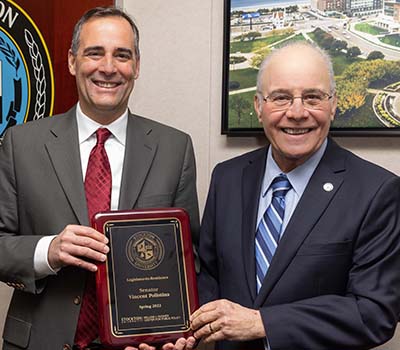 Polistina also met with staff of the Lloyd D. Levenson Institute of Gaming, Hospitality and Tourism and the Coastal Research Center, visited with President Harvey Kesselman, got a tour of the Sara and Sam Schoffer Holocaust Resource Center and interacted with student leaders and students in a State and Local Government class.
"I encourage everyone to get an education and to stay involved. That's what put me in a place to make a clear decision about what I wanted to do," Polistina told students while speaking Wednesday to over 20 students in Professor Lauren Rowlands' Introduction to Public Policy class.
Senior Eric Perger, 23, of Mays Landing, told Polistina he's concerned about large box stores being built in New Jersey that are pushing out family-owned businesses.
"What is being done about the Mega corporations displacing small businesses?" Perger asked Polistina. "You see one of those big chain stores being built on just about every corner in Atlantic County."
Polistina said supporting small business was key to "helping communities thrive". He said he's already working on a plan that would help attract small businesses with retail space that also provides living space upstairs.
"We have to do what we can to support small business," Polistina said. "We're looking at a plan to develop commercial entities with retail downstairs and apartments upstairs. It's something we're looking at closely in Galloway and Egg Harbor townships."
Senior Emily Kramer, 21, of Marlton, questioned Polistina about Atlantic City development.
"What is being done to fund business opportunities in Atlantic City, especially for students who want to stay in Atlantic City," Kramer asked.
Polistina said continued redevelopment in Atlantic City will provide additional jobs and more housing that's affordable for workers who want to live in the resort. It is important to bring people back to live and work in Atlantic City, not just visit, Polistina said.
"At one time, Atlantic City's population surpassed that of Egg Harbor Township and Galloway," Polistina said. "We need to redevelop it and give people housing opportunities. The redevelopment needs to let people do things like walk to work or to shop so they can stay in the city and be part of the future."
Among the bills Polistina has sponsored are S1733 which establishes a pilot program to provide guidance to students applying for federal financial aid. It was introduced in the Senate on Feb. 28 and referred to the Senate Higher Education Committee.
Polistina said it's important to provide opportunities so graduating students stay in the region.
"Our area has started to lose students. They don't stay here after they graduate. I want to figure out how students can live here, graduate here and also, what can we do for those kids who want to stay here after graduation," Polistina said.
Another of Polistina's bills, S1737, would establish a New Jersey Higher Education Funding Formula Commission.
"Tuition assistance is lower here than in other places in the state," he said. "We need to get an equitable funding for South Jersey. There's no reason we should be treated differently than anyone else in the state."
A proposed $48.9 billion state budget unveiled March 8 by Gov. Phil Murphy could hold the key money for rehabilitating one section of Atlantic City located at Pacific Avenue between Albany Avenue and Texas Avenue, Polistina said. The resort beach block area, which includes abandoned lots and buildings in disrepair, could be redeveloped to make the area safer, he said.
"We want to make the area more walkable for everyone, especially students on the Atlantic City campus," Polistina said. "One of our primary issues is dealing with Atlantic City. We want people who are going on the Boardwalk in the area to feel safe. Right now, they don't feel safe or comfortable.
"We have to make the city walkable, add more police patrols, bring in housing. We have to redevelop the city, so people have the confidence that they're going to be safe," he said.
Part of Polistina's commitment to answering his district's constituent questions included opening a new legislative office in Atlantic City.
John Froonjian, Executive Director of the Hughes Center at Stockton, noted the inclusiveness of the newly opened office.
"When they agreed to open the office, they advertised for people who spoke different languages and they took a diverse group to serve a diverse population," Froonjian told the class.
Polistina said employees in his office speak six different languages to better communicate with all constituents.
"Dr. Froonjian is correct. Finding people who could speak different languages was very important to us," Polistina said.
Polistina, a Republican, was sworn-in Nov. 8, 2021 as the new state senator for New Jersey's 2nd Legislative District in Atlantic County, replacing Chris Brown, who resigned. He was elected by voters in 2021 to a new full term that began in January 2022. He previously served from 2008 to 2012 in the New Jersey General Assembly.
A lifelong Atlantic County resident, Polistina grew up in Galloway Township and graduated from Absegami High School in 1989. He is a graduate of Rutgers University where he obtained a Bachelor of Science Degree in Bioenvironmental Engineering. He works as an engineer at Polistina & Associates.
- Story by Stephanie Loder
- Photos by Susan Allen
# # #
Contact:
Diane D'Amico
Director of News and Media Relations
Galloway, N.J. 08205
Diane.D'Amico@stockton.edu
609-652-4593
609-412-8069
stockton.edu/media