Stockton Police Earn Reaccreditation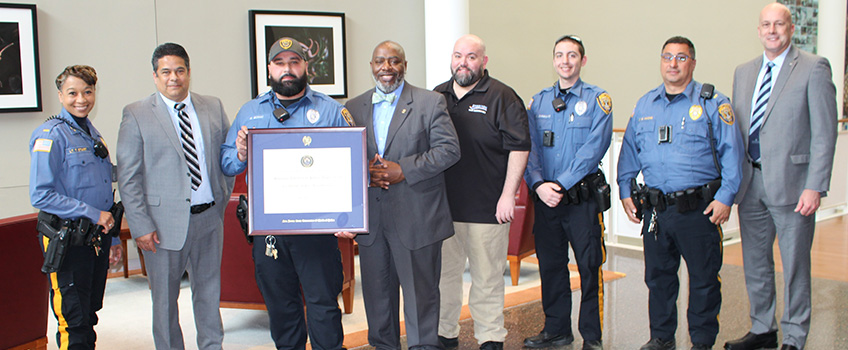 Galloway, N.J. – The New Jersey State Association of Chiefs of Police (NJSACOP) recognized the Stockton University Police Department's reaccreditation at the Board of Trustees meeting May 4.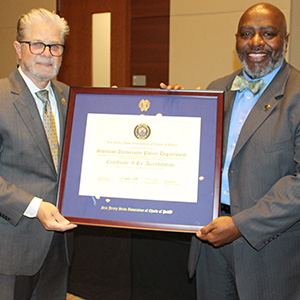 The reaccreditation requires the department to comply with a lengthy list of standards and an onsite evaluation and is reviewed every three years.
"Accreditation ensures that we are complying with standards to provide the highest level of care and protection to the campus community," said Stockton Director of Campus Public Safety Adrian Wiggins, who thanked the entire department for their role in the process.
Harry Delgado, Accreditation Program Director for the New Jersey State Association of Chiefs of Police presented the certificate and noted that this was the sixth time Stockton has earned accreditation, which involves compliance with 112 standards.
"Many agencies struggle to maintain accreditation," Delgado said. "At Stockton, it's part of the culture. They excelled. This is a highly professional and committed agency."
The trustees also approved a new Emergency Operations Plan, which covers the university response to both natural and non-natural crises ranging from weather-related issues to disease outbreaks, hazardous material leaks and criminal or terrorist acts. The university collaborates with local, county, state and federal agencies to establish a coordinated response.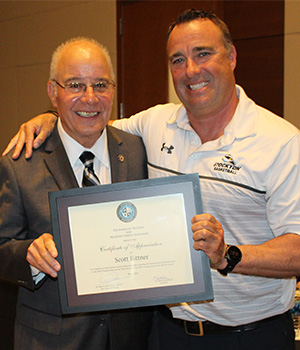 In other business, the trustees also recognized men's basketball coach Scott Bittner, who was named the N.J. Athletic Conference Coach of the Year. This year's team beat Rowan to win the NJAC championship and made it to the sweet 16 of the NCAA Division III playoffs. The team is tied for the second-highest win total (26) in the program's 50 seasons.
"You galvanized the Stockton community," President Harvey Kesselman said. "Big Blue was rocking."
Bittner said he was proud of the team and the campus community that supported them.
"They were an amazingly close team," Bittner said. "You could see how much fun they were all having. But athletics can't be completely successful without a supportive administration, so thank you."
- Story and photos by Diane D'Amico