Book Takes Kids on Tour of Pine Barrens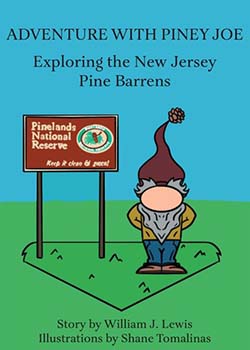 Galloway, N.J. – A new book entitled "Adventure with Piney Joe, Exploring the New Jersey Pine Barrens," by author William J. Lewis of Ocean County, is geared to help children learn about the New Jersey Pinelands and is the first young-adult book published through the South Jersey Culture & History Center at Stockton University.
The books' main character is Piney Joe, described as "the last gnome in the woods."
Piney Joe takes readers on a walk through the New Jersey Pinelands National Reserve, discovering places full of wild and mysterious scenery.
"He's like that fun uncle your mom only lets you hang out with in small doses as he might take you places and let you do things your parents might not approve of," Lewis said in an overview of the book.
The book is on sale through the Amazon, Barnes and Noble and Walmart websites. Lewis will also participate at the 15th Annual 'Lines on the Pines' event at the Stockton University Campus Center from 11 a.m. to 4 p.m. March 13.