Picture Stockton...in the Outdoors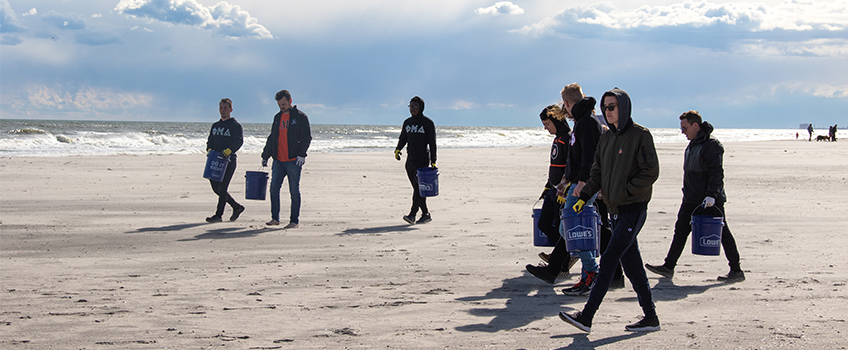 Tucked away in the Jersey Pines, one of Stockton's most beautiful features is its natural backdrop. With nature being such a prominent part of our campus identity, the university prides itself on providing this unique environment for students to grow and learn.
Students have discovered how to effectively use the natural environment of our campus recreationally. After being challenged by their classes, students feel freed by getting outdoors. For this reason, our campus has grown host to multiple clubs representing different special interests in nature.
See how each of these student groups spend time outdoors in this photo story by Chris Melillo, a senior Communication Studies major who was a spring 2022 photography intern in University Relations and Marketing.
Photos and story by Chris Melillo
Catch a Wave...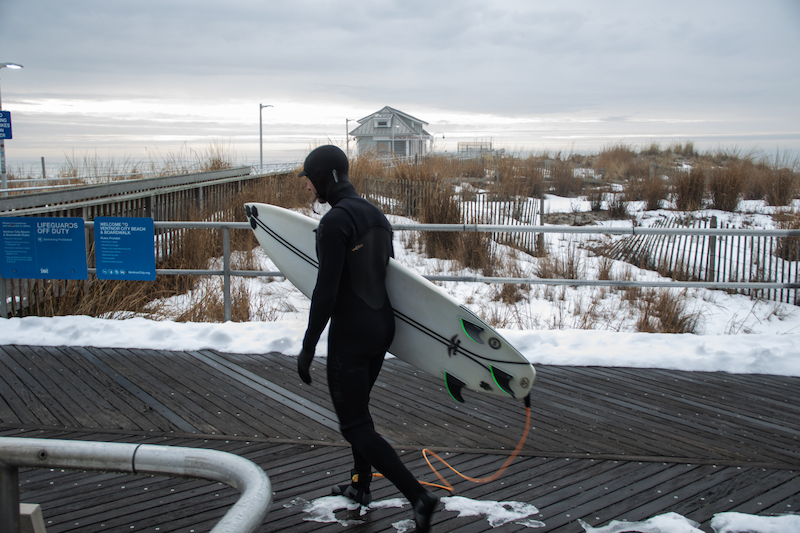 Brian Kayes, a member of the Surf Club, has been surfing since he was 10 years old. As a South Jersey surfer, continuing his passion for surfing at Stockton was a no brainer. He and his fellow Surf Club members get in the water as often as there are waves. On this particular day, Brian and his friends paddled out on two different occasions between classes.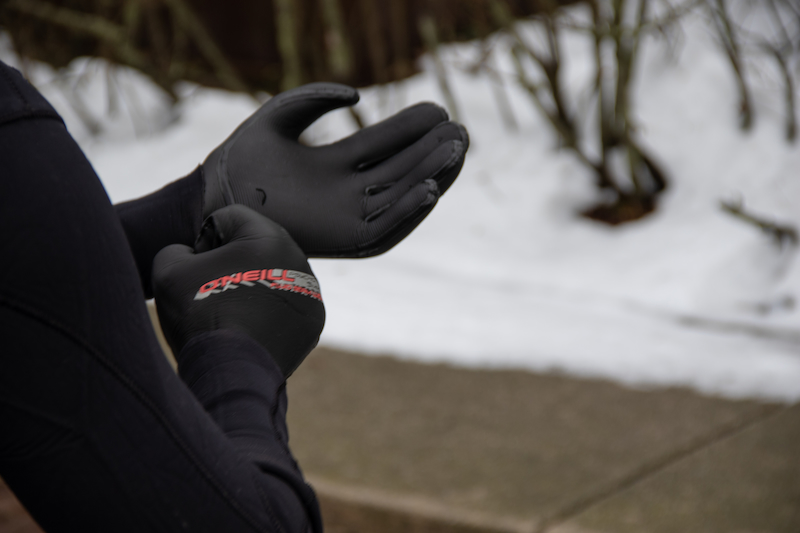 One of the challenges with surfing on the East Coast year round is the frigid temperatures. Brian, seen here gearing up before he paddles out, has become numb to the cold air out of the love of the sport. Thankfully, proper wetsuits allow for surfing when the ocean temperature has dipped to nearly 40 degrees.
Sweep the Beach...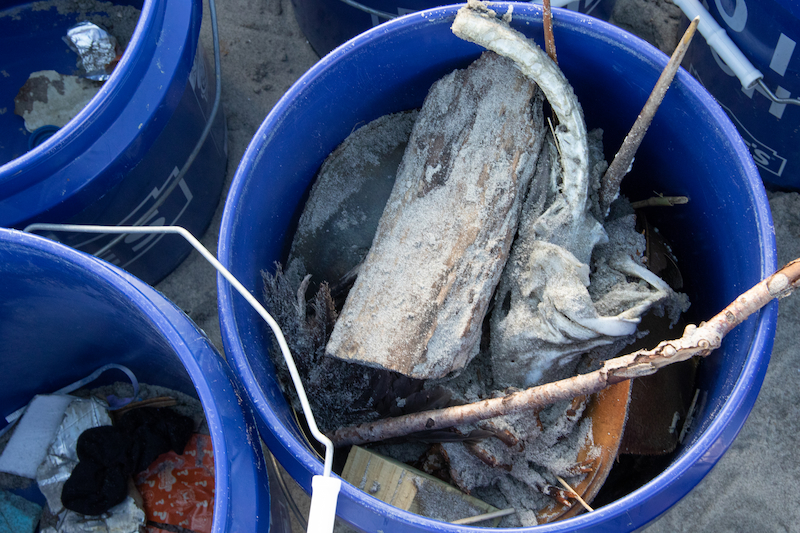 Founded in 2019, Love Blue is one of Stockton's newest groups to get outside. The mission of this group is unique, as Love Blue looks to give back to the environment so we can continue to enjoy it for years to come. This organization hosts regular beach clean ups on our coastline in effort to preserve our oceans and educate students on sustainable practices.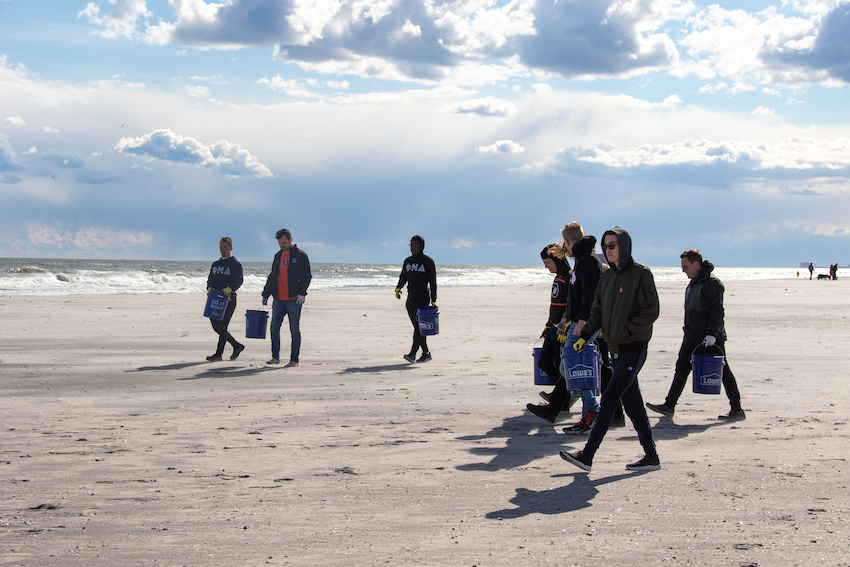 The group holds clean ups nearly every weekend during the semester. The clean up pictured is a location popular with the group, our own campus. Many of their events happen right on the beach in front of Stockton Atlantic City, allowing students to give back to the community. The clean ups have grown increasingly popular, bringing more and more students to the shoreline each week, specifically fraternity and sorority life.


Shred Fresh Powder...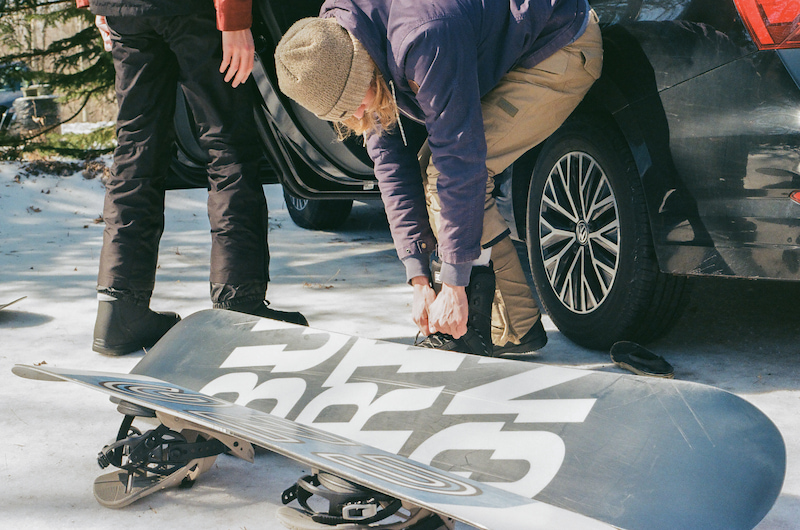 While the Jersey Shore does not offer much to the Ski and Snowboard community, that does not stop members of Ski and Snowboard Club from uniting together for their love of the mountains. The group ranges from students who are just learning, to die-hard mountaineers. Despite the distance, this crew regularly takes trips to local mountains.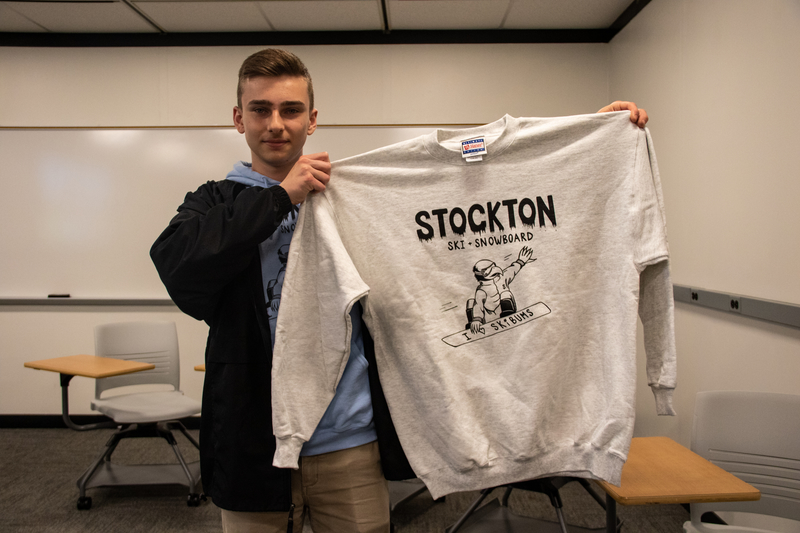 Collin Fields, seen in this photo displaying the group's merch, represents the many ways these groups express themselves within the campus community. By designing stickers, tees, hoodies, hats and water bottles to name a few, all of the outdoor groups have their own merchandise to help market their interest to the community.
Take the Plunge...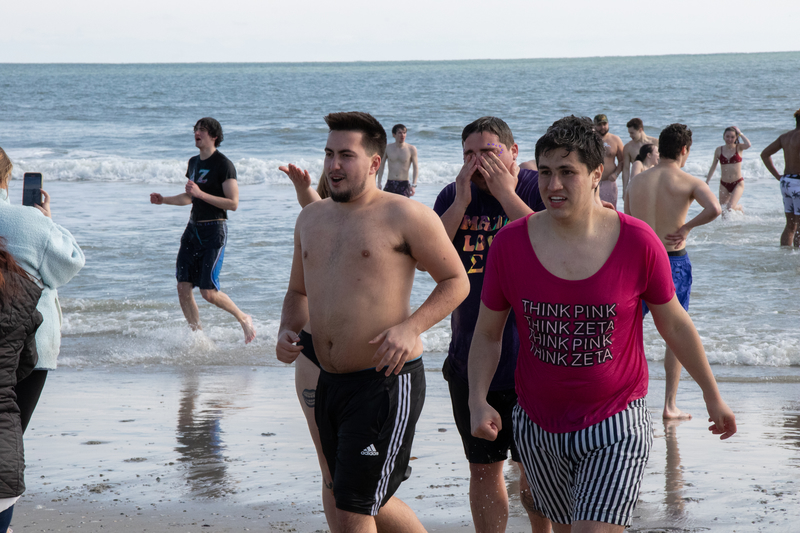 One of the largest community service events hosted by the fraternity and sorority life community is Kappa Sigma's Polar Plunge. This event, which takes place at Stockton Atlantic City, raises nearly $20,000 annually for our veterans. The plunge has become a crowd favorite as spectators take great pride in donating to see their friends survive the late February ocean.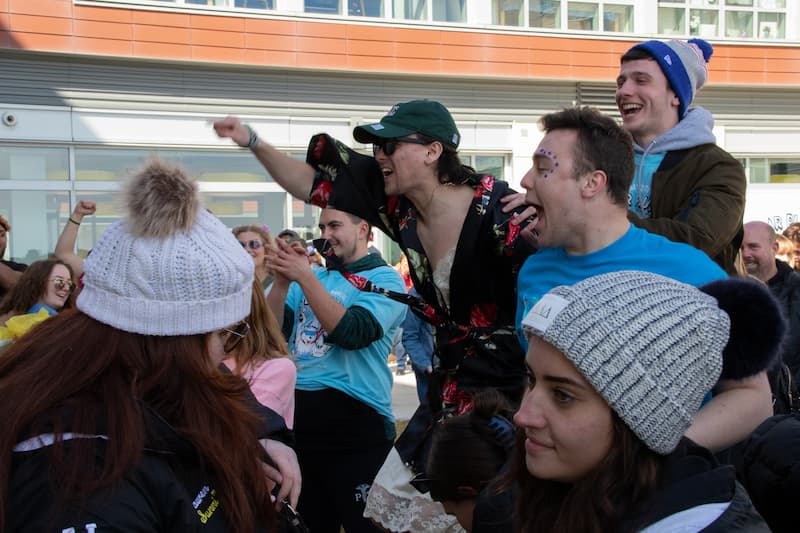 From community clean ups, to candlelight vigils on Lake Fred, and even retreats in the woods, our outdoor campus has become very important to our fraternity and sorority life community. So much so that some of the most successful service events take place outdoors. Students showed their school spirit at the plunge.
Be Entertained...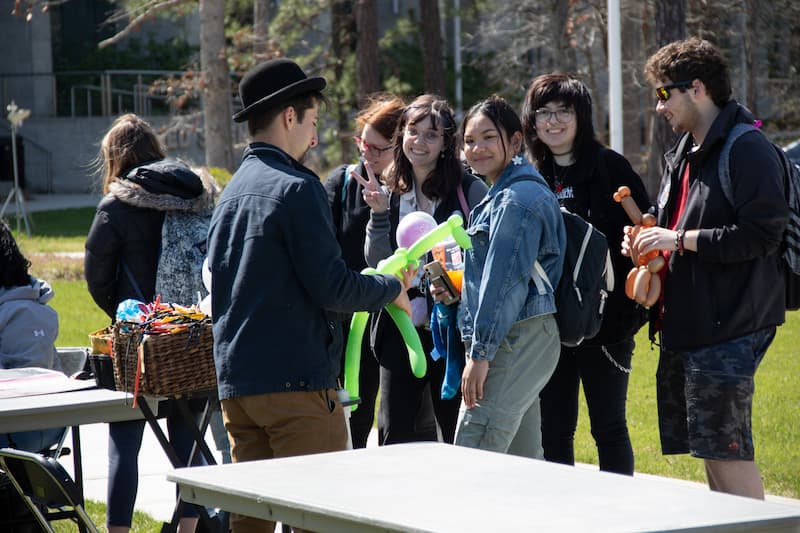 The Stockton Entertainment Team, commonly known as SET, works to provide our campus with lively programming to keep students engaged and entertained throughout the semester. When weather permits, SET takes the party outside and gives students the opportunity to enjoy the beautiful outdoor spaces of our campus through festivals and other events.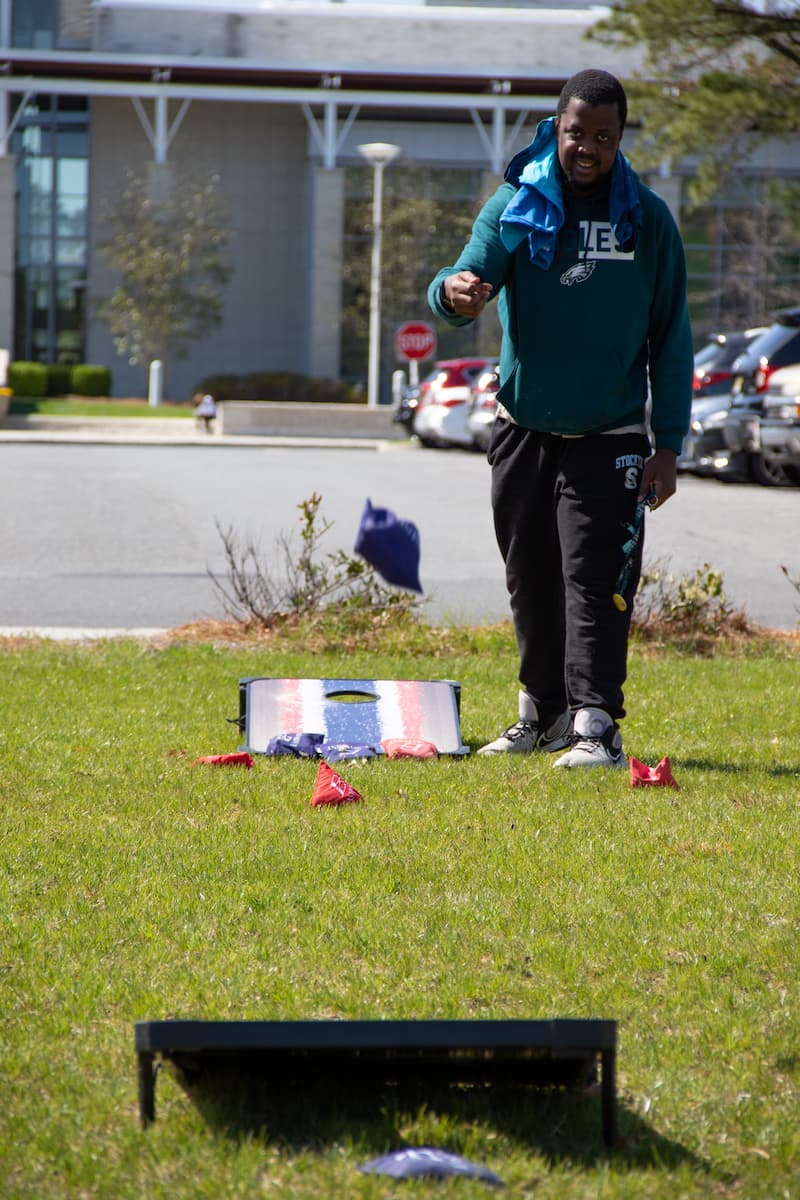 Don't wait to get involved on campus. Check out all that Student Development has to offer on Osprey Hub.