Panel Discussion Focuses on Revitalizing Indigenous Cultures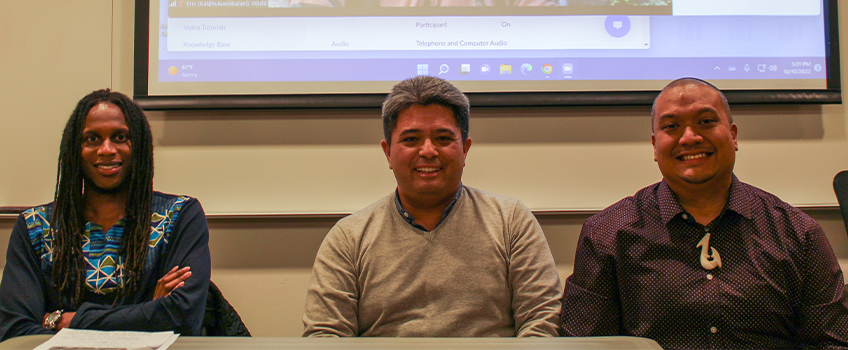 Galloway, N.J. - Thousands of years before Stockton, Lake Fred, or even the Caldwell and Woodruff Saw Mill site existed, the lands were known as Lenapehoking, or the traditional and ancestral territory of the Lenape people.
It's revitalizing terms like this that the second annual Indigenous Peoples' Day panel discussion on Oct. 10 centered around.
"Revitalization is a word with many different meanings and approaches when it comes to indigenous cultures around the world, whether it relates to language, culture, knowledge, medical practices and traditions," Adam Miyashiro, the moderator of the night and associate professor of Literature, explained.
Each of the night's three speakers touched on what revitalization means to them.
For Kimoni Yaw Ajani, formerly known as Wilbert St. Hilaire and assistant professor of Africana Studies, it means revitalizing the indigenous names of places like Haiti, where his family is from, and decolonizing school systems.
"Part of that process, bringing the talk around to Christopher Columbus…he changed many of the names of the places he visited en route to India. These names stuck," Ajani said. He explained by renaming the lands, Columbus erased the cultures of the indigenous people of these lands. But by reviving these original names, the cultures that existed long before Christopher Columbus will also be revitalized.
This sentiment was also shared by Eric Wada, a Ph.D. candidate at the University of Hawai'i Hilo's Ka Haka ʻUla Keʻelikōlani College of Hawaiian Language. Joining the panel via Zoom, Wada touched on the importance of speaking his native language, saying it sparks a return and reconnection to the indigenous culture of Hawaii, its ancestral knowledge and traditions.
"You call those names out in the indigenous language, and you give it that breath again," he said. "You revive it. It becomes alive, and it becomes powerful again, and things start to change."
When a young student asked Wada why he continues to speak the native Hawaiian language despite it not being the dominant language of the islands any longer, he said keeping the language alive was important to combat the war being waged by outsiders who dispute the indigeneity of the Hawaiian people.
This war is one that Jacob Camacho, assistant professor of Creative Writing, is familiar with as he fights to keep the culture of the Chimorro people of Guam from erasure.
In 1521, Magellan landed in Guam and dubbed the island Isla de Ladrones, which means "Island of Thieves," inferring the Chimorro people robbed his ships. However, Camacho explained, the Chimorro culture is one of reciprocation. When Magellan landed on the island for safe harbor, they accepted food as reciprocation for their hospitality. In renaming the island, Magellan attempted to re-write history and the legacy of an entire culture.
Camacho acknowledged how challenging it is to be an indigenous person in certain spaces, such as a primarily white institution like Stockton, but encouraged others who "know this battle" to have stamina and be an activist for their people.
He said it comes down to a simple question: "How down are we for our people?"
"I'm here to fight until it's my time to go," he said, telling the audience to stay close to those you trust.
"Indigenous Peoples' Day should not just be one day," Dianne Stalling, assistant director of Student Development, said as a brief question and answer session wrapped up the night's discussion. "It should be ongoing. It's about education, learning, investing in one's culture. This is an educational institution. It's about knowledge, learning and, as Professor Ajani said, you have to light that fire. You have to ask questions. Your voice is important to us. Students have power."
Story and photo by Eliza Hunt