Pop-Up Museum Focuses on People Behind the Addiction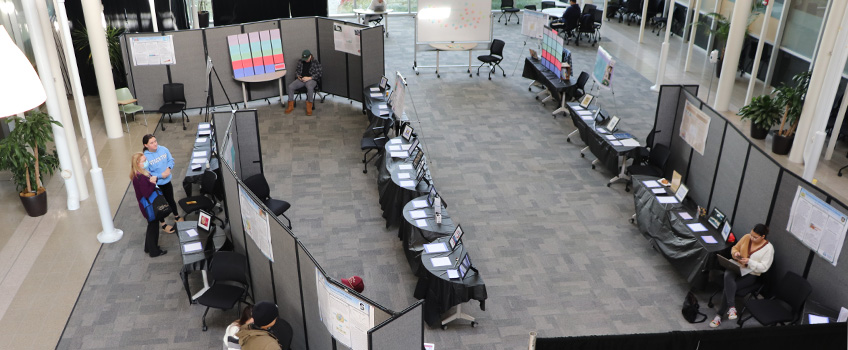 Galloway, N.J. — Steven Rivera was a freshman at Coastal Carolina University when he received the call that changed his entire perspective on life.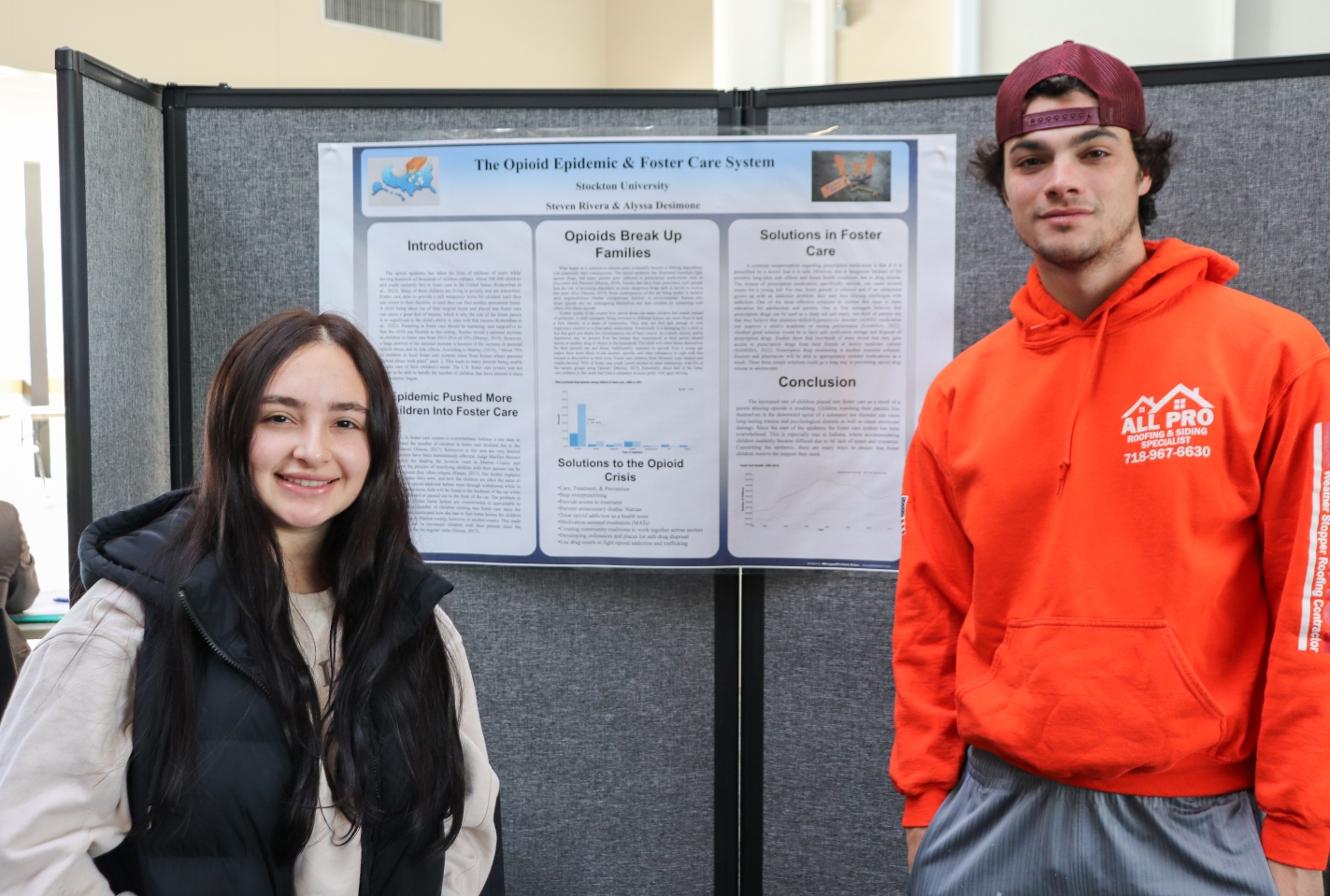 "My dad called me and told me that my uncle I was really close to passed away from an overdose," Rivera recalled. "I was standing in the pouring rain. I remember it like it was yesterday."
The senior Criminal Justice major had no idea how much of a hold addiction had on his family.
"My mom was like, 'Oh, that's nothing,' and told me everything else with her, my aunt, my uncle. It changed the way I look at everything."
Rivera, along with many of the students in the Drug Epidemics course, had no clue how bad the opioid epidemic is in the United States prior to the class. According to Joe Faldetta, course instructor and director of Prevention Services at Cape Assist, 100,000 lives were lost in 2021 to addiction.
"It's so much greater than the 100,000 people we lose every year," Faldetta explained. "The effects of the opioid epidemic ripple out and affect so many other populations and things in our society."
"When you see people as less, hurting them becomes easier."
Throughout the semester, students examined the opioid epidemic through a myriad of lenses such as health sciences, social sciences and criminal justice. They picked topics that were important or resonated with them to research. Then, they told that story.
When presented together, the projects walked visitors through the opioid crisis with an emphasis on the people behind the addiction. The pop-up museum was on display Dec. 7 and 8 in the C-D Atrium.
To begin, visitors picked out a story of an individual affected by addiction, such as Billie Holiday or Robert Downey Jr., to follow throughout the exhibit. Each narrative was researched and written by a student. As visitors learned about the opioid crisis, they also peered into their chosen person's life and struggle with addiction.
"When you see people as less, hurting them becomes easier," Faldetta said. He has worked in the Substance Abuse Prevention and Treatment field for 16 years. Before teaching the course this year, Faldetta was a regular guest speaker in the class.
Visitors learned what goes into a substance use disorder, how the opioid epidemic started and evolved, how it has affected people in various ways and the current policies for dealing with the crisis.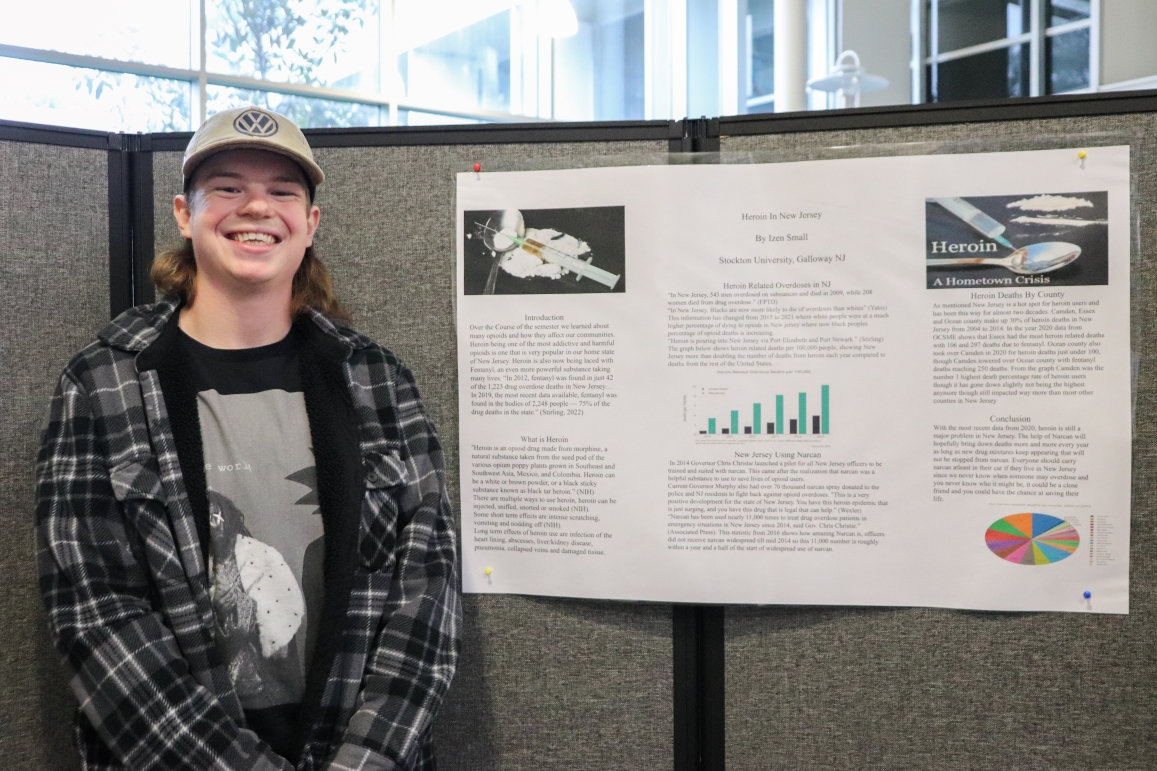 Izen Small, a senior Psychology major from Manahawkin, was shocked to find out that Ocean County has one of the highest rates of heroin overdoses in the state, with 8% of deaths coming from the county. Small found that New Jersey boasts higher opioid overdose rates compared to much of the country.
Students also chose artifacts to display alongside their research, ranging from photos of famous artists affected by drugs to drug court applications, bottles of pills, Narcan, poetry and even handcuffs.
Faldetta said for him, one of the most powerful artifacts on display was a photo of the University of Alabama stadium filled with people. "In essence, if you fill that stadium up and everyone in that stadium passes away, that's the effect of the epidemic every year," he explained.
By the end of the museum, visitors experienced a glimmer of hope as they learned about new policies put in place to help people find and sustain recovery, such as medication-assisted recovery.
"I did not know there was a medication-assisted option for those who suffer from a substance use disorder," senior Anne Mansilla, a Criminal Justice major with a concentration in Forensics, said. "I just assumed everyone had to go cold turkey and fight it out."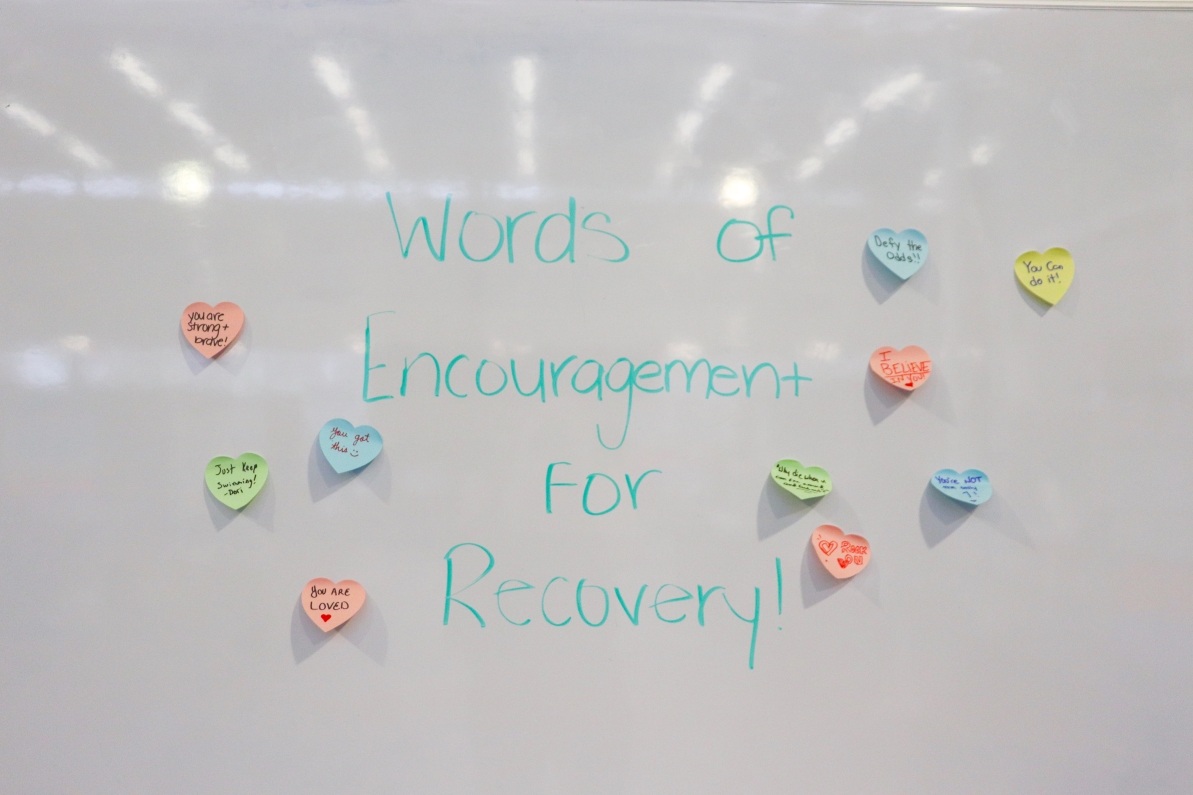 A whiteboard waited for visitors to leave messages of hope for those battling addiction at the very end of the exhibit.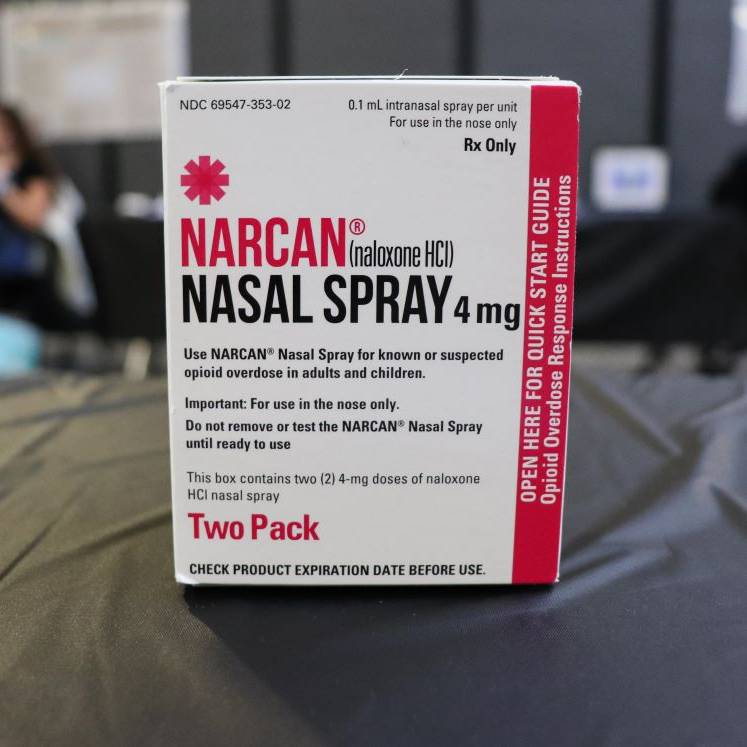 On top of creating the pop-up museum, students applied their knowledge to real-world solutions, such as becoming certified in Narcan training.
"I didn't even know Narcan existed before," Alyssa Desimone, a senior Health Sciences major, said. "It's good to have one in the house and I even gave the one I got from this class to my uncle, just because I want him to have it. You never know."
After Desimone's uncle had surgery for a knee injury, he was prescribed pain killers. This led to a slow addiction, exacerbated by having access to plenty of medications as a pharmacist. Eventually, Desimone's uncle quit his job, which helped him ease off painkillers and overcome his addiction.
The students in the Drug Epidemics course hope those who stopped by the museum continue talking about the opioid epidemic, share what they've learned with others and develop more compassion for those struggling with a substance use disorder.
Faldetta hopes his students leave the class with an understanding of how the opioid epidemic affects people. As for visitors to the museum, he said simply: "I hope that they care."
Reported and photos by Eliza Hunt