OceanFirst Foundation Donates $40,000 for Scholarships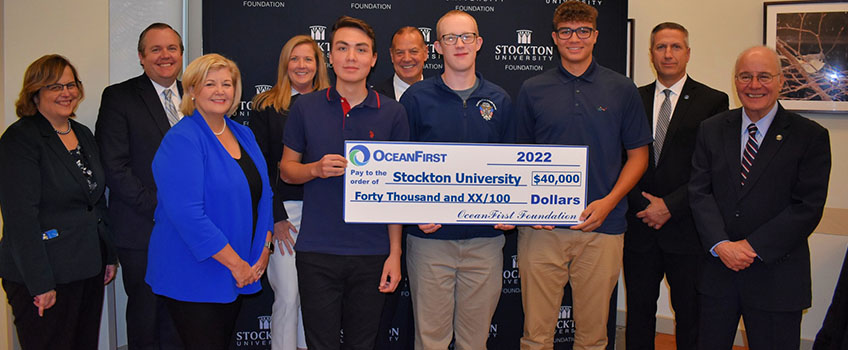 Galloway, N.J. - The OceanFirst Foundation presented a check for $40,000 to Stockton University on Nov. 14 that is providing 16 scholarships to first-year students for the 2022-23 academic year.
Stockton President Harvey Kesselman said the $2,500 scholarships mean a lot to students and the university.
"You have been an incredible partner. This really makes a difference to our students," Kesselman said. "I know how grateful our students are for the support. OceanFirst is one of our most significant donors and I appreciate your commitment to the students in this region."
To date, the OceanFirst Foundation has contributed $280,000, which has provided 112 students with $2,500 scholarships.
"We can't be happier to stay in the scholarship program that gives us talented leaders who will someday run our bank," OceanFirst Bank President Vincent D'Alessandro. "We love seeing young folks with entrepreneurial minds jump into an opportunity."
Brigid C. Harrison '88, chair of the Stockton Foundation Board of Directors, said she knows first-hand how critical scholarships are to students. "I worked 40 hours a week while in school, but a Foundation scholarship is what enabled me to finish."
First-year student Maximillian McLeod of Manchester thanked D'Alessandro and other representatives from OceanFirst at the check presentation.
"The OceanFirst Foundation Scholarship played a significant role in helping begin a career path in the field of Sustainability," McLeod said. "The generous financial assistance will aid in obtaining my Stockton degree and my goal to make environmental conservation a long-term commitment."
Bryan Gaskill, a first-year student from Mt. Laurel, said, "Because of the generosity of OceanFirst Bank I am able to prioritize my academic and career pursuits. I am beyond thankful for the investment that OceanFirst has made in my education, career and future success."
Scholarship recipients for 2022-23 are: Aidan Calsyn, Emma Dherbey, Natalie Fedak, Bryan Gaskill, Ashley Gibson, Miranda Kaler, Emily Little, Ashton Meltzer, Maximillian McLeod, Brandon Naylor, Matthew Pelcher, Ava Reynolds, Brianna Robinson, Raciely Rodriquez, Nakeisha Vohringer and Nomy Yanes-Castro.
— Story by Stacey Clapp, photos provided by OceanFirst Bank
# # #
Media contacts:
Stacey Clapp
Director of Strategic Communications
Stacey.Clapp@stockton.edu
609-626-3645
609-412-8069
Mark Melhorn
Associate Director of News and Media Relations
Mark.Melhorn@stockton.edu
609-652-4593
609-569-6026
stockton.edu/media
Stockton University