Nursing Program Holds 13th Pinning Ceremony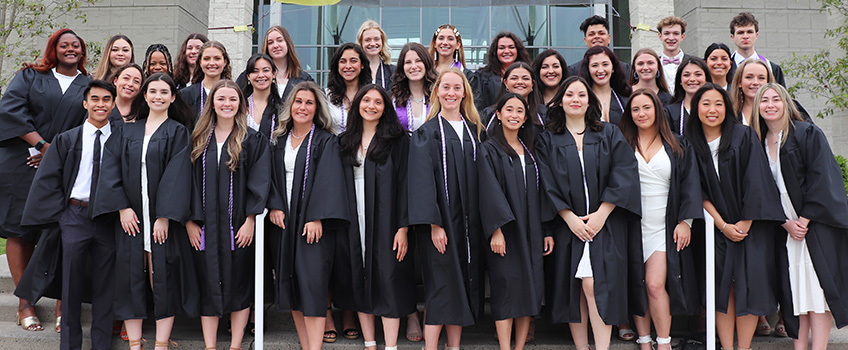 Galloway, N.J. – The School of Health Sciences held its 13th annual Nursing Pinning Ceremony on May 12 in the Campus Center Theatre.
Judith Schmidt, the chief executive officer of the New Jersey State Nursing Association, was the keynote speaker.
Thirty-five students in the Class of 2022 celebrated earning their Bachelor of Science in Nursing. The Academic Scholar Award went to two students: Sarah Naumchik and Devyn Richter. The Dr. Mary Ellen Florence Nurse Practice Award went to Mariabella Ferraina, and the Excellence in Student Leadership award was presented to Bailey Farrell.
The members of the Class of 2022 are: Samantha Aumaok, Giavanna Barbiero, Kyla Bermudez, Anaiyah Bryant, Aje Burrell, Morgan Calabria, Isabella Cavalieri, Kira Chapman, Emily Colonna, Stephanie De Mola, Bailey Farrell, Lauren Fernandez, Mariabella Ferraina, Amanda Gairo, Jessica Lependorf, Lauren Menditto, Jessica Michaels, Sarah Naumchik, Bailey Otto, Brenna Palmer, Tiffany Reed, Devyn Richter, Justin Roa, Phoebe Rosica, Jakob Roy, Olivia Sceia, Alivia Siedlecki, Susan Silverman, Hailey Steinman, Lucas Thomas, Brooke Wachenheim, Megan Warner, Emily Watson, Julia Wetzel and Marian Wisham.
More information on the Stockton Nursing program is online.