Stockton Pays Tribute to Nina Simone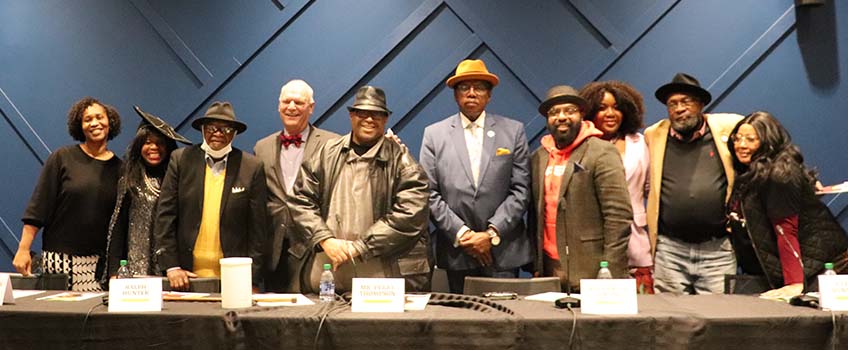 Atlantic City, N.J. - Singer and songwriter. Musician and arranger. Notable Civil Rights activist. The High Priestess of Soul. Eighty-nine years after Nina Simone was born, the Rhythm and Blues Preservation Society (RBPS) in Atlantic City and Stockton University's Africana Studies program hosted a panel Feb. 21 at the Stockton Atlantic City campus celebrating her life and legacy.
The panel discussion, "Celebrating the Life of Nina Simone," was created after an Instagram post that Perry Thompson, president and CEO of the RBPS, made about Simone for Black History Month. He contacted Professor Donnetrice Allison, chair of the Africana Studies program, to collaborate on the event.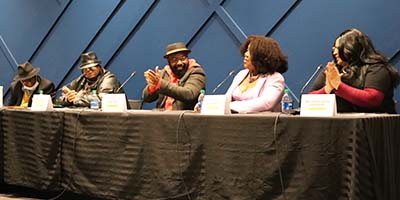 The panelists all had a special connection with Simone. Alexander Simone, singer and songwriter, is Simone's grandson, an experience he described as, "Pressure, but not weight. Rather, being her grandson was the pressure that pushed me to be the best that I can be."
Even though he didn't get to spend a lot of time with Simone, Alexander said her legacy inspired his artistry.
"It's hard to say what happens when I [or others] listen to her music. I'm big on spirit, energy, and soul, and people left her shows feeling revived. That's what matters to me when I'm performing: how am I making people feel?"
Simone's legacy was also what brought the event to Atlantic City. Ralph Hunter Sr., founder and president of the African American Heritage Museum in Newtonville, N.J., and at the Noyes Arts Garage in Atlantic City, recounted times when he and his friends would sneak out to see Simone playing piano and singing in a club on Pacific Avenue.
"She was right in the front window of the club. We would all go out and listen to her, we didn't care about getting in trouble for her!" he said.
He said at the time he didn't understand how special it was to see her and other Black performers perform in Atlantic City.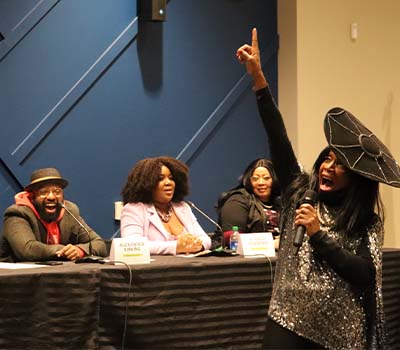 "I remember when Nina visited Sam Cooke on Kentucky Avenue. They were just laughing, joking, and having a good old time while we just sat there! I wish I would've known just how important those two were going to be," Hunter said.
Ayanda Sunshine has fond memories of Simone, albeit through a record player rather than live. Sunshine shared how she and her father would sit and listen to Simone's records together when she was seven years old. Now, she will lead a one-woman tribute to Simone titled "Love, Pain, and Passion: A Nina Simone Tribute" in collaboration with the RBPS.
"The title really reflects not only what she did when she was alive, but also my feelings towards her," Sunshine said. "She poured herself and her love into every song. In expressing her pain, she lifted the pain from people who needed to hear her and taught me how to express mine. She was passionate about everything that she did, which inspired me. She's who truly started me on my music journey."
The Rev. Sonja Elise Freeman, (aka Queen Diva), vice president and COO of the RBPS, had a different connection with Simone since she only learned of her through her research, which deeply affected her.
"It was divine timing! We wanted to do an event for Black History Month that would honor someone and bring everyone together," Freemen said. "When we decided on Simone, it was like everything clicked. Growing up in Queens, N.Y., I never really saw her celebrated, so getting to help create something like this that finally gives her 'her flowers' was important for me."
Assemblyman Don Guardian presented Thompson and Simone certificates thanking them for honoring and celebrating Simone. He said his favorite song by her is "Mississippi Goddam."
"There's just something about that song," he said.
Thompson also received a letter of support from N.J. Gov. Phil Murphy, which was displayed at the event.
"We [enlarged] his letter and have it right in front! It's an honor for us to be hosting this panel tonight," Thompson said.
During the panel, the audience also got to enjoy quick performances of Simone's "Feeling Good" by Freeman and Alexander, and "Willow Weep for Me" by Sunshine. Beverly Vaughn, Stockton Professor of Music, also led the audience in a song to conclude the panel before a birthday cake was served.
- Story and photos by Loukaia Taylor