Meet the Man Behind Batman Movies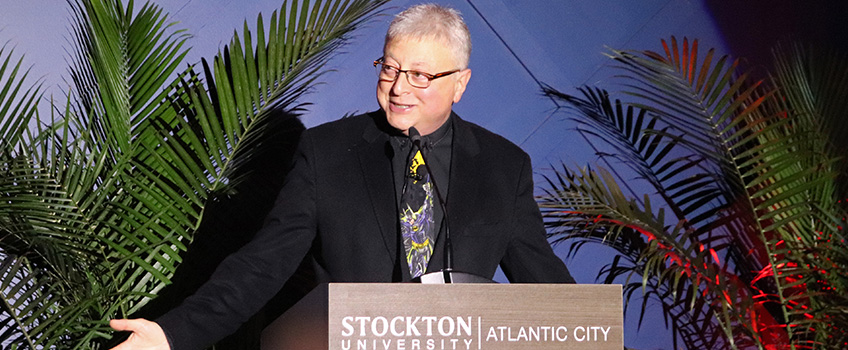 Atlantic City, N.J. – Michael Uslan's passion is comic books. By the age of 18 he had 30,000 comics dating to 1936 stored in his parent's garage on shelves built by his father.
"I am a comic book geek," Uslan told an audience of more than 125 students and adults March 22 as the School of Business Dean's Distinguished Guest Speaker at the Stockton University Atlantic City campus. "But what do you do with that? I was a blue-collar kid from New Jersey."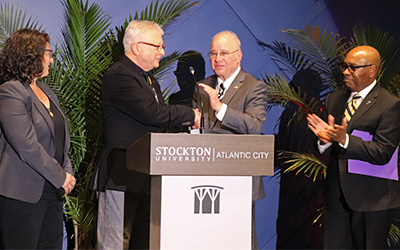 That blue collar kid is now a grandfather. But his love for comics remains, and he held the audience spellbound as he told the story of going from a kid who loved comics to the owner of the film rights for the Batman movies.
It started when he convinced the dean at his college in Indiana to let him teach a course on comics as modern folklore.
"I did my first pitch in a Batman t-shirt," Uslan said.
That course got so much media attention he got a call from famed comic book writer Stan Lee and worked his way into a job with DC Publishing where he got the chance to write Batman comics.
"This was the dream I'd had since I was eight years old," Uslan said. "I liked Batman best because he was human. I identified with him. And he had that car…"
When the comedic Batman television show came out, Uslan was mortified. Batman was not a comedian. He was a kid who had watched his parents get killed and vowed to find the killers.
He partnered with Benjamin Melniker, and in 1979 bought the film rights for Batman from DC Comics. But for ten years, studio after studio turned down his vision of a dark and serious Batman.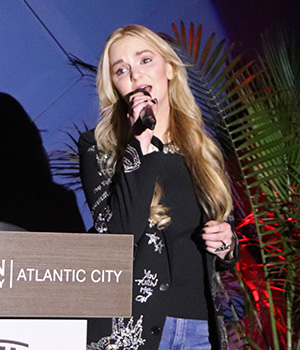 It took director Tim Burton and production designer Anton Furst to bring Uslan's vision for Batman to reality in 1989. The rest has been sequel after sequel and the rise of the superhero movie.
"What an amazing journey it's been," Uslan said.
So, what did he learn that students now in college can use to follow their own dreams?
"First, get off the couch," Uslan said. "The world will not come to you. Learn what you like, and what you don't like."
Second: you have to persevere.
"You have to have a high level of tolerance for frustration," Uslan said. "Doors will slam in your face. You can go cry, or you can go knock on another door. Batman was built on my bloody knuckles."
Uslan wrote about his life in two books, "The Boy Who Loved Batman," which is being made into a play, and a new book, "Batman's Batman," something a partner called him as he persevered to tell the "real" story of Batman.
"I was never in it for the money," he said. "It was the passion."
A friend, Doreen Taylor, performed a song she wrote, "Unstoppable" as a montage of films Uslan has helped produce played on the video screens in the Fannie Lou Hamer Event Room.
"I have never met someone more determined, creative and downright ingenious," she said.
- Story by Diane D'Amico
- Photos by Eliza Hunt