A Message from President Kesselman on Masks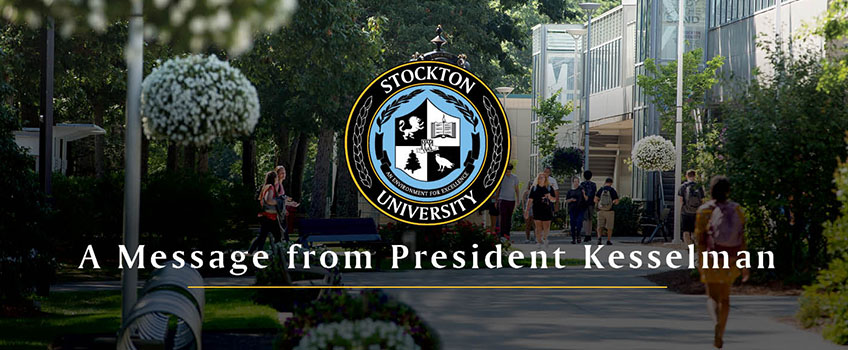 Dear Stockton Community,
Throughout the COVID-19 pandemic, Stockton has followed CDC, State, and Atlantic County guidelines in making decisions to keep our campus safe and healthy.
On February 25, one week after my bi-annual address to faculty and staff in which I indicated mask-wearing would continue for the remainder of the spring term, the CDC released updated mask guidelines based on revised public health conditions.
Based on these new recommendations, beginning Monday, March 28, Stockton will relax the mask requirements in most campus settings based on current COVID-19 community levels. The March 28 date permits the University time to review up-to-date campus conditions one full week after the end of our Spring Break.
We are taking this step given the sharp decline in cases among the Stockton community, across the south Jersey region, and throughout the state. This decision is subject to change depending on updated CDC, State, and local guidelines and community infection-level dataand the University will continue to carefully monitor campus and public health conditions.
Beginning Monday, March 28:
Masks will no longer be required in most indoor spaces on all Stockton campuses for those who are up to date on their COVID-19 vaccines.

Anyone wishing to wear a mask may continue to do so as we are a mask-friendly institution.

Through the end of the Spring 2022 semester, faculty may require masks to be worn in their academic classes, studios, clinicals and labs. Students must respect and comply with such instructions. Faculty can submit an incident report form should they experience a significant challenge with compliance.

Employees are not required to wear masks during work meetings or in common work areas. Individuals may request others to wear a mask when meeting. Please be understanding and considerate of such requests.

Masks must be worn when visiting Student Health Services.

Masks will not be required on Stockton shuttles.

KN95 and surgical masks will continue to be available at: Galloway and Atlantic City information desks, Student Health Services, the Richard E. Bjork Library and most division office suites.

Building signage will be updated to reflect new recommendations.

Everyone should always carry a mask with them for those situations where one is desired or needed.
Also, as of March 28 the University will conclude the use of the visitor health and safety pledge and reinstate our traditional Visitor Registration/Parking Permit form.
We ask everyone to remain mindful, continue to monitor yourself for COVID-19 symptoms and stay up-to-date on your vaccinations as soon as you are eligible.
Students and employees who are not up-to-date on their vaccinations are required to participate in ongoing COVID-19 screening and routine testing and must continue to follow protocols for at least the remainder of the Spring 2022 semester. Similarly, masks should be worn when called for as part of COVID-19 related safety protocols.
Soar Safely, Ospreys - and thank you for continuing to do everything possible to keep our community protected.
Best regards,
Harvey Kesselman
President
Stockton University