Stockton Maple Project Expands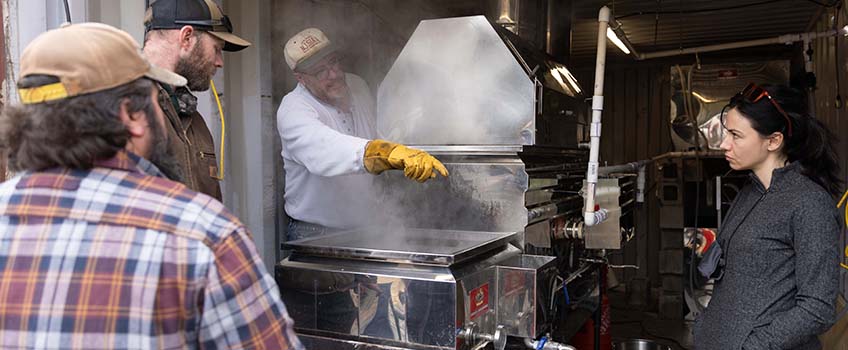 Galloway, N.J. – At Stockton University, where there is smoke, likely there is South Jersey maple syrup coming to a boil.
Sap is being made into syrup by the gallons after what began as 40 trees tapped on the Stockton University campus has expanded to 400. Still more trees were tapped by private homeowners throughout South Jersey and Philadelphia.
At Stockton's sugar shack, an evaporator fueled with split wooden logs inside a Vermont cast iron stove provides the intense heat needed to boil the sap down into syrup.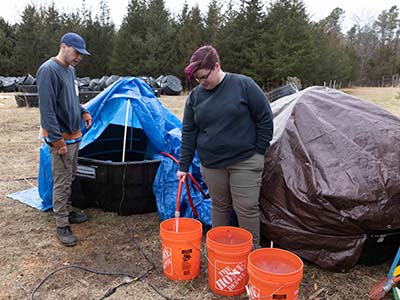 The Stockton Maple Project took a big step off campus this year with the addition of seven hubs where private property owners are also converting sap into syrup.
"The trees are producing sap and going forward, the key is going to be logging the trees to remember which trees produce the most sap and which produce less," said Bruce Plummer, a retired Coast Guard helicopter pilot and co-owner with wife, Beth, of Maples in the pines in Lower Bank, Burlington County, one of the hubs working with Stockton.
It's been a good year for Stockton's Maple Project because sap production is supported by a cold winter, followed by warming temperatures that help trees flow sap out the spigots.
A pair of $500,000 U.S. Department of Agriculture grants funded the startup of the project, research, and the hubs in Atlantic, Burlington, Cape May and Gloucester counties, including the one at Stockton and another in Philadelphia.
The sap boiled intensely at 219 degrees inside the evaporator one morning at the Stockton sugar shack, where the Maple Grant team is focused on local production and eventually getting more families into the forest to harvest their own sap for homemade syrup.
Fueled by split wood inside the black cast iron Vermont Lendor, volunteer Frank Vogel makes certain not to add too much new sap at one time so he can maintain a constant boil. "It's an amazing system, and it's a model that is being followed at hubs throughout South Jersey," said Vogel, a retired schools superintendent and husband of project coordinator Judy Vogel a professor of mathematics at Stockton. The couple also taps trees on their own property.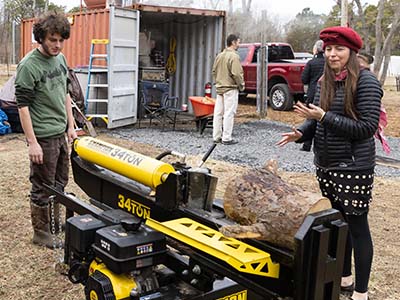 There's math involved in all the production, too: 44 gallons of sap equals 1 gallon of syrup. Hub operators have learned to identify high-producing trees this year, and Judy Vogel, said those hubs are heading toward success in years to come.
"If we do this only one year as part of a grant, that's not the point," she said. "To be a success, we have to find ways to do it post USDA funding. And that's what we are doing through partnerships with schools and education. That will bring a whole new awareness and will sustain what is being done."
Stockton Assistant Professor of Economics Mariam Majd was involved in writing the the grants to fund the Stockton Maple Project and will research the viability of developing an industry in southern New Jersey.
Asked whether she would continue to be interested in the project after the grant had expired, Majd responded, "Absolutely. I'm personally invested in this project as a lifelong community member interested in its development."
A Stockton alumna who grew up in Mays Landing and lived on a working farm during graduate school, Majd is hopeful about the prospects of a maple syrup industry in southern New Jersey: "We might not have a ton of sugar maple trees, but we do have a ton of consumers who are not only increasingly turning to locally produced products but also unaware that maple syrup is produced by trees in their backyard."
Maple syrup produced from trees in South Jersey tastes sweeter, according to Stockton hub worker Ryan Hegarty, a Stockton 2021 environmental science graduate.
"That's one of the things we are finding out now as we expand what we are doing. In terms of the next few years, we are finding what works and putting together years of data where before there was none," Hegarty said. "We now have information to share that can help more property owners find another use for their land by tapping their trees."
The Stockton Maple Project team brings together individuals with expertise in forestry, soil science, economics, and biodiversity. Assistant Professor of Environmental Science and tree expert Matthew Olson explained wood must be tossed into the evaporator every 10 minutes. "Wood is a renewable resource and at Stockton, we have the Cadillac of evaporators," said Olson, who searches for trees to tap throughout the Pinelands.
Hubs are touting their success and look forward to more years of growth.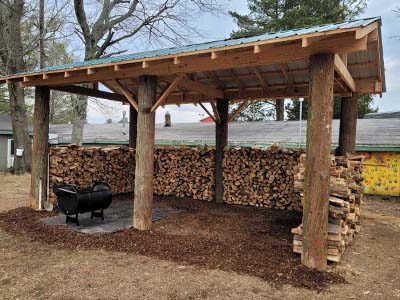 Appel Farm Arts & Music Center in Elmer, Salem County partnered with Stockton because it was a "unique experience" to help expand hubs, said Heather Yelle. Children at Creativity CoLaboratory Charter School, tapped trees in February and created samples of a potential logo for the bottles, she said.
"Appel Farm has conducted four boils since mid-January, with each boil providing more expertise. It has been exciting to hone the process allowing our color and grade to go from a darker brown to a light golden yellow with our Brix at 65 in just about 5 hours," Yelle said.
Jeff Tober, farm manager at Rancocas Creek Farm, Pinelands Preservation Alliance in Southampton, Burlington County, said winter is providing an "opportunity to get experience and figure out how it all works."
At Deeply Rooted Farm in Cape May Court House, Stephanie Wiscott said she isn't hindered about sap flow that got off to a slow start this year. "So far, we have two pints of syrup (in February) and we are getting ready to do our next batch of sap," Wiscott said.
In Tuckahoe, Bette Jean Yank at Marshallville Farms was so optimistic about syrup production she ordered bottles as well as custom labels. "I'm committed to making this project work," said Yank, who collected 5 gallons of maple sap Feb. 11.
Jethro Heiko, founder of Oak Lane Maple in Philadelphia and Community Engagement Coordinator for Stockton's Maple Grant, says Oak Lane Maple Hub "has grown tremendously this season."
Heiko said the Stockton hub "is the center of research and community-based learning about maple tapping in our region."
At the Jefferson Sugar hub in Mantua Township, Chris O'Connell and Mike Farina say sap began flowing the week of Feb. 7. He and Farina use a modified home heating oil tank that has been fabricated with a 28-gallon stainless evaporator pan.
The syrup is currently not for sale. In 2023, Stockton maple syrup will be available for purchase to sustain Stockton's operation by funding repairs and employing students who will get hands-on experience.
The Maple Project set up a demonstration site at Batsto Village and will also present a walking tour of the project at the Pinelands Short Course on March 12 at Stockton University's Galloway campus.
For more information on The Stockton Maple Project, visit www.Stockton.edu/maple
- Story by Stephanie Loder
- Photos by Susan Allen