N.J. Secretary of Agriculture Tours Maple Project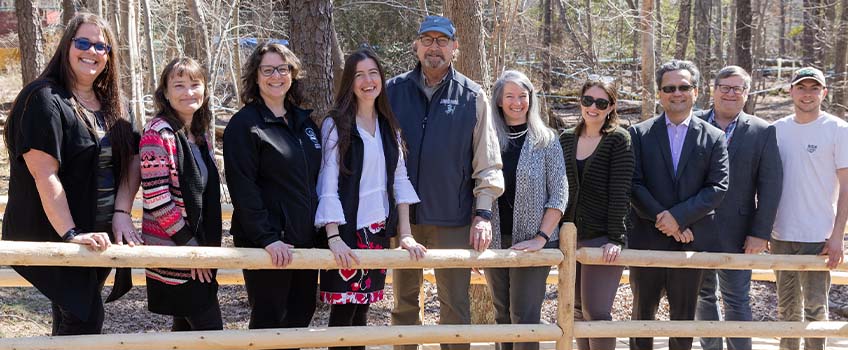 Galloway, N.J. - New Jersey Secretary of Agriculture Douglas Fisher got a taste of the sweet life at Stockton University during a tour of the university's sugar bush and sugar shack on March 16.
Stockton is in its second year of an almost $1 million federally-funded pilot program to research and develop the feasibility of developing a maple syrup industry in the southern New Jersey region using red maples, which are plentiful in the region.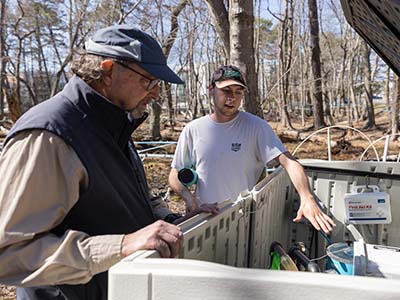 Project coordinator and Professor of Mathematics Judy Vogel led the tour and explained how Stockton is researching and evaluating the product produced as well as expanding into the community. Their goal, she said, is to both educate the public, and provide an income-producing product for landowners.
This year some 400 trees were tapped on campus and the university also partnered with private landowners in the region to assist them in tapping trees. Seven hub sites were also established in South Jersey and Philadelphia where landowners can take their sap to be boiled into syrup. A demonstration site is also set up at Batsto Village. To date, some 15 gallons of syrup has been produced from sap at Stockton, and more is being produced by the hubs.
This year teachers at three area schools, Cedar Creek High School, Egg Harbor City Community School and Mullica Township School also got involved, with plans to expand next year. Vogel said students and even many adults don't know how syrup is made.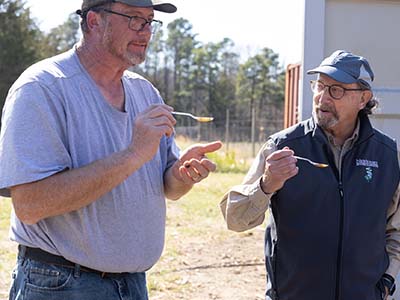 "Learning comes from curiosity," Vogel said. "And schools often have red maples because they are planted as shade trees."
Stockton Dean of Education Claudine Keenan said Stockton has begun working with schools to offer a curriculum with interdisciplinary lessons as well as the opportunity to tap trees at their school and have the sap converted into syrup.
Vogel's husband, Frank, demonstrated how the evaporator boils the sap down to syrup, and how a Brix meter is used to ensure the syrup is shelf-stable for sale. Fisher got to sample the syrup and threw some logs into the fire that stokes the evaporator.
Judy Vogel said while New Jersey will never compete with Canada or New England in syrup production, maple sugaring could provide income for small business owners at farm markets and specialty stores.
Fisher, who used to own a market in Cumberland County, said he can see the potential for locally-produced maple syrup in New Jersey.
"People really want things that are locally produced and that they can have a connection to," Fisher said. "And they also want experiences, where they can see how a product is produced."
Story by Diane D'Amico
Photos by Susan Allen