LIGHT Celebrates 10th Anniversary, Recognizes Levenson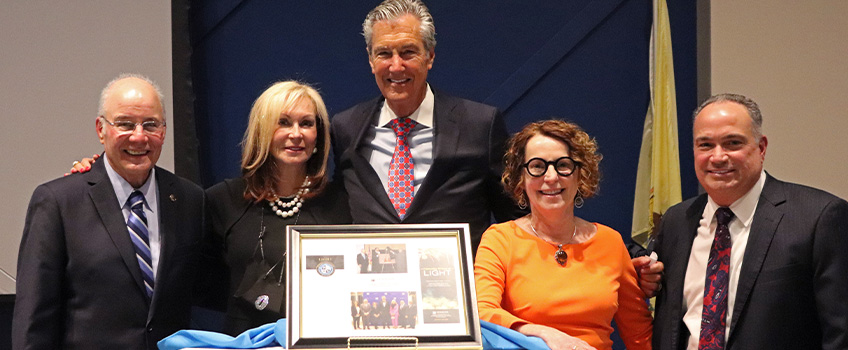 Atlantic City, N.J. - The Lloyd D. Levenson Institute on Hospitality, Gaming and Tourism (LIGHT) belatedly celebrated its 10th anniversary March 9 by sharing laughter and memories from the past decade, while recognizing its namesake's significant contributions to Stockton University and the community.
Established in 2010, LIGHT serves as an academic resource for governing agencies, private industries and the community on issues involving the gaming, hospitality and tourism industries in New Jersey.
"Over the past decade, LIGHT's collection of materials from its research, data, reports and publications has grown extensively and has helped establish an expert reputation, not just throughout New Jersey, but throughout the United States and beyond," said Stockton President Harvey Kesselman in his opening remarks at the event, held in the Fannie Lou Hamer Event Room at Stockton Atlantic City.
Kesselman said under the leadership of Jane Bokunewicz, LIGHT faculty director and associate professor of Hospitality, the institute receives national publicity on a regular basis and consistently receives the most media mentions of any center or institute at Stockton.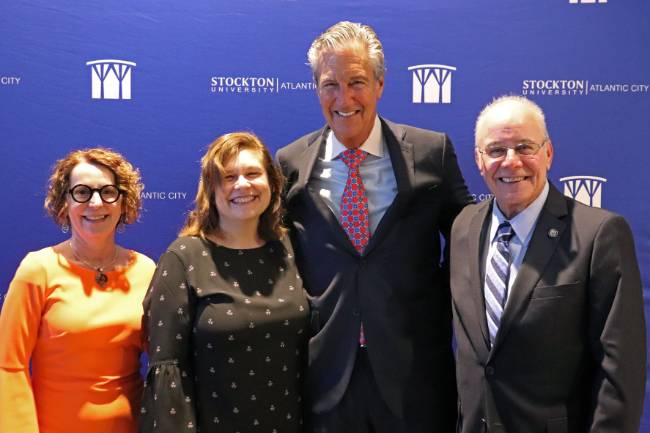 Bokunewicz credited those who came before her and said she looks forward to the future.
"I am so thankful for the work that Izzy Posner as founding director and Rummy Pandit after him have done to build such a solid reputation in the industry," Bokunewicz said. "I'm really excited about the future of LIGHT. I think we have a bright future, and I am thrilled to be a part of it."
Kesselman said Levenson and his wife, Liane, have been integral to the institute's success.
"Tonight's celebration recognizes not just LIGHT, but its namesake as well," Kesselman said. "Lloyd and Liane have remained dedicated to LIGHT's success. They are also enthusiastic and long-term supporters of our entire university. Their commitment is demonstrated through contributions of their time, expertise and sponsorship - not just to Stockton, but to the many charities and nonprofit groups they support throughout all of South Jersey."
Levenson is Chief Executive Officer of the Cooper Levenson law firm and Chairman of the Casino & iGaming Law practice group, as well as of the Government Services and Cannabis Law Practice groups.
Lori Pepenella, president of the New Jersey Tourism Industry Association and CEO of the Southern Ocean County Chamber of Commerce, was the featured speaker of the night and noted the positive impact LIGHT has made in the past decade on the tourism industry in the region.
"This institute that was founded by Mr. and Mrs. Levenson has surely been the standard for the future of hospitality in our state," said Pepenella. "We are connecting and putting people together in new ways in any stage of their career, which is what this industry is all about. Driving in, seeing the banners saying that this is the University District shows how far we've come since 2010 when it was all just an idea."
Cracking jokes between thanks to his numerous supporters and those in attendance, Lloyd Levenson, accompanied by Liane, explained how the idea for the institute was sparked.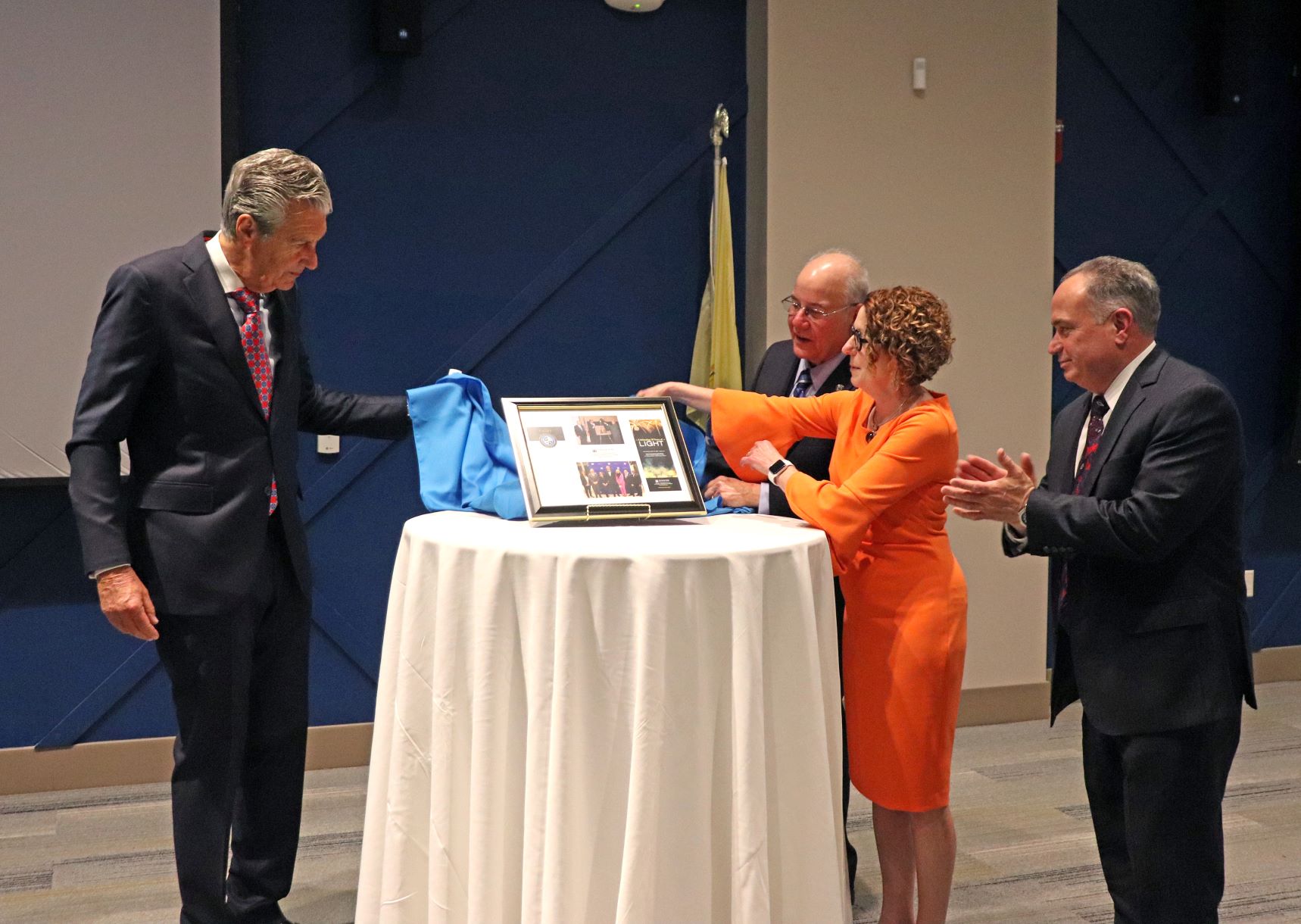 "This all started a little more than twelve years ago, when then-President (Herman) Saatkamp and I sat down to figure out a way Stockton could make some money," Levenson said. "We thought of the Lloyd D. Levenson Institute of Gaming, Hospitality and Tourism and, quite frankly, we never in that meeting - until the end - thought well, wait a minute, that could be an interesting acronym: LIGHT. So, that's how LIGHT was born."
A plaque was presented to Levenson recognizing his contributions to Stockton University, Atlantic City and the state of New Jersey as a whole. An exhibit dedicated to LIGHT and Levenson is installed in G-wing of the Academic Spine on Stockton's campus in Galloway. The evening also included video remarks from Governor Phil Murphy and Senator Cory Booker, each thanking Levenson for his service and contributions to the state.
"It's a genuine honor to recognize LIGHT's years of success and to thank Lloyd and Liane for their support," said Kesselman.
The event was sponsored by Resorts Casino Hotel, Steel Pier, Friedman LLP, Lucern Capital Partners and Spectrum Gaming Group.
For more information on the Lloyd D. Levenson Institute of Hospitality, Gaming and Tourism, visit stockton.edu/light.
- Story and photos by Eliza Hunt
# # #
Media Contact:
Diane D'Amico
Director of News and Media Relations
Galloway, N.J. 08205
Diane.D'Amico@stockton.edu
609-652-4593
609-412-8069
stockton.edu/media