Stockton, Community Commemorate Juneteenth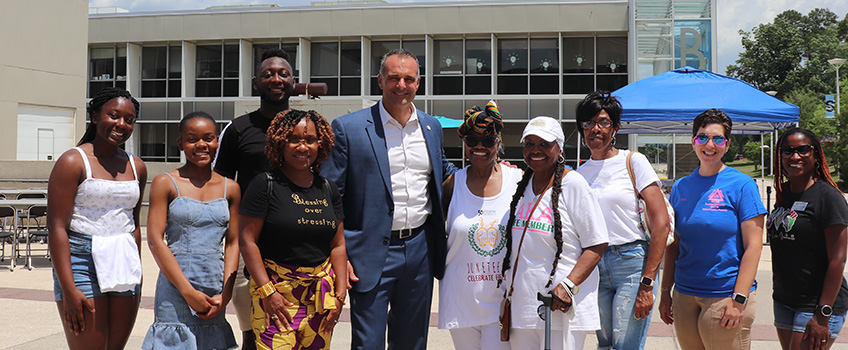 Galloway, N.J.- The Stockton community marked Juneteenth with a cookout and celebration in front of the future Multicultural Center on Friday, June 17.
Christopher Catching, vice president for Student Affairs, welcomed students and community members to the event and commended Stockton for its progressiveness, noting the new center will open in Fall 2022.
"It's my hope that our next Juneteenth program will be slightly different," Catching said. "It will be housed within and around the center, and I expect you all to attend."
The event was organized by Unified Black Student Society (UBSS), African Student Organization (ASO), Caribbean Student Association (CSA), Stockton's NAACP chapter, Student Senate, and the office of Student Development. The celebration is the third held at Stockton in recent years, inspired by celebrations that originated in Texas, a state that still had enslaved African Americans two years after the Emancipation Proclamation in 1863.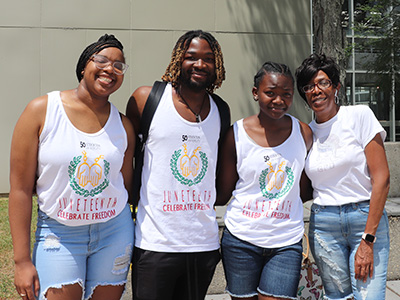 Anthony "AJ" Brooks, president of UBSS, said he felt it was important to honor the day that the remaining enslaved people were finally liberated in 1865.
"Juneteenth is a holiday that is under-recognized throughout the nation and the world," Brooks said. "Many do not know the significance of what happened to those slaves and our event brought together students and people from the community to pay respects to those who came before us. We thanked them for their sacrifices that led us to this point as well as discussed what we can do to keep moving forward as a race."
Keynote speakers, Frank Phillips, professor emeritus at now Rowan College of South Jersey, and Ronald Phillips, III, a member of the NAACP Mainland chapter, discussed the significance of Juneteenth for the African American community.
Ronald Phillips shared an anecdote about asking students to state the most important year for the United States of America, to which students replied '1776.' On the contrary, he considers 1619, the year that the first 20 enslaved Africans were brought to the shores of North America, the most important.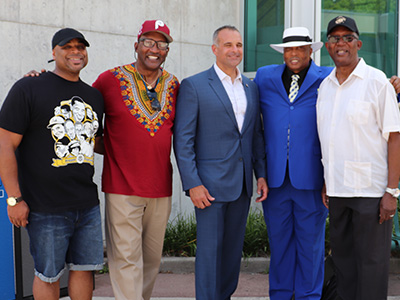 "Today, we are celebrating them and their fight," he said. "It is because of them that we are here today. If you take one thing away from this speech, it is to stay woke."
Frank Phillips added, "Take responsibility for every decision you make and hold others accountable."
Dianne Stalling, assistant director of Student Development, organized the program, which included:
The Honorable Anthony Coppola, mayor of Galloway Township
Annie Mac, an author and entrepreneur, who closed the program with an original poem
Student Alicia Jenkins, who performed Negro National Anthem, "Lift Every Voice and Sing"
"Juneteenth was a victorious celebration with students, faculty, staff, parents, and our community coming together having fun, listening to our speakers, music with dj007, and enjoying the food," Stalling said. "Highest applauds to; Dr. Christopher Catching, Honorable Anthony Coppola, Alicia Jenkins, Dr. Zupenda Davis-Shine, Ronald Phillips, Franklin Phillips, III, and Annie Mac. I would also like to shout out our student leaders, Alexsandra Panton, AJ Brooks, Vanessa Bawuah, Andy Prempeh, Dorothea Toku, Joshua Hunte, Irenonsen Eigbe, Sillon Williams and Ann Delva."
The celebration also included music flowing through D-Wing Plaza and out of College Walk, burgers and hot dogs grilled by Michael "Cheesesteak Mike" Clark and ice cream.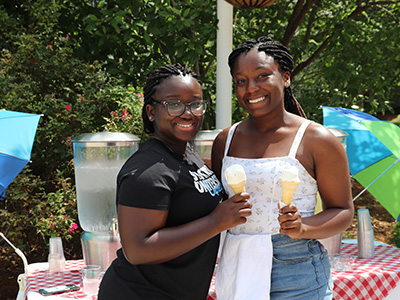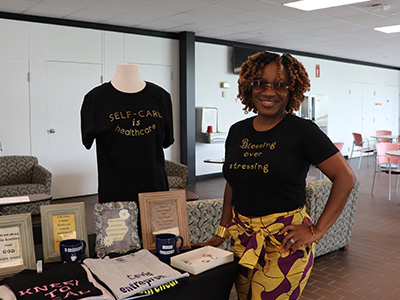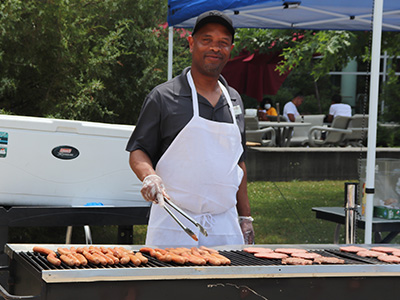 Story and photos by Loukaia Taylor