Jersey Shorecast Panel Predicts Strong Summer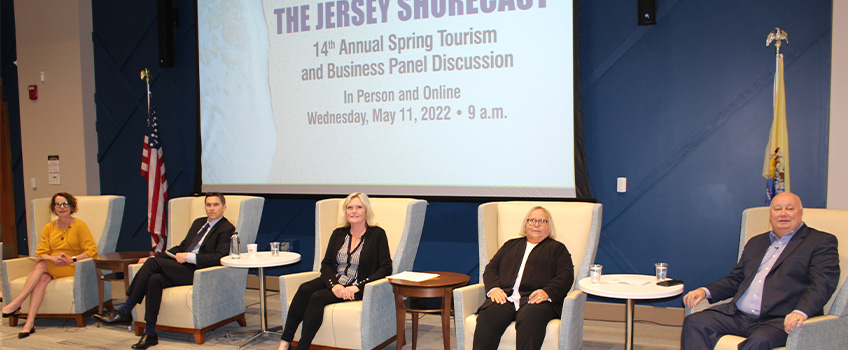 Atlantic City, N.J. – The Jersey Shore has recovered economically from the shutdowns caused by the COVID-19 pandemic and is expecting a busy 2022 summer.
That's the main message that came out of the 14th annual Jersey Shorecast on May 11, sponsored by the Lloyd D. Levenson Institute of Gaming, Hospitality and Tourism (LIGHT), Stockton University School of Business.
The seminar, which was also streamed online, was held at the Stockton University Atlantic City John F. Scarpa Academic Center.
LIGHT Faculty Director Jane Bokunewicz moderated a panel that included:
Oliver Cooke, associate professor of economics at Stockton University and editor of the South Jersey Economic Review
Sharon Franz, sales and marketing director at Steel Pier in Atlantic City
Diane Wieland, director of tourism, Cape May County Department of Tourism
Jim Ziereis, vice president of sales for Caesars Atlantic City region
"I think the summer of 2022 is going to be another robust and strong shore season," said Cooke, who's also the editor of South Jersey Economic Review. "It may not be as robust as last summer. I hope I'm wrong, but there was so much pent-up savings and pent-up demand (last year). ... I wouldn't be surprised if we were close to what we were last summer."
At the start of the seminar, Bokunewicz presented some new data from visitnj.org that showed 2021 was a very good year economically for the Jersey Shore as visitors, spending and the number of jobs in Atlantic, Cape May, Cumberland, Monmouth and Ocean counties rose dramatically from 2020.
Visitors to those counties reached 45.2 million (a 16% increase), spending hit $20.8 billion (a 28.9% increase) and 122.9 million workers were directly employed (a 22.9% increase).
But while those numbers are positive trends, they are all below 2019 numbers, before the pandemic.
Nevertheless, each member of the panel was very optimistic for the positive trends to continue in 2022.
"We are really bullish on this summer season," Ziereis said.
A video of the Shorecast will be posted on the LIGHT website. Following is a recap of questions and responses:
Q: In your opinion how did the local tourism industry perform in 2021?
Oliver Cooke: I think that 2021 was a very, very solid year of rebound for the local tourism and hospitality industry. Employment remains not quite where it was pre-pandemic. Atlantic City lost 14,500 jobs (due to the pandemic) and last year gained back about 7,000. But across the board the summer of 2021 was very robust. In fact, it's probably going to make 2022 pretty tough based on year-on-year comparisons based on what happened last year.
Sharon Franz: Last year, we exceeded our expectations from 2020. We didn't know what to expect going into last year. We are an outdoor industry so obviously that's where everybody wanted to be. Weather had a lot to do with the growth in our numbers.
Diane Wieland: For Cape May County, we've recovered 96% compared to 2019, so we are there. In the first quarter in 2022, we've seen that our lodging has surpassed 2019, which was a record year. Visitation has also surpassed 2019 (in the first quarter). We are right there close to recovery, and we are seeing things continue to move and do better.
Jim Ziereis: 2021 was very similar in gaming revenue to 2019. The segment that is in my wheelhouse is meetings, conventions and trade shows. In quarter one of 2021, it was slow going. We still had the social distancing limitations. So it wasn't until Q2 that you started to see the group business coming back. We are comparing our numbers to 2019 because that's a truer picture.
Q: How would you describe the region's current economic circumstances? Could gas prices, inflation and recession concerns have an impact? How do you see them changing in the near, mid and long term?
Oliver Cooke: First quarter 2022 relative to first qurater 2021, toaly AC employment is up 15,000 jobs year on year. That is off the charts, robust in terms of job growth. That is a very, very good indicator that the momentum that we saw starting to come back in 2021 is likely to translate into good times going forward. I think inflation is going to continue to play a huge role in 2022, as it relates to gas prices. That kind of works in many ways to South Jersey's benefit, I think.
Sharon Franz: We have concerns about gas prices. We have concerns with products and services going up. We are trying to think out of the box to get people here.
Diane Wieland: This year, we pulled out a campaign tagline from 2009 when we had gas concerns then – "Just a tank of gas away." There are 30 million people in a 300-mile radius. So we want that to resonate with them. One of the messages is that we have to be flexible, across the board. This is going to affect the daily lives of families. One thing that we have on our side, is that people are saying we want to go away. We want to go to the beaches and experience nature.
Jim Ziereis: We are just looking forward to a bang-up summer. We are seeing it in our advance reservations for hotel rooms for the summer and a lot of that is event driven.
Q: To what degree has your business/organization/area of focus recovered since the start of the pandemic?
Sharon Franz: We actually have recovered 100%. We became the wedding destination for Atlantic City. We had 10 huge, big, successful weddings and now we are a wedding venue. We are seeing a lot of the conventions having their receptions with us. We are seeing the trend that people want to be outdoors. We've seen a lot of growth and I think it has to do with the outdoor venue.
Diane Wieland: We started to see recovery in 2020. We had record occupancy during September and October. Through occupany numbers, we saw that we were already matching 2019. When we started to move into the summer. In July and August (of 2021), occupancy was $4 million. We've never hit that. It continued through the fall and the winter. We started to recovery toward the end of 2020 and it has not stopped.
Jim Ziereis: The casino revenue is back. We were fortunate to have $400 million for room renovations and new restaurants. That's all coming to fruition, and we are going to reap the benefits of that. The only piece we are missing is the corporate meetings. They haven't come back to what they were before.
Sharon Franz: People want new experiences. People are looking for something totally different than what they had in the past. And a new experience for them is people driving to our destination for different things to experience.
Diane Wieland: To add, one of the unintended consequences of the pandemic: In the camping industry, reservations in July of 2020 were off by 71%. The campground industry was scratching their head saying what are we going to do? But more people are saying they want to go camping now. They want to be out in nature and doing outdoor adventures. And I don't see that ending any time soon. People just wanted to get out and get away from the quarantine and the four walls they were looking at for months.
Q: Do you expect changes made in recent years to persist? How so?
Sharon Franz: We are tapping into bus groups that come to the casinos. Thinking out of the box and just giving them an experience that they wouldn't normally have in the past.
Diane Wieland: We found that more and more people were going online searching for travel information and that numbers on our website jumped dramatically. So we wanted to make sure that we are reaching our customers through digital marketing. We will continue to do that, put more dollars in digital and social platforms to make sure we can get engagement when they want it and how they want it.
Jim Ziereis: I think what's here to stay in the importance of cleanliness and also technology. We have to embrace technology a lot more. For instance, when you go to the front desk and there's all these self check-in stations. We've gotten great feedback from that.
Q: What challenges are you still facing? Are there new challenges? New opportunities?
Oliver Cooke: I do think the labor force issue impacted small businesses last summer, but it does seem that it's getting a little better. The job market has just been so blistering hot for the past few months. I think some of those challenges when it comes to labor will start to dissipate.
Sharon Franz: We are finding it a little challenging in the labor market. We are competing with the casinos. They offer more of salary and higher wages. We are getting a percentage of J-1 visa students. But we are seeing a little bit of difficulty finding homes for them. But I will say that local students last year, got us through the entire summer. And they are returning. It's great to see them stepping up.
Diane Wieland: Availability of rentals is pretty much depleted right now. We are seeing the return visitor, but are we going to see growth? We can't grow more land, so it's going to be a challenge to bring in new people.
Jim Ziereis: Those 100 days of summer, we have to absolutely maximize , put our best food forward and really nail it. The biggest challenge is (room) availability. We've got great conventions coming in – 12,000 people for the NAACP convention. $7 million direct impact to the city of Atlantic City, that's rooms filled and restaurant reservations. But we still need more rooms on those weekends. That's somewhat of a challenge.
Q: What do you predict for the 2022 season?
Oliver Cooke: I think that summer of 2022 is going to be another robust, and strong shore season. It may not be as robust as last summer. I hope I'm wrong, but there was so much pent-up savings and pent-up demand. Lots of fiscal stimulus that was juicing household balance sheets. I wouldn't be surprised if we were close to what were last summer. It's going to be very hard to look back and say that 2022 was just unbelievable because 2021 was so high on a year-on-year basis. That doesn't mean that it's going to be a bad season. But the year-on-year comparables are going to be tough for many businesses.
Sharon Franz: We had a really strong sale for this past spring. l I think people are going to be looking for deals. I think we might be back to pre-pandemic levels. For us, it's weather. If you have weather, it's everything. I'm predicting a good summer.
Diane Wieland: The season is looking great. We have about a 100,000 Canadians who come between July and August. With the border closed the past two summers, it really impacted all of us. That's going to give us a little boost. What we are hearing from them is that the gas prices won't be impacting them. They want to get away and they haven't been able to.
Jim Ziereis: We are really bullish on this summer season. We are getting our renovated (hotel) towers at Harrah's back online. And we've got eight new restaurants at the Tropicana.
Q: How has inflation affected your business?
Sharon Franz: The price of our product has gone up and unfortunately you don't want to pass that on to the customer, but you have to. There's no wiggle room. We have to charge what we have to charge. You want to give wiggle room, but you can't.
We want to give them a great experience. They get a great experience when they come to the pier. Then when they walk away, they forget that price because they are walking away happy.
Jim Ziereis: We've got to have some creative conversations with our groups. Now that they see some of the real, true costs of these items, there's a little sticker shock.
Diane Wieland: We've found that restaurants have had to reduce their menus. A lot of these restaurants are heavily impacted because they can't get what they would normally serve. Or it's too costly and they can't pass it on. But to give that customer experience doesn't cost more money, it's just bringing in the right people to make that a fun or entertaining meal or event.
Q: What would you pitch be to New Jersey residents who are impacted by inflation but want to get away?
Jim Ziereis: I think people get jaded being in N.J. and they want to get away. But give us another look. They might not have considered Atlantic City or the region. There's plenty to do and experience and it will be money well spent.
Q: Are you prepared to do with an increase in COVID if it happens?
Sharon Franz: We've learned a lesson. What we've combatted that last two years, having to social distance and decrease capacity on rides, we will be ready. I think people would even feel more comfortable knowing that we would be ready.
Jim Ziereis: We've got a good playbook. We will dust it off and implement it safely.
Q: Have you seen any changes in demographics to people coming to the shore
Jim Zieries: We are definitely seeing a younger demographic. People are traveling in packs.
Sharon Franz: More families are traveling in groups. Millenials are out there and looking for the deals. There's experience everywhere you turn in Atlantic City. I see a big change in the demographics.
Story by Mark Melhorn. Photo by Diane D'Amico
# # #
Media contact:
Diane D'Amico
Director of News and Media Relations
Galloway, N.J. 08205
Diane.DAmico@stockton.edu
609-652-4593
609-412-8069
stockton.edu/media