IRS - You're Under Arrest!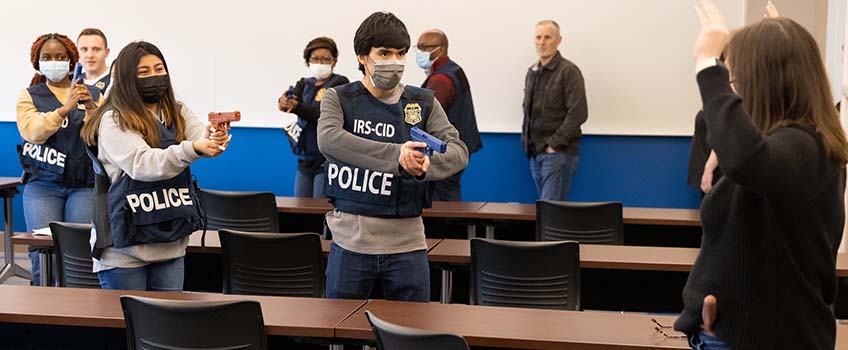 Atlantic City, N.J. – Sometimes even an accountant might need a gun.
A group of 18 Stockton University students and two visiting Ocean City High School students spent the day living the life of an IRS Special Agent during a special criminal investigation simulation hosted by the IRS Adrian Project at Stockton University's Atlantic City campus.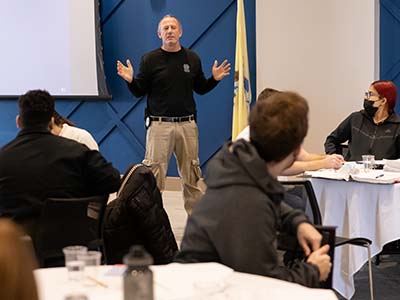 Once they were sworn in as Special Agents, the 20 students spent several hours questioning and surveilling suspects, analyzing tax returns and financial records, and learning how to operate handcuffs before obtaining a warrant and arresting their suspects, taking down an operation that was financing terrorists.
"This is definitely what I want to do," said Aracelis Nunez of New York City, a first-year student majoring in forensic psychology who signed up to learn more about the job.
The simulation was arranged by Associate Professor of Business Studies/Accounting Barry Palatnik, a former Internal Revenue Agent, who wanted to show students the variety of career opportunities there are in accounting and finance.
"Students just don't know that these types of jobs are available," Palatnik said. Stockton has hosted the event before, and some Stockton graduates are now working with the IRS.
While much of the day was spent sitting at tables looking at paperwork, students said they learned how important it is to follow the money.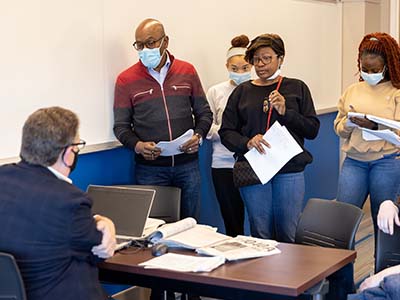 "You really have to keep your eyes on the financial reports so you can see when the documents don't match what they are saying," said Kenny Szaniawcki, a senior from Brick who is interested in a career with the IRS unit.
"Even something very small might turn out to be important, so you have to question everything," said Mayra Vazquez, a sophomore from Pleasantville.
When they went to interview an accountant for one of the businesses they were investigating, the students learned that just because they ask questions, it doesn't mean they will get answers.
"How do you get people to talk to you?" Nina Argayoso, a junior from Brick asked Special Agent Robert Glantz, who ran the simulation. He talked about interview techniques and the use of subpoenas.
"I like this scenario because it shows students the different ways to investigate and how a conspiracy works," Glantz said. "The students get to work together, but there are four different businesses involved."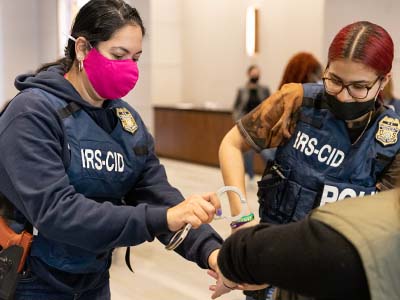 Stockton alumnus Dan Barbera, '94, chief financial officer at Lydia Security Monitoring in New York City, sponsored the event. He said he supported Palatnik's effort to show students different careers.
"I wish they had this when I was here," he said. "It's a great career path. Accounting has been very good to me, and I want to give back."
Special Agent Kristine Fata, the use of force and firearm coordinator for New Jersey, demonstrated how to properly arrest a subject while the students practiced on each other. At least one accidentally handcuffed himself, not an uncommon occurrence during training, Fata said.
Two Ocean City High School students joined the Stockton students after hearing about the event during a presentation by Palatnik at their school. Jackson Goetter, a junior, said it sounded interesting and fun, though the part where they practiced getting handcuffed proved less than enjoyable.
"That was not fun," he said.
View a gallery of photos from the event.
- Story by Diane D'Amico
- Photos by Susan Allen