Intramural Recreation Council Honors Staff, Faculty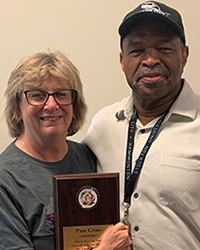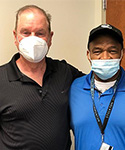 Galloway, N.J. - The Intramural Recreation Council (IRC) presented three annual awards and two new awards this year to members of the Stockton community.
The new Years of Service Award is presented to those who have worked closely with the IRC over the years. This year's recipients are retiring Registrar Joseph LoSasso and Pamela Cross, coordinator of the Writing Center.
The 2022 Dr. Vera King Farris Award recipient is Robert Gregg, dean of the School of General Studies and tenured professor of History. The Dr. Vera King Farris Award commemorates those within the Stockton community dedicated to helping others better their lives both academically and personally.
The 2022 Shannon Newbury Award recipient is Frank Cerreto, professor of Mathematics & First-Year Studies. The Shannon Newberry Award was created to recognize those who have proven their merit in their actions and have worked hard at making Stockton University a better place to learn and teach.
The 2022 G. Larry James Award recipient is Scott Bittner, the head coach of the men's basketball team. The G. Larry James Award was created to honor a very talented member of the Stockton IRC Program that excels in athletics, academics and charitable work.
-Story by Loukaia Taylor. Photos provided by James Gwathney