Panel Discusses Ways to Address Youth Mental Health 'Crisis'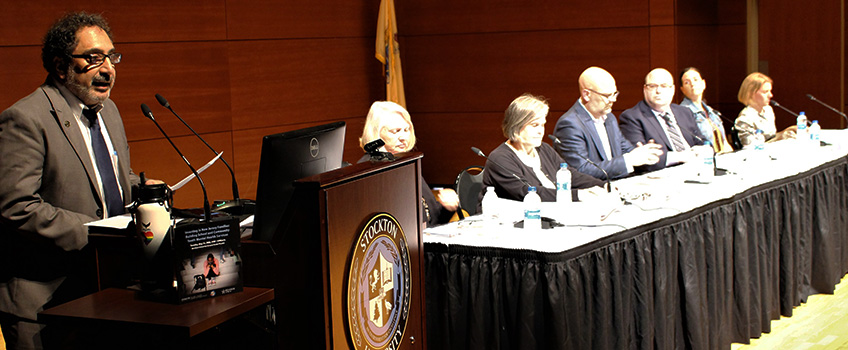 Galloway, N.J. – Youth mental health is at a "crisis point" in the United States, and while New Jersey has taken some steps to provide more services during the COVID-19 pandemic, much more needs to be done, according to a panel held May 31 at Stockton University's Campus Center Theatre.
The William J. Hughes Center for Public Policy at Stockton cosponsored a panel discussion titled "Investing in New Jersey Families: Building School and Community Youth Mental Health Services" with the Atlantic County Council of Education Associations and The Kennedy Forum.
Panelists included: Amy Kennedy from The Kennedy Forum; Stockton Professor of Psychology Dr. Sara Martino; Dr. Brian Isaacson from AtlantiCare; Greater Egg Harbor School District Superintendent James Reina; Leesa Seymour from Atlantic County Youth Services Commission and school nurse Victoria Druding. Melissa Tomlinson from the ACCEA served as moderator.
Isaacson presented some dramatic statistics outlining how mental health diagnoses have significantly increased, even before the pandemic. From 2016-2020, children suffering from anxiety increased 29%, depressive disorders increased 27% and cases of suicide have risen by more than 37%.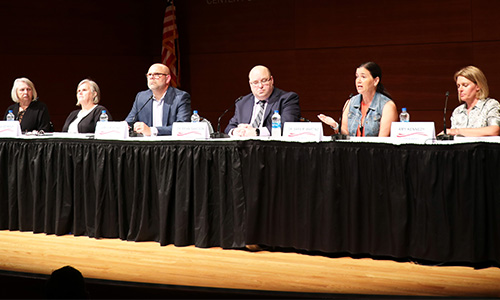 Martino confirmed those statistics and said she's seeing a huge uptick in self-harming behaviors and eating disorders in youth since the COVID-19 outbreak. She mentioned that only one-third of youth who experience mental health issues actually access care.
Druding said one of the greatest challenges is simply finding help for children.
"They fall into a hole where they can't get classified and parents may not have insurance, and they can't qualify for Medicaid," she said. "The services we provide are overburdened. ... The child is returned to the classroom. Teachers are already overworked. They aren't in a position where they can handle a child that has issues."
Seymour said it is also important to include parents in the process.
"It works better if families are involved," she said.
Martino, who is the director of the M.A. in Counseling program at Stockton, said one of the biggest challenges facing schools has been a shortage of professionals to address the problem.
"We need more mental health professionals both inside the school and contracted to provide those mental health services outside the school," she said. "They can't be addressed during the school day. There needs to be communication and more funding, funding, funding for mental health care outside of the school setting."
Kennedy said funding sustainability is critical. She noted New Jersey has made strides, but many programs are grant funded. The Kennedy Forum is involved with the Hopeful Futures Campaign which issues a report card on youth mental health. New Jersey ranked 22nd in the nation in 2015 and is 7th in 2022.
"There are programs, but it's all grants," she said. "We need sustainability. People want to do the work, but they have to get paid."
Isaacson presented statistics that demonstrated the shortages in New Jersey. He said there is one school psychologist for every 731 students, but the recommended number is one for every 500. And there are similar shortages for social workers and counselors.
"We need financial support. We have unfunded mandates where we have to rob one program to pay for another, unfortunately," he said.
Reina believes New Jersey schools are doing a better job about being proactive about the problem. He specifically referenced a series of teaching webinars on mental health put together by the state Department of Education. But he's also very concerned about funding. He said some smaller districts have used pandemic relief aid to provide services.
"But moving forward though, I don't know if smaller districts or districts that were struggling financially are going to be able to sustain those programs," he said. "And therein lies a real potential for danger. There's a specialist in a building who will then disappear in two or three years."
And even in some schools that have a psychologist and a social worker, many are only licensed to assess student problems, not provide therapy, Martino said. She said that Stockton could help fill some of the voids through its accredited Masters of Social Work program. The Masters in Counseling program is also currently under the accreditation process.
"We can assure that the training program (offered to schools) is strong and is following ethical guidelines," she said. "It's a way to increase those ratios in the short term and as a way to replace that federal funding."
View a video of the event on the Hughes Center website.
- Story by Mark Melhorn. Photos by Diane D'Amico