Student Research Connects Rising Seas with Flood Severity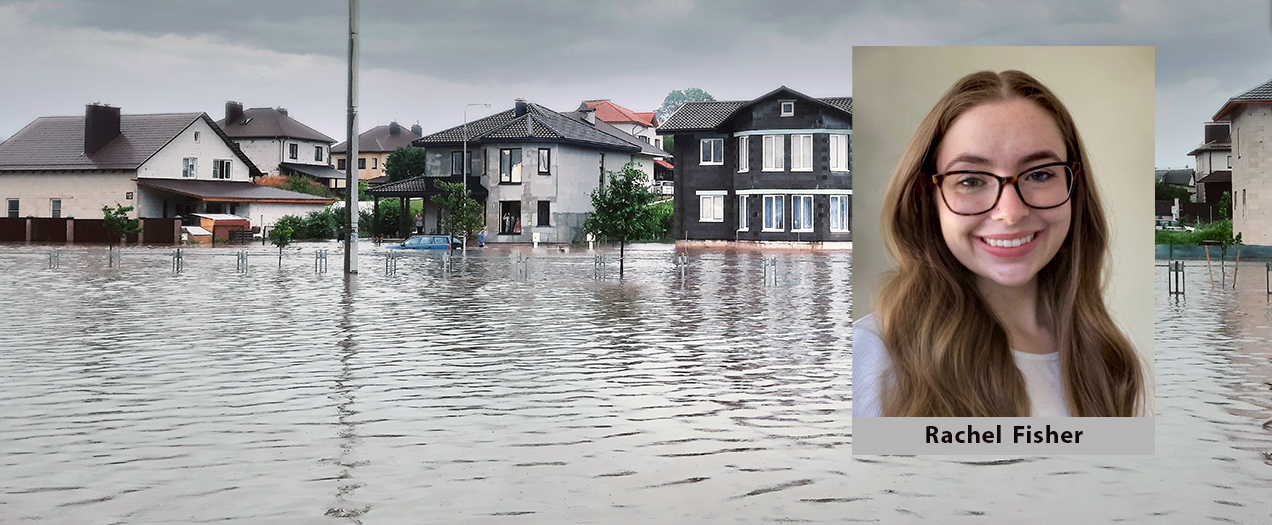 Galloway, NJ – As sea level along the East Coast rises, flooding events in southern New Jersey coastal communities become more severe, a student research paper published online today by the William J. Hughes Center for Public Policy argues.
Rachel Fisher, a senior Sustainability Program major at Stockton University, researched connections between rising sea levels and flooding along the New Jersey coast. Fisher pulled together relevant points from existing research as well as reviewed long-term data from National Oceanic and Atmospheric Administration tidal gauges in Atlantic City and Cape May to document sea level rise.
Fisher studied flooding issues as part of her Spring 2022 student research internship with the Hughes Center. The center published her paper, "Studying the Effects of Sea Level Rise on Coastal Flooding in Southern New Jersey," on its website today at https://stockton.edu/hughes-center/index.html.
Major takeaways from the paper include the following.
Tide gauge data from Atlantic City and Cape May demonstrates an overall increase in sea level along the coast of New Jersey, a trend observed globally in various research and shown to be exacerbated in the northeast coastal regions of the United States.
Sea level rise increases the severity of storm events, particularly in the amount of coastal flooding and inundation that occurs.
Tidal flooding, which can occur in the absence of storm events due to exceptionally high tides, causes transportation disruptions and costly strains to road and sewage infrastructure in New Jersey coastal communities.
Nearly all of the smaller-scale flooding events between the years 1998-2021 in Atlantic, Ocean, Cape May and Cumberland counties were caused or worsened by tidal flooding.
Coastal wetlands are exceptionally vulnerable to the effects of sea level rise and coastal flooding, and their damage could result in compounded ecological implications, including habitat loss for vital species, marsh erosion and negative impacts on drinking water quality from saltwater intrusion.
Fisher, a resident of Galloway, is pursuing a major in Sustainability with a concentration in Policy and Economics, as well as a Political Science minor. At Stockton, she is the public relations officer for the Marine Science Club and Co-Director of Student Action Volunteers for the Environment.
She is also the group leader for the South Jersey Chapter of Citizens' Climate Lobby. Fisher is interested in climate change, environmental justice and food security, and hopes to pursue a career working on the intersection of these issues in the future.
The Hughes Center takes on at least one student research intern each semester to study a public policy issue of importance to New Jersey, and the center publishes intern papers on its website. All of the center's student research can be found at https://stockton.edu/hughes-center/student-research.html.
About the Hughes Center
The William J. Hughes Center for Public Policy (www.stockton.edu/hughescenter) at Stockton University serves as a catalyst for research, analysis and innovative policy solutions on the economic, social and cultural issues facing New Jersey, and promotes the civic life of New Jersey through engagement, education and research. The center is named for the late William J. Hughes, whose distinguished career includes service in the U.S. House of Representatives, Ambassador to Panama and as a Distinguished Visiting Professor at Stockton. The Hughes Center can be found on YouTube, and can be followed on Facebook @StocktonHughesCenter, Twitter @hughescenter and Instagram @ stockton_hughes_center