Hughes Center Hosts 2nd Congressional Debate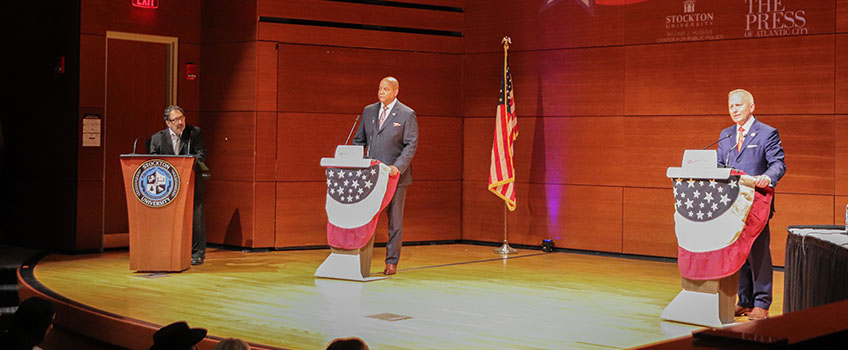 Galloway, N.J. - The William J. Hughes Center for Public Policy at Stockton University and The Press of Atlantic City cosponsored a debate Oct. 19 between candidates for the U.S. House of Representatives in South Jersey's 2nd Congressional District.
The major party candidates, Democratic challenger Tim Alexander and Rep. Jeff Van Drew, the Republican incumbent, participated in the one-hour debate at Stockton's Galloway campus.
John Froonjian, executive director of the Hughes Center, moderated the event.
The debate can be viewed on YouTube https://www.youtube.com/watch?v=2GKC5z_GqjY&t=9s.
Following, in order, are the questions that were asked during the debate:
1. Developing renewable energy is critical to addressing climate change, and New Jersey is investing in wind turbines energy as a major component. But there has been local significant opposition to offshore wind farms. How do you balance these competing interests and what do you support?
2. Van Drew, would you explain why you voted against certifying the 2020 election results, and do you believe or not believe that Joe Biden is the legitimate president? As the January 6th Committee wraps up, with all you know now, would you vote the same way again? Mr. Alexander, some in your party claim we are in danger of losing our democracy. Are those really the stakes, or is this just partisan hyperbole designed to rally the base?
3. How would you balance the right of all eligible citizens to vote against the concerns of some to bolster voting integrity? What practices do you support?
4. How do you assess our immigration situation, and what policies do you advocate?
5. What is your position on whether or not abortion should be legal, and would you support or oppose a federal ban or restrictions on women's right to an abortion?
6. The Supreme Court found the U.S. Constitution contains no explicit right to an abortion. Some fear the same logic could overturn rights to gay marriage and even contraception. How would you vote on a bill to preserve those rights in federal law?
7. What law enforcement policies or reforms, if any, are needed to address crime?
8. Inflation is making gas and groceries unaffordable to many. It's considered a key issue in the midterm elections, but tell the truth: What can Congress or the president do to affect large-scale economic trends?
9. District 2 and most of South Jersey has higher poverty and unemployment rates than the rest of New Jersey and has for years. Why don't things ever change, and what steps can you as a congressman take to change this?
10. This isn't a federal issue, but voters care about your thoughts as national leaders. Many states have banned teaching about racial history, sexuality and gender issues and controversial books. Where is an appropriate middle ground between parents' rights concerning curriculum and educational independence?
11. This question came from a Press reader for Mr. Van Drew: "As a senior citizen, I would like you to explain your votes against a cap on the price of insulin for seniors and authorizing Medicare to negotiate the cost of drugs in the recent Inflation Reduction Act?" Mr. Alexander, the Inflation Reduction Act has done little to reduce inflation but contains spending on a range of issues, including climate change and health care. Do you think the level of federal spending the Democrats have supported is helping or hurting the economy?
12. Do you support or oppose proposal to forgive student loans?
13. Property taxes are usually a state and local issue, but New Jersey taxpayers were affected by the 2017 Republican tax cut bill that eliminated the capped the federal property tax deduction. Where do you stand on the issue?
14. The 2nd District is surrounded on two sides by water, and coastal flooding is becoming increasingly worse. What have you done or what would you do to address the situation? Would you support restricting development or rebuilding along the ocean?
15. President Biden's recent pardon of people convicted of marijuana possession has spurred calls to downgrade the offense at the federal level. Whether it's for health, economic or social justice reasons, where do you stand on decriminalizing marijuana?
16. What policies and strategies do you advocate for the United States dealing with Russia and Ukraine as the war there is in its eighth month?
The debate sponsors require independent candidates to meet a campaign finance standard to qualify to be invited to participate. Such candidates must have raised and spent at least $5,000 – the minimum that requires reporting to the Federal Election Commission – to qualify. No other candidates have yet met that standard.
Election Day is Tuesday, Nov. 8.
About the Hughes Center
The William J. Hughes Center for Public Policy (www.stockton.edu/hughescenter) at Stockton University serves as a catalyst for research, analysis and innovative policy solutions on the economic, social and cultural issues facing New Jersey, and promotes the civic life of New Jersey through engagement, education and research. The center is named for the late William J. Hughes, whose distinguished career includes service in the U.S. House of Representatives, Ambassador to Panama and as a Distinguished Visiting Professor at Stockton. The Hughes Center can be found on YouTube, and can be followed on Facebook @StocktonHughesCenter, Twitter @hughescenter and Instagram @ stockton_hughes_center.
-Story by Stacey Clapp
-Photo by Eliza Hunt