Honor Societies Induct New Members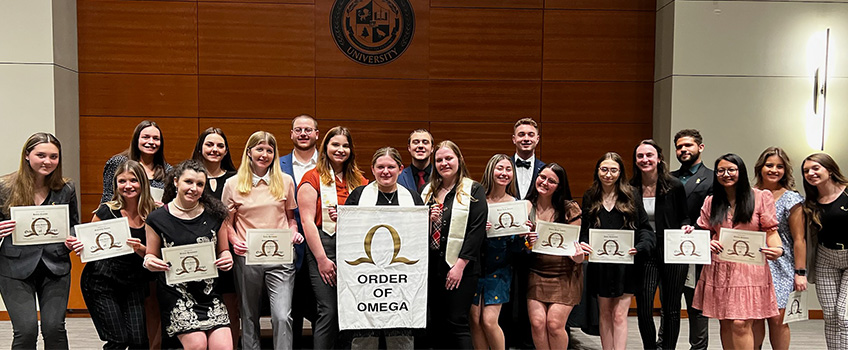 Galloway, N.J. - Stockton University honor societies embraced the return to in-person events on campus with events inducting new members for the 2021-2022 year. Below is a list of some of the students who have been recognized at individual ceremonies.
The Order of Omega
The Order of Omega is a fraternity and sorority honor society that is only allowed to induct up to 3% of the community. Criteria includes GPA and campus leadership.
The fall inductees: Samantha Apple, Deja Aviles, Jason Brush, Annie Del Colombo, Erica Donahue, Michael Elassar, Cielo Figueroa Bravo, Julianna Fortis, Alexander Grogan, Nadir Hassan, Jaclyn Lutgen, Dyanne Maas, Catherin Parmenter, and Marina Smith.
The spring inductees: Tyler Babroff, Jessica Capone, Hailey Carson, Julia Cucci, Adonia DaCosta, Brenna Drummond, Bailey Farrell, Kaila Herrman, Gabriella Iacono, Jessica Lagary, Michelle Mastrangelo, Christopher Melillo, Andrew Montemurro, Jenna Rutherford, Melissa Schmierer, Syndey Schuldt, Marissa Shiarappa, Andrew Torres, and Jessica VanGlahn.
Office of Student Development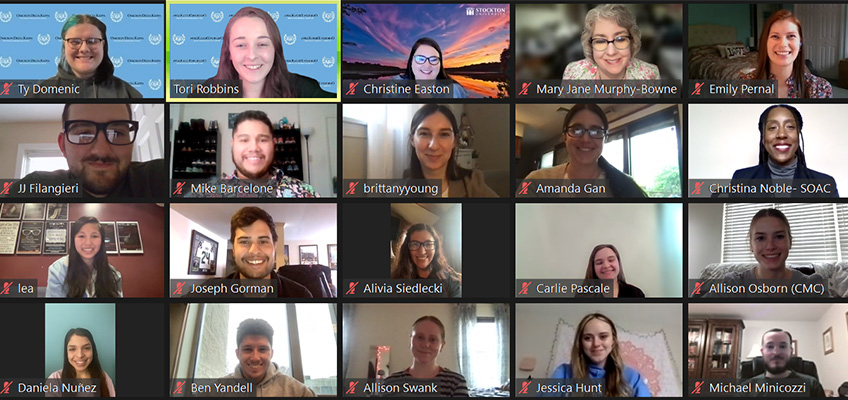 Twenty-two students were inducted into Omicron Delta Kappa: Michael Dominic Barcelone Jr., Angelica F. Cardona-Rosado, Allyson Gail Lerios David, Jerry Joseph Filangieri, Amanda Rose Gan, Joseph L. Gorman, Lea Hawthorne, Jessica Hunt, Maxwell Klenk, Ahna-Marie Lafferty, Michael A. Minicozzi, Mary Jane Murphy-Bowne, Christina Noble, Daniela A. Nuñez, Allison Kathleen Osborn, Carlie Rebecca Pascale, Emily Pernal, Alivia J. Siedlecki, Allison Swank, Christine Teeney, Benjamin T. Yandell, and Brittany L. Young.
School of Arts and Humanities
Victoria Scannella was inducted into Phi Alpha Theta, the national history honor society.
Five students were inducted into the Theta Tau Chapter of Eta Sigma Phi: Satya Allen, Michal Baxter, Blaze Kern, Jessica Langbein, and Christian Pimenta.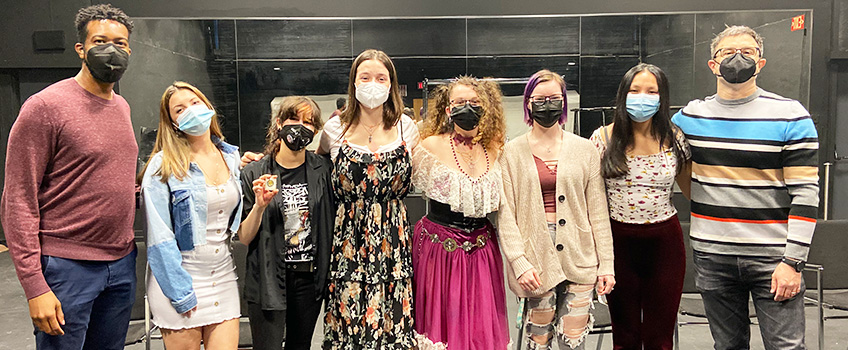 Six members of the Stockton Theatre program were inducted into Alpha Psi Omega, a national honor society for excellence in theater. The Alpha Delta Theta chapter welcomed Joanna Buchner, Sofia "Fifi" Fanty, Emily Gioe, Lea Hawthorne, Michelle Pomponio, and Emily Stevenson.
Ten students were inducted into Sigma Delta Pi, the national collegiate Hispanic honor society: Mildret Cardenas Alcantar, Mylani Ariza, Enny Maldonado Cardona, Vanessa Aguirre Molina, Ariel Norbeck, Miguelina Pelenski, Sonia Rivera, Katherine Rodriguez, Marina Smith, and Riley Vaughn.
Ten students were named to Sigma Tau Delta, the literature honors society: Ana Beste, Lexie Conus, Julia Graf, Sarah Hanlon, Lea Hawthorne, Juliana Johnson, Michelle Mastrangelo, Danielle Soto, Melany Then, and Allison Truax.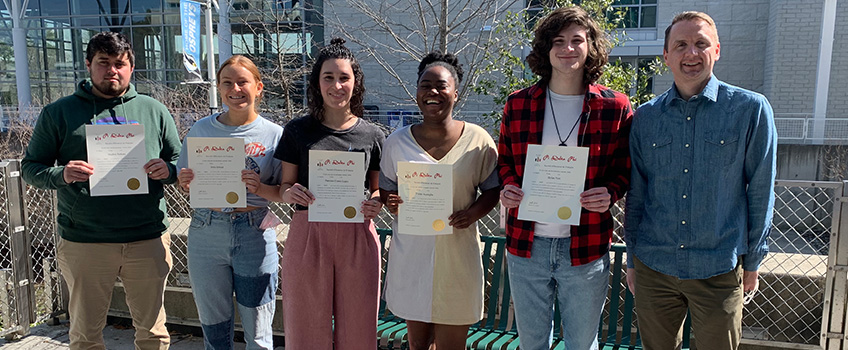 Six students were inducted into the Pi Delta Phi French Honor Society: Stephen Barkasy, Julia Erhard, Narcisse Cortes-Lopez, Yvette Assongba, Dylan Veit and Kory Olson.
School of Business
Seventeen Hospitality, Tourism & Event Management students were inducted into the International Hospitality Management Honor Society, Eta Sigma Delta (ESD): Hayleigh Bowling, Dakota Brantner, Lauren Carfagno, Jenna Casperite, Alexandra Conenna, Charles Cordery, Sean Heaney, Zachary Lorenz, Amy Lyle, Tyra McCaffrey, Maria Mezquita, Yocelina Morales, Jordan Rosser, Andre Romero, Natalie Russo, Isabella Tuso and Monica Witmer.
Twenty-two students were inducted to Beta Gamma Society, a honor society for business studies: Farren Andrews, Deja Aviles, Carnita Carr, Ivett Carrasco, Mathew Elgawly, Ashley Fee, Gabriella Figueroa, Joseph Gorman, Alexander Grogan, Nicholas Huff, Ki'tra Hunter, Alexis Kozlak, Nicholas Ligameri, Aaron Nichols, Priya Parikh, Caleb Poag, Jacklyn Polisano, Alisha Romer, Glenn Smith, Jake Sobara, My Tien Tran, and Jennifer Van Seters.
Five students joined the New Jersey Collegiate Business Administration Association Honor Society this spring: Ryan Eshelman, Christian Guerrera, Kevin Luzzi, Caleb S. Poag and Breanna Tapia.
School of General Studies and Graduate Education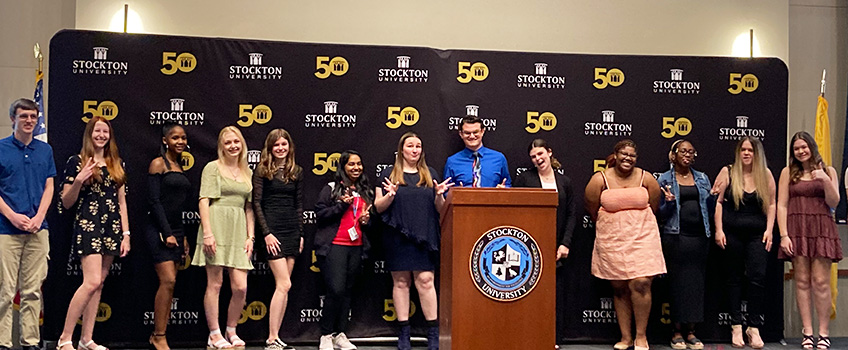 The Alpha Lambda Delta (ALD) Honor Society for First-Year Academic Success welcomed 56 new members: Marissa Akras, Alina Antonucci, Spencer Barc, Emily Bastardo, Camille Benoit, Christina Caruso, Lauren Chapleski, Lyndsey Clarke, Mariana Deicas, Alexis Devers, Madeline Dietrich, Allanah Docherty, Felix Doebbel, Ava Dressendofer, Alyssa Egenolf, Julia Evanina, Detty-Maidanove Exantus, Madison Fowler, Madison Gough, Riya Goyal, Jared Handelman, Paula Handel, Aniyah Harris, Savanna Harvey, Alexzander Haungs, Ethan Hourihan, Joshua Hutchinson, Emily Johnson, Arti Kapoor, Nicholas Lare, Kelsey Lauckner, Julia Liberto, Lauren Lindsay, Elizabeth Macklin, Marianna Marino, Anthony Marino, Isabella Matthews, Nayeli Perez, Karly Pratt, Kelsey Reynolds, Mason Rohena, Arwyn Russell, Chelsea Sadler, Nina Salvo, Jehili Sanchez, Vito Scardigno, Gabrielle Shockley, Abigail Smith, Cailyn Stile, Faith Strina, Paige Swift, Gianna Taylor, Justine Torres, Zaniya Walker, Emma Wible, Katherine Wilkinson.
School of Health Sciences

Several students and faculty members were inducted into Alpha Eta, the International Honor Society for the Allied Health Professions. Eighteen Bachelor of Science students in the Health Science Program were inducted: Meghan Angelucci, Kyle Borges, Calyn Conway, Victoria DiCicco, Dennis Drakeley, Giselle Figueroa, Megan Glenn, Katelyn Gordon, Caryssa Guerra, Lauren Hoarle, Nicole Hughes, Kerstin Maguire, Michael Minicozzi, Allison Osborn, Adel Sawaged, Kaitlyn Stavely, William Taylor, and Nikita Torres.
Seven master of science students in the Occupational Therapy Program were inducted into AlphaEta: Micaela Fiebig, Mary Gedaka, Olivia Huffman, Eliza Osborne, Melanie Patterson, Mari Timney, and Chasady Wilford. Four Masters of Science students in the Communication Disorders Program were inducted: Chasity Coward, Alyssa Erin De Guzmanb, Amanda Owen, and Kristine Ann Sobredilla. Faculty inductees were Dr. Brent Arnold and MaryAnn Schiattarella.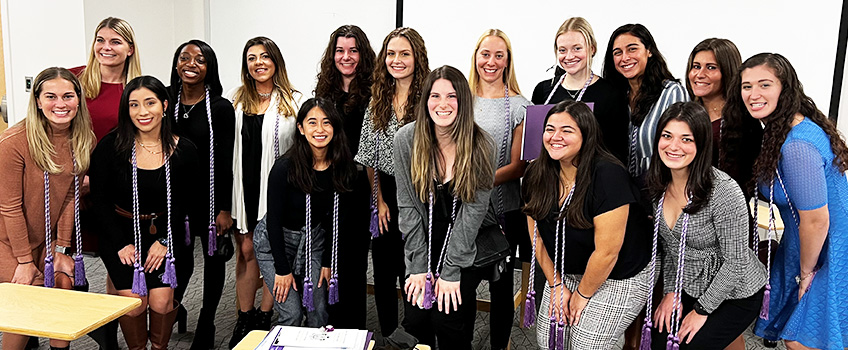 Several nursing students were inducted into the Theta Sigma Chapter of Sigma Theta Tau: Michaella Butrico, Kira Chapman, Mariabella Ferraina, Jessica Lependorf, Amber Minnick, Taylor Moore, Victoria Munyon, Sarah Naumchik, Tiffany Reed, Devyn Richter, Samantha Rizzuto, Stephanie Rodriguez, Olivia Sceia, Alivia Siedlecki, Susan Silverman, Hailey Steinman, Lucas Thomas, Brooke Wachenheim, Megan Warner, Julia Wetzel, and Shakeya Williams.
School of Natural Sciences and Mathematics

Eighteen students were inducted into Beta Beta Beta, the national biological honor society: Dana Baker, Allyson Gail David, Irenonsen Eigbe, Kaelie Ellis, Nadir Hassan, Marilyn Andeliz Madera, Lydia McBride, Matthew Metzler, Ngan (Nikki) Nguyen, Emma Norton, Alexandria Parks, Janvi Patel, Rani Patel, Brooke Petersen, Steven Neustadter-Schneider, Kashmira Sidhwa, Jack Swenson, and Lexi Urbanek.
Five students were recipients of the American Chemical Society Division Awards: Richard Citta, Physical Division; Matthew Furry, Organic Division; Gavin Raptakis, Analytical Division; Mark Tell, Organic Division, and Joshua Rieder, Inorganic Divison.
Keith Sylvestre was inducted into the Honor Society of American Society of Biochemistry and Molecular Biology.
School of Social and Behavioral Sciences
Ten students were inducted into Alpha Phi Sigma, the criminal justice national honor society: Emily Alas, Aidan Alverson, Emily Bluhm, Katherine Cox, Tiffany Giang, Valerie Kelly, Brian O'Connell, Angelina Reed, Morgan Rhodes, and Justin Stellwag.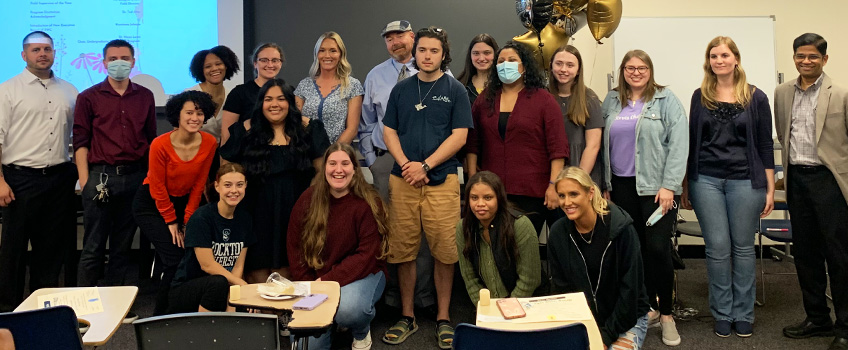 The following students from the Bachelor of Science in Social Work and Master in Social Work programs were inducted into the Phi Alpha Honor Society. In the undergraduate program: Richard Baex, Brianna Brida, Taylor Cohen, Rose Crawley, Dana De Mola, John DeStefano, Frederick Erskine, Lauren Farrell, Ashley Francesco, Nathalie Garcia, Katie Hanlon, Brianna Honse, Krystiana Jalosjos, Sara Joseph, Stacey Kesser, Janet Martin, Mackenzie Matura, Jamela Meziane, Keana Miller, Alexandra Mussman, Danielle Nutt, Yesenia Pacheco, Lauren St. John, Spencer Salas, Diana Sandoval, Isabelle Sanger-Johnson, Rafaela Saude, Kamary Serrano, Sarah Sharp, Emily Solan, Kimberly Stock-Scola, Ava Thigpen, Brianna Jockel, and Jill Tucci.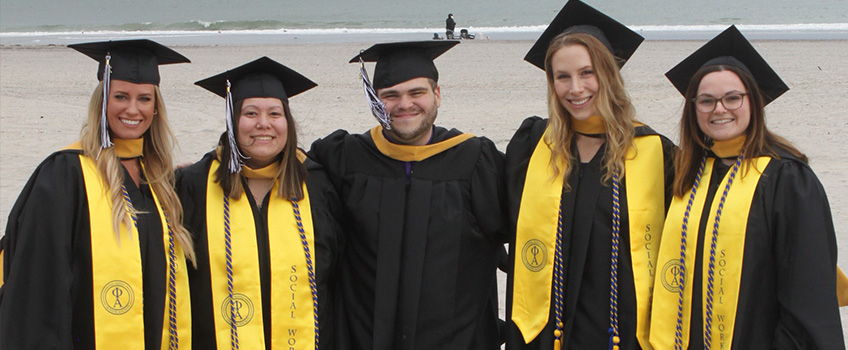 In the Master of Social Work program, Janine Gancy, David Geller, Rashelle Mathieu, Judith Mulligan, Christina Seel, and Gina Umosella were inducted into the Phi Alpha Honor Society.
Eight students were inducted into the Alpha Zeta Rho Chapter of Pi Sigma Alpha, the national political science honor society: Maria-Elena Barcelone, Michael Killebrew, Emily Kramer, Gianna Magliaro, Joseline Medina, Jessica Shinski, Katie Squindo, and Benjamin Yandell.
Six sociology students were inducted into the Alpha Kappa Delta Honor Society: Connor Bachmann, Ryan Casey, Unique Jenkins, Elizabeth Rivera, Rebecca Shingelo, and Kiera Williams.

Students were inducted into Psi Chi, the psychology honor society for both 2020-21 and 2021-22 academic year. Here are the names for the 2021-2022 school year: Mikayla Ariza, Cassandra Bodner, Brenna Borgstede, Morgan Brown, Jacey Caplan, Nichole Data, Brendan Deal, Charlee Emmons, Jennifer Guallpa, Tierra Houston, Carly Kowalewski, Kathleen Koschorreck, Elizabeth Kramer, Moujnir Lewis, Ethan Mays, Kimberly Menck, Jared Mills, Nikitha Mohan, Eileen Noland, Ruth Ovil, Carlie Pascale, Akshika Patel, Poorva Patel, Bryson Richman, Stephanie Rodeiro, Carly Rupert, Faith Ruzycki, Madison Sauder, Belgusa Sherifi, Bryanna Storck and Danielle Yaeger.
The names for the 2020-2021 school year: David Concordia, Destiny Everett, Emilee Graetz, Melia Grossi, Kaylee Heslin, Caitline Hesson, Jessica Hunt, Hailey Jones, Dean Luciano, Kayla Meisenhelter, Alana Morgan, Mary Natale, Emily Ponticello, Deonna Powell, Morgan Rhodes, Kasey Rigg, Kevin Riley, Sarah Sharp, Lily Sheret, Paige Shukovsky, Katie Squindo, Marianna Vazquez-Rosa and Calli Votta.
Those inducted for the 2019-2020 school year include: Rachel Annuziata, Carlee Bellapigna, Allison Bise, Trey Brasher, Alexia Breeden, Brianna Brown, Veronica Campbell, Cassidy Carr, Kayleigh Cook, Samantha Crance, Brielle DeLano, Grace Dessicino, Marisa DiLeo, Seth Edwards, Kristen Fleming, Devon Freed, Taylor Gathman, Cameron Golgolab, Isabella Gural, Jacob Hoppenfeld, Lauren Kasprowicz, Autumn Keane, Grace Kennedy, Sofia Nicole Lavagnino, Michaela Lippert, Alexa Madoff, Nicole Lloyd, Payton Marascio, Kara Mattsson, Danielle Meeker, Veronica Morano, Caitlyn Muller, Reem Naber, Sabrina Parin, Heather Passarelli, Reet Patel, Diana Ramirez-Fernandez, Jolie Smith, Olivia Stragapede, Julia Tominberg, Kelsey Wallace, Kaleigh Wargo, Natalia Weitzel and Nicole White.