Stockton Health Sciences Graduates in Demand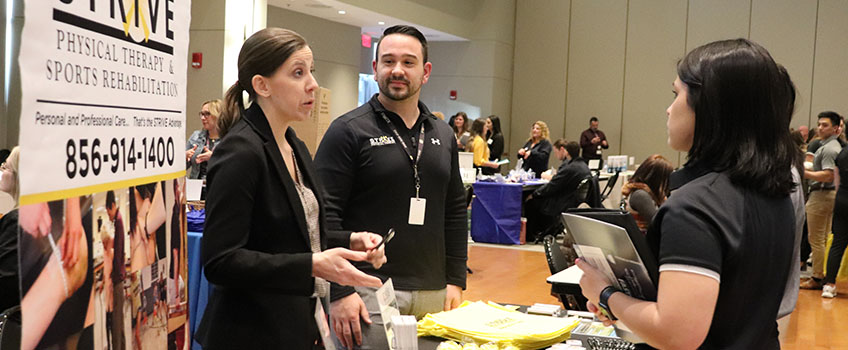 Galloway, NJ -- The Campus Center Event Room buzzed with activity as over 100 Stockton students and 30 clinical partners from the tristate area connected in person during the School of Health Sciences Networking Career Fair on March 29.
Many of the students in attendance were eager to learn about the job opportunities available to them as they start clinicals and begin to think about life after graduation.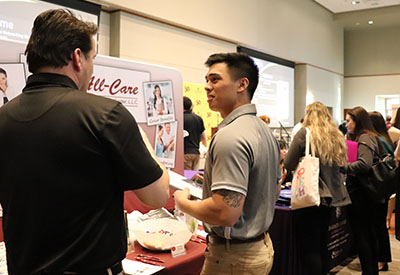 "I met my clinical instructor who's going to be guiding me through my clinical experience this summer. That's an eight- to 10-week experience, so it's good to see them face-to-face already," said Connor Pagkalinawan, a second year Doctor of Physical Therapy student.
Rachel Hettman, who's finishing up the Master of Science in Communication Disorders education program in Speech-Language Pathology, enjoyed scouting out potential career opportunities. "I'm really open to all sorts of opportunities, which is why I like this event so much. There are so many different businesses I can interact with," Hettman said.
Nick Smull, a clinician development specialist at NJ Spine and Wellness Sports Medicine, said that's the right attitude. "You come to school and think you have an idea of where your career will take you but be open to opportunities." He majored in athletic training and worked as a strength coach before entering an administrative role. "I'm not doing close to what I studied necessarily, but we work in a clinic that's very nontraditional. I think if students are open-minded to opportunities, they'll find their career will take them where it needs to go."
Hannah Armour '13, lead talent acquisition partner at Jefferson Health, was excited to return to her alma mater and speak with fellow Ospreys. "Right now, we are looking to hire eager nurse graduates for June," Armour said. "We're really looking for someone who is compassionate, dedicated and has a drive to help with patient care, especially in the time of COVID."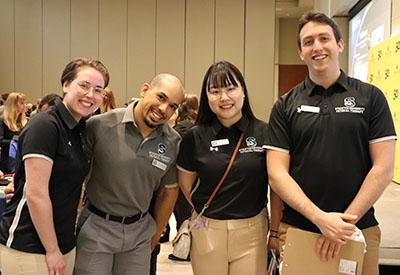 "We've heard nothing but great things about the students and the programs here at Stockton," said Cathleen Mengel, a recruiter with ChristianaCare who traveled from Delaware. "We're the largest health care provider in Delaware and we're always looking for great talent, so we decided to come a little further to pursue some excellent students."
While the market is hot for job seekers currently, employers want students to remain flexible, bring their passion and do their research when applying for positions.
"Apply with purpose," Mengel said. "Find an organization that speaks to you. One that you're not going to feel like you'll need to drag yourself out of bed every day."
Bryant Acquaro, a physical therapist and clinical director at NJ Spine and Wellness Sports Medicine, encouraged students to put themselves out there. "See who's going to match your energy and do your due diligence before you decide where to work," he said. "They're going to foster your growth as much as you're going to help them grow."
Story and photos by Eliza Hunt