Graduate Symposium Shares Student Projects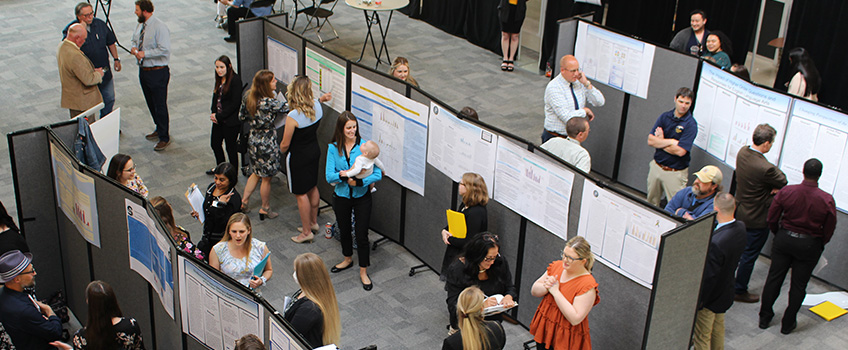 Galloway, N.J. – Students in graduate programs at Stockton University presented their final research and capstone projects at the annual Graduate Research Symposium May 2-3 in the C-D Atrium and at an MBA event at the Stockton Atlantic City campus.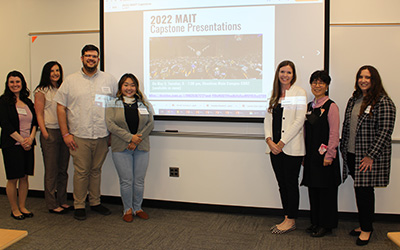 Some 50 projects were displayed with a range of topics.
"This is a wonderful opportunity to celebrate and share the results of our students' hard work," said Dean of General Studies and Graduate Education Rob Gregg.
Students in the Master of Arts in Education program displayed projects many had implemented themselves as classroom teachers. "Songs and Lyrics: The Key to Helping Middle School Readers Build Comprehension Skills" was developed by Wildwood Middle School special education teacher Gregg Clayton with his students. Other topics included strategies for students with ADHD and anxiety, and the use of restorative circles to strengthen student-teacher relationships and create a positive learning environment.
The Interactive Multimedia Cookbook for College Students by Nicole Ciccone was tested on a group of Stockton students as part of her Master of Arts in Instructional Technology project. Both Nikki Nolan and Anthony Thawley developed projects to keep "early-finishers" busy in class while others completed the work.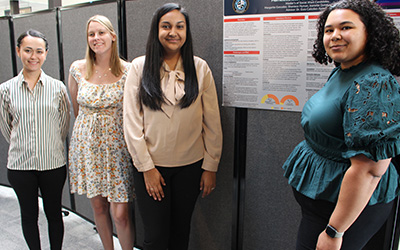 Students in the Master of Arts in Criminal Justice program addressed topics ranging from peer-involved suicide prevention in prisons to procedural justice training for police officers.
A project on "Homelessness Among LGBTQ+ Youth" by Master of Social Work students Margarita Gonzalez, Jeanette Quinn, Evelyn Tejada and Shaniece Hyman recommends a 21-bed residential facility for youth ages 11-21 with specialized programs to address their mental, physical and educational needs.
"This is a very important topic, and the students did excellent work," their advisor, Guia Calicdan-Apostle, said of the homelessness project.
MBA students held a Management Theory, Practice & Vision Graduate Symposium on May 2 at Stockton Atlantic City, which featured panel discussions by student researchers. Assistant Professor of Business Studies-Management Joy Jones organized the event, attended by some 50 students, faculty and community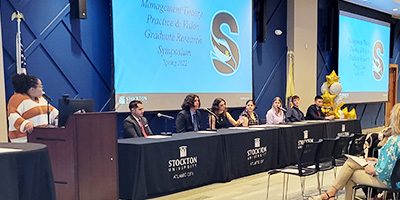 members.
Dual-degree student, Elaina Gill, presented her Management Theory class research, which has also been accepted for presentation at the Eastern Academy of Management Conference in Portland, Maine, this month. Elaina's presentation and associated research focuses on how Stockton MBA students have helped small businesses and non-profit organizations identify and find solutions to problems impacting their organizations due to the pandemic. Students Jasmine Rodriguez and Rifat Mahmud also moderated panels.
More information on symposium projects is on the Graduate Admissions Research website.