Faculty and Staff Set Scholarship Tradition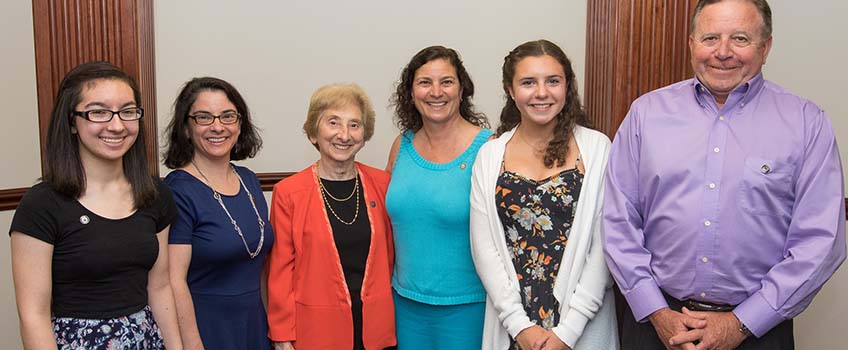 Galloway, N.J. – Throughout the last 50 years, Stockton University faculty and staff have demonstrated their willingness to reach beyond the classroom to help their students.
One of the most tangible examples of this dedication to student success is making endowed gifts to the Stockton Foundation, which provide financial assistance to help students pay for tuition and fees, participate in a conference, travel abroad, or do research.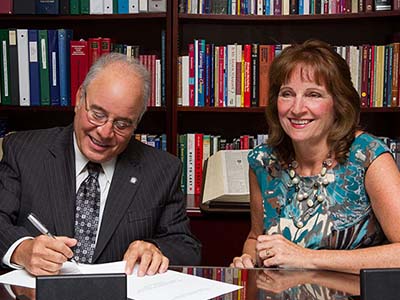 An endowed scholarship is a donation that is invested and annually earns interest. When someone "endows" a scholarship, the Stockton Foundation invests the money and distributes a percentage each year in scholarships or grants in perpetuity.
"Foundation scholarships mean more than just financial aid. They demonstrate the confidence the faculty and staff have in Stockton students and their belief that these students will not just succeed, but excel," said Daniel Nugent, Stockton Chief Development Officer and Executive Director of the University Foundation.
For the donors, these endowments can also represent a way to recognize a loved one or colleague who also made a difference in others' lives.
"A scholarship can make a huge difference in a student's college experience and our faculty and staff see that impact in their classes," said Stockton President Harvey Kesselman. "Lynne and I are grateful to all those who have endowed scholarships and are honored to be in their company."
Many members of the faculty and staff have created endowments over the years. Here are some of their stories.
The Lynne Kesselman '82, M.A. '05, and Harvey Kesselman '79 Endowed Scholarship Fund
In August 2015, Lynne and Harvey Kesselman pledged $25,000 to establish the scholarship fund for the benefit of Stockton students. That was later increased to $50,000. Dr. Kesselman graduated with a bachelor's degree in Political Science. Lynne Kesselman attained both her bachelor's and master's degrees in Business Studies and Instructional Technology, respectively, from Stockton.
The Lynne Kesselman '82/M.A. '05 and Harvey Kesselman '79 First Generation Endowed Scholarship Fund
The $25,000 fund was started in 2020 to ensure opportunities for an ever-increasing number of first-generation students at Stockton. As first-generation students themselves, Dr. and Mrs. Kesselman seek to assist those Stockton students who are the first in their families to attend college.
Joseph and Mildred Hussong Scholarship/John Bockelmann Memorial Scholarship
Professor Marion Hussong and husband Joseph established the John Bockelmann Memorial Scholarship in honor of her father, John Bockelmann. The endowment provides an annual award to students majoring in Literature with a demonstrated interest in Holocaust & Genocide Studies. The Hussongs also established the Joseph and Mildred Hussong Scholarship to commemorate the lives of Joseph's beloved parents. If there are no qualified students within the Art program, this scholarship may be awarded to students pursuing Philosophy & Religion.
Dr. Amy S. Ackerman Endowed Scholarship
The Dr. Amy S. Ackerman Scholarship is an endowment to provide an annual award to students pursuing an education-related field of study. The endowed scholarship is awarded in perpetuity thanks to the generosity of Dr. Ackerman, associate professor of Instructional Technology.
Leona Carr Memorial Scholarship
The Leona Carr Memorial Scholarship is an annual opportunity established by Stockton Professor of Political Science Emeritus Dr. David and Mrs. Beverly Carr in memory of his mother. The award is available to assist a full-time undergraduate student in serious financial need with a minimum cumulative GPA of 3.0. This scholarship program awards undergraduate students from underrepresented, underserved and economically disadvantaged populations whose serious financial need is balanced by high academic achievement.
Edward and Melanja Bukowski Memorial DPT Scholarship Fund
Elaine Bukowski, professor emerita of Physical Therapy, endowed a $25,000 gift to establish the Edward and Melanja Bukowski Memorial DPT Scholarship Fund honoring her late parents and the students she taught at Stockton University over her 29-year tenure. Bukowski was a part of Stockton's Physical Therapy program since its founding in 1987. The memorial scholarship is for graduate students in the Doctor of Physical Therapy program.
Chad Adams Memorial Scholarship Fund
Rebecca Adams established the Chad Adams '95 Memorial Scholarship in memory of her husband, Raymond C. "Chad" Adams, a University employee and alumnus who passed away at age 41 on Sept. 26, 2012. Chad was a 1995 graduate of the Stockton School of Health Sciences where he earned a Bachelor of Science degree in Public Health and he had been working on his master's degree at Stockton. He joined the Development and Alumni team in 2010 and was the Associate Director of Annual Giving Programs. The scholarship was developed with Director of Alumni Relations Sara Faurot, Director of Graduate Studies Tara Williams and others at Stockton.
Dean Dennis and Susan Weiss Scholarship in Marine Science
The Dean Dennis and Susan Weiss Scholarship in Marine Science is an endowment established in 2016 by Dr. Dennis and Susan Weiss for the benefit of students pursuing a degree in Marine Science. Dennis Weiss served Stockton University for 14 years, retiring in 2015 as the dean of the School of Natural Sciences and Mathematics. During his tenure, Dr. Weiss succeeded in refurbishing the University's Nacote Creek Marine Science and Environmental Field Station, designing the Unified Science Center I, developing the master's degree in Environmental Sciences and coordinating the bachelor's degree in Sustainability.
Dominick A. Messina Memorial Endowed Scholarship
Dominick A. Messina was a 31-year Stockton employee. He was passionate about music and served as a volunteer radio host DJ for WLFR. The scholarship is an endowment established by his wife, Nancy M. Messina '82' 99, retired Assistant Dean of the School of Arts and Humanities, to benefit a full-time student majoring in a discipline within the School of Arts and Humanities with a preference for Studies in the Arts (both visual and performing) and may include active participation in the University's radio station, WLFR.
Mary Ann Green Mastrangelo Scholarship
The Mary Ann Green Mastrangelo Scholarship was established by her daughter Dr. M. Alysia Mastrangelo, Professor of Physical Therapy, to honor her mother, Mary Ann Green Mastrangelo. She said her mother "has been inspiring others to reach their goals and excel in life for most of her own. She strongly believes that everyone can succeed. She believes higher education is the foundation of an individual's success. Her impact on the world around her is multigenerational." The annual award is for graduate or undergraduate students pursuing a degree in Physical Therapy or Studies in the Arts.
Silba Distinguished Scholarship
Established by Associate Professor of Marine Science Gordan Grguric, this $200,000 endowment will provide a minimum of two $3,5000 stipends each year to a student doing research in fishery science or data collection. The endowment is in memory of Gguric's father Petar and is named for the island in the Adriatic Sea where the family spent many summers fishing. "My career evolved from his interest in fishing," Grguric said of his father.
Estate of Rudolf Arndt/Meta Magnus Arndt Memorial Endowed Scholarship
The Estate of Rudolf Arndt established the Meta Magnus Arndt Memorial Endowed Scholarship in 2020 for the benefit of Stockton University students. Arndt joined the Stockton faculty in 1974 and retired in 2007. His significant contributions to the Marine Science program in the form of research, teaching, and service place him as one of the giants in his field.
The Nancy Ashton Scholarship
The Nancy Ashton Scholarship is an endowment established by Stockton Professor Penny Dugan, Stockton University faculty and staff. It is intended for students minoring in Women's, Gender and Sexuality Studies who give evidence of a strong commitment to gender equity and social justice. Nancy, who died in January 2013 at age 62, was a vital part of the Women's Studies program since her arrival at Stockton in 1977. She introduced the community action project for Perspectives on Women and created at least three Women's Studies courses in the School of General Studies.
For more information on establishing an endowed scholarship at Stockton contact Patricia Walker, director of development, at (609) 652-4337 or patricia.walker@stockton.edu.
Stockton students can learn more about all Foundation scholarships and apply on the Stockton website. Applications for 2022-23 are being accepted from Jan. 26-March 24.
- Story by Stephanie Loder and Diane D'Amico