Club Connect: Meet the... PASAS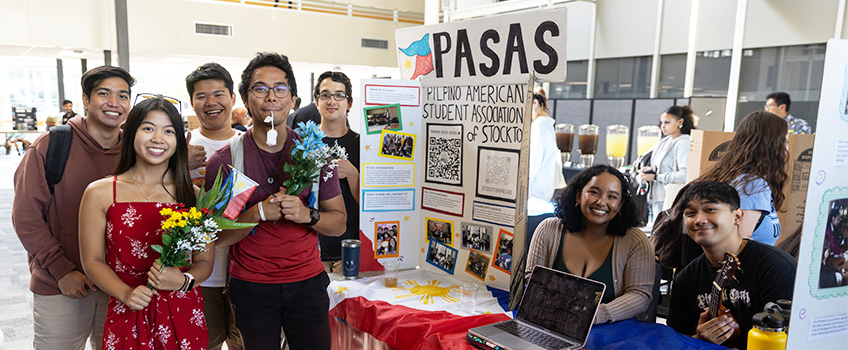 Galloway, N.J.- You can experience a bit of the Philippines right here at Stockton University.
The Pilipino American Students Association of Stockton, also known as PASAS, is a lively organization that "aims to spread the culture of the Philippines to anyone and everyone," Ralph Villacarlos, former president, stated. "As Filipinos, we would like to share our experiences and our culture so that it can be cherished and celebrated throughout the entire community."
In each meeting, members learn something new about Filipino customs and traditions and can then partake in fun games to get to know their peers. Ashley Dalisay, the club's current president, sees PASAS as her second family.
"When I first joined PASAS, I was openly invited into the pamilya (family) wholeheartedly, and I hope to share this welcoming with future members," Dalisay shared. "Everyone has something to bring to the table, whether it be their love, wisdom or wittiness."
Each year, PASAS also organizes an Ates & Kuyas program, otherwise known as Bigs & Littles. This is where a new member, an Ading (little sister/brother), gets paired up with a returning member, an Ate or Kuya (big sister/brother). It is a fun and anticipated initiative that allows new members to become more comfortable within the organization and foster relationships.
This year, students can expect bigger and better events; the club will host many programs, such as mixers, festivals, fundraisers, game nights and more while also supporting its philanthropic mission through donations and community service. In addition, PASAS is returning the popular Barrio Fiesta program and hosting its very first gala.
The gala will take place Saturday, Dec. 3, in the Campus Center Event Room, at 6 p.m. Tickets to attend the gala are on sale now at the Campus Center Information Desk until Dec. 1 and are open to students, guests and faculty. This black-tie event will include dinner and entertainment.
PASAS meets every other Monday at 8 p.m. The club encourages all interested students, no matter their background, to join on OspreyHub. You can also keep up with PASAS on their Instagram page @stocktonpasas.
-Story and thumbnail photo by Julyanna Deauna
-Photo by Susan Allen