Students Fill Stockton with Music and Song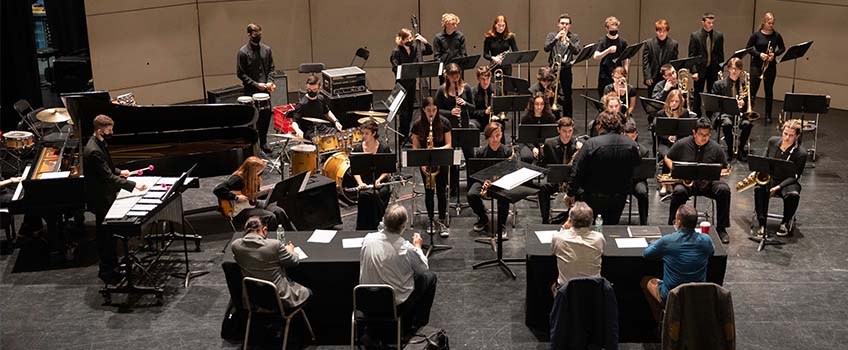 Galloway, N.J.- The Stockton Performing Arts Center and L-Wing were filled with the sound of music on March 14 and 15 as students from 10 area high schools shared their musical talents at the annual Choral Day and Jazz Festival.
"This whole experience has been fantastic," said Christopher DiSanto, associate professor of Music. "We're able to give these local schools a venue, meet local band directors, and, in turn, have reciprocal community relationships."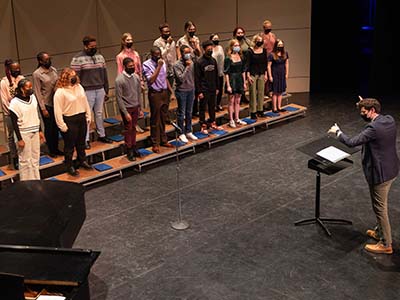 The High School Choral Day on Monday featured performances by students from Pilgrim Academy, Absegami High School, Overbrook High School, Oakcrest High School, Cedar Creek High School, Chartertech High School for the Performing Arts, Egg Harbor Township High School and Southern Regional High School. Guest adjudicators Kathleen Spadafino and Charles E. Bass offered critique and feedback and Stockton Professor of Music Beverly Vaughn led a group song.
"This is always such a wonderful day for the students," Vaughn said. "It's such a joy to be able to gather together and lift our voices in song."
On Tuesday, the fourth annual Jazz Festival included performances by musicians from Mainland Regional High School, Egg Harbor Township High School, Southern Regional High School and Northern Burlington High School. Stockton adjunct professor Edmund Vezinho, Dean Schneider, Anthony DeSantis, and Keith Hodgson judged the performances.
The Jazz Festival provided valuable educational feedback according to MRHS students Edwin Duversaint and Arjun Appel. After two years of canceled music trips, this has been one of the first performances that they have had since the COVID-19 pandemic restricted public events. Both students appreciated the opportunity.
"It gets the blood pumping and is a really exciting experience," Duversaint said, "The judges gave us good critique that was genuine and helpful."
"This has been a lot of fun," said Appel, who already plans to attend next year's festival. "It's a different style of competition that keeps you on your toes. I like that they talked to us all individually and gave us ideas on how to improve."
DiSanto said the annual events also give students the opportunity to meet with student musicians from other schools and learn more about Stockton and its music program.
"These events not only promote Stockton's music program," DiSanto said, "they also encourage local community building while highlighting the arts of South Jersey."
-Story by Loukaia Taylor
-Photos by Susan Allen