School of Business Earns Reaccreditation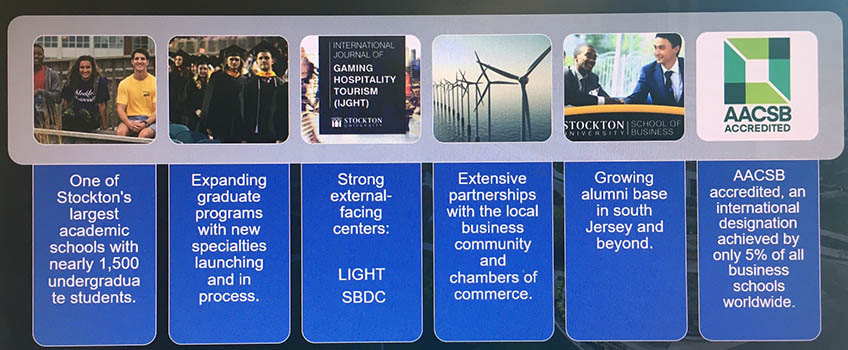 Galloway, N.J. – Stockton University's School of Business has earned extended accreditation from AACSB (Association to Advance Collegiate Schools of Business) International, a global nonprofit association that maintains the highest standards in business education.

"Every AACSB-accredited school has demonstrated a focus on excellence in all areas, including teaching, research, curricula development, and student learning. The intense peer-review process exemplifies their commitment to quality business education," said Stephanie M. Bryant, executive vice president and chief accreditation officer of AACSB.
Stockton's School of Business is one of the largest programs at the university, offering concentrations in Business Studies (accounting, business analytics, finance, financial planning, marketing and management) along with Computer Information Systems, Computer Science, and Hospitality, Tourism and Event Management Studies.
"This reaccreditation affirms our commitment to providing Stockton students with the opportunities and skills they need to succeed in the modern business world," said Stockton School of Business Dean Alphonso Ogbuehi. "We continue to look for new ways to connect our students with employers who will help them achieve their goals."
Stockton Provost and Vice President for Academic Affairs Leamor Kahanov said the reaccreditation assures students are receiving a quality education.
"We want our students to be confident that we provide excellent value for their investment in higher education," Kahanov said.
President Harvey Kesselman said he is proud of the continued work of the faculty and staff to provide students with real-life experiences and networking opportunities in the business world.
"Teaching business skills is important, but being able to apply those skills is crucial," Kesselman said. "Working with local business and industry leaders, we are helping keep talented young people in New Jersey where they can establish promising careers in their home state."
# # #
Media contact:
Diane D'Amico
Director of News and Media Relations
Galloway, N.J. 08205
Diane.DAmico@stockton.edu
609-652-4593
609-412-8069
stockton.edu/media