Bjork Library Recognized for Outstanding Customer Service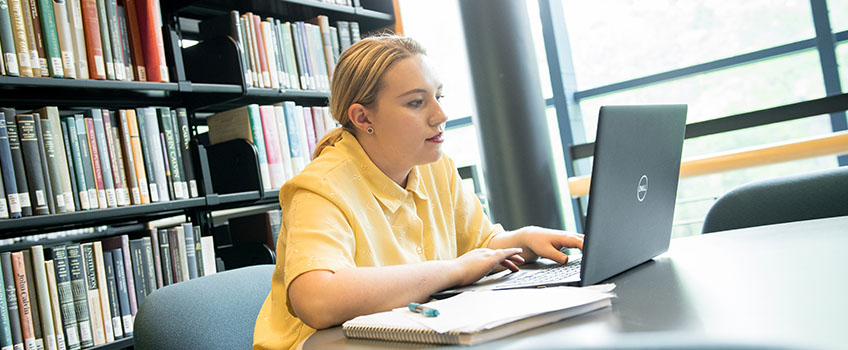 Galloway, N.J. — A worldwide library nonprofit organization recently recognized Stockton University's Richard E. Bjork Library for its outstanding customer service.
The Online Computer Library Center awarded Stockton its Express Library digital badge, which recognizes that the library was able to deliver copies of articles and other digital resources in less than 18 hours.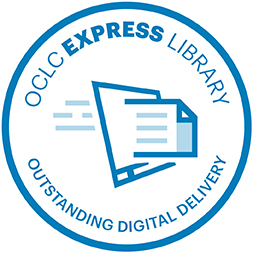 The organization has more than 30,000 members in more than 100 countries. The nonprofit tries to make information more accessible and useful and provides shared technology services, original research and community programs for its member libraries.
Patricia Thatcher, the interim associate provost, Library & Learning Commons, commended the work of Technical Library Assistant Susan Bucikowski and Library System Coordinator Natalie Wadley to streamline the interlibrary loan process.
"The badge program is indicative of the superior library user and patron service that the Bjork library provides to the community," Thatcher said. "We received this commendation because our interlibrary loan service, the service that involves searching for materials we don't own and getting them in our patron's hands, is really, really fast."
Thatcher said not only did the library meet the 18-hour goal to receive the badge, but the Bjork library completed requests in 10 hours on average over the past year.
"We are honored to receive this badge, and behind the badge is the hard work and patron-first attitude of our library staff," said Leamor Kahanov, Stockton's provost and vice president for Academic Affairs.
Part of a move toward Learning Commons
The award is an example of continuing efforts to make the library more accessible to the needs of students, faculty and staff. Thatcher said the library is introducing new streaming platforms for video use in the classroom this year. The library promotes a number of digital search and find technologies, as well as electronic resources in all media, that assist library users to customize resources to their immediate needs.
All of which, Thatcher said, is transforming the library into a more appropriate model of a 21st century library with technology-enhanced research and learning opportunities that open the possibility to consider the development of a Library Learning Commons at the Bjork Library.
Learn more about the Bjork Library's resources and services.
-- Story by Mark Melhorn