Stockton Hosts Bangladesh Consulate in Atlantic City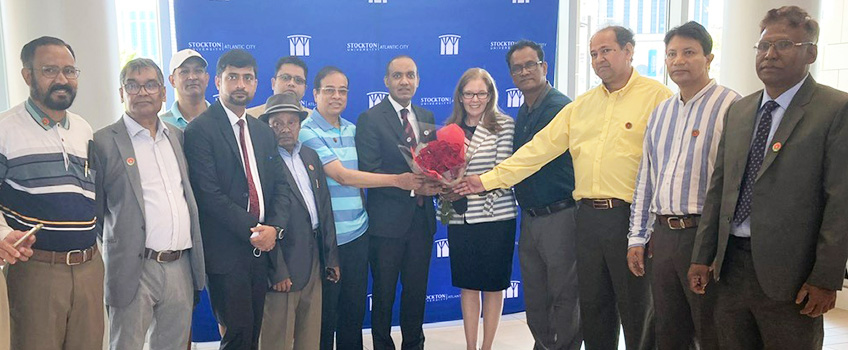 Atlantic City, N.J. – Representatives from the Bangladesh Consulate in New York traveled to the Stockton University Atlantic City campus on May 31 to assist local Bangladeshi residents with visa and passport applications.
The visit was hosted by the Stockton Center for Community Engagement and Service Learning (SCCESL) and the Bangladesh Association of Atlantic County with support from Edbelinda "Mimi" Nambo, supervisor in the Atlantic City Mayor's Office of Special Events.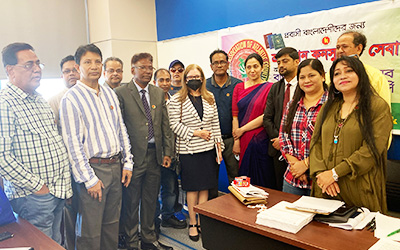 Stockton Center Executive Director Merydawilda Colon met with Bangladesh association members in December as part of the center's community outreach.
"We wanted to see what Stockton could do to support the community, and consular support was one of their most important concerns," Colon said. Stockton Assistant Professor of Coastal Zone Management Shah Kahn also assisted.
Mohammad Khan, president of the Bangladesh Association said there are about 12,000 residents of Bangladesh descent in Atlantic County, and almost 5,000 in Atlantic City. He said having to travel to New York to the consulate was both time-consuming and expensive.
"The consulate will do mobile visits if there is the population density," Khan said. "We met with Ms. Colon and asked if we could use Stockton. We are very grateful."
The Consul General of Bangladesh, Dr. Mohammad Monirul Islam, participated in the event along with his first assistant Prasun K. Chakraborty and other members of the consulate.
"We are very honored that the consul general himself came to Atlantic City," Khan said.
Colon said she would like to arrange similar events with consuls for other communities in the Atlantic County area. She said there has already been some interest from the Pakistani community.
The Carnegie Foundation has recognized Stockton as among the institutions "making significant strides in finding ways to engage with community partners, building on community assets, and addressing a wide array of community challenges."
More information is on the Stockton Center for Community Engagement and Service-Learning website at stockton.edu/engagement, or by calling 609-652-4256.