Azra Mahisa Earns Changebuilder Scholars Award
Galloway, N.J. – Stockton University sophomore Azra Mahisa, a native of Atlantic City, recently received the annual Changebuilder Scholars Award for her work as a student and engaged member of the community.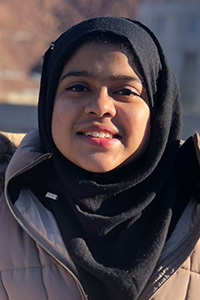 Mahisa was chosen as Stockton's winner through the Engage NJ's AmeriCorps Changebuilders program and received a $1,000 scholarship. The Atlantic City native is a criminal justice major with an immigration studies minor and an anticipated graduation date of spring 2024.
Changebuilders are college-going students of all backgrounds who demonstrate excellence while engaging with issue-driven projects in communities, thereby enabling them to make a measurable difference in their local communities, said Erin O'Hanlon, service-learning coordinator for Stockton's Center for Community Engagement and Service-Learning.
Mahisa recently volunteered at the South Jersey Horse Rescue in Mullica Township, Atlantic County. The nonprofit rescue and rehabilitation facility takes in abandoned, neglected and abused horses. The nonprofit also buys horses at auction that would otherwise be sold for slaughter. The organization takes donations to pay for food, medicine and veterinary services and then re-homes the horses it rescues.
"I have grown a lot from various experiences because it helped me understand my community a lot better and the issues that people and animals face," Mahisa said in her personal statement.
A first-generation college student and daughter of immigrant parents, Mahisa said her career goal is to work for the U.S. Department of Homeland Security.
"My interest lies in working with immigrants to help them in any shape or form," she said.