Short Course Highlights African-American History in S.J.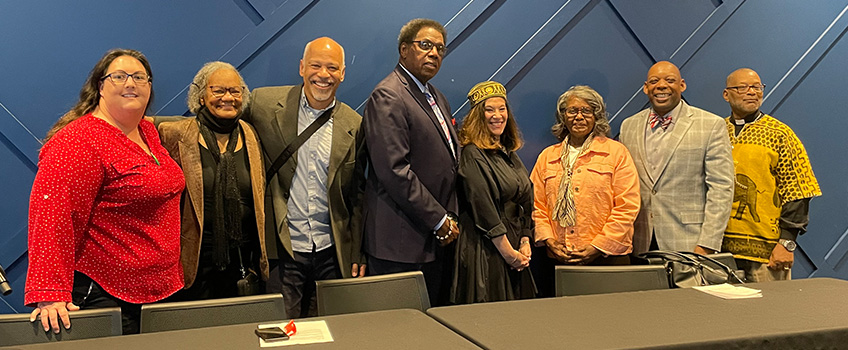 Galloway, N.J. – About 100 people braved a May nor'easter to learn about the history of African Americans in South Jersey at the second African American Cultural Heritage Short Course held at the Stockton Atlantic City campus on May 7.
The daylong event was built around the theme "Migration and Movement" and featured speakers, exhibits, films and a book fair, plus a guided tour of the Atlantic City mural project and the Northside.
"Despite the huge rainstorm, everyone showed up," said Diana Strelczyk, assistant director of the Stockton Office of Continuing Studies, a sponsor of the event. This is the second African American short course and Strelczyk said she hopes to build on the event each year. The first short course was held in 2019, but COVID-19 restrictions prevented the event from being held in 2020 and 2021.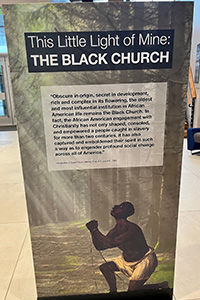 Keynote speaker this year was Henrietta Shelton, founder of the Chicken Bone Beach Foundation and Jazz School. Other speakers included Lester Muhammad and Kaleem Shabazz, who presented a film screening and discussion on the history of Atlantic City's Muhammad Temple #10 from the 1940s to today. Hope Gaines from the Center for Community Arts discussed Cape May oral histories that are included in a new book.
The day ended with an interfaith panel of Atlantic City religious leaders speaking on their involvement in the city.
The event also featured a book fair and an exhibit on black churches in South Jersey provided by Ralph Hunter and the African American Heritage Museum of South Jersey. The exhibit will remain on display in the lobby of the John F. Scarpa Academic Center at Stockton Atlantic City until May 16.