Music Industry Icon Says 'Dream Big, but Plan'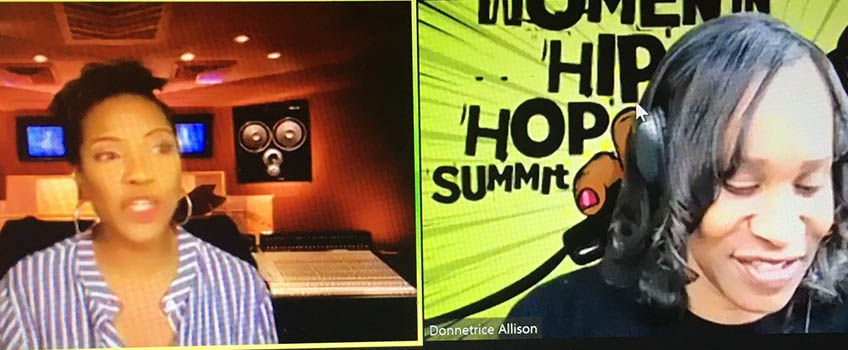 Galloway, N.J. – Dream big, but make a plan, prepare, then put it into action, iconic hip hop artist, actor and producer MC Lyte told almost 175 participants at the virtual Hip Hop Summit, held virtually this year via Zoom at Stockton University.
"To prepare is the best thing you can do," Lyte told the audience, as she shared her story of going from a kid in Brooklyn who loved the arts to a role model and legendary figure in the world of hip hop.
She also told viewers that words have power, and people need to be responsible for how they use them.
"We have been the victim of others words," she said. "I've also been the victim of my own words.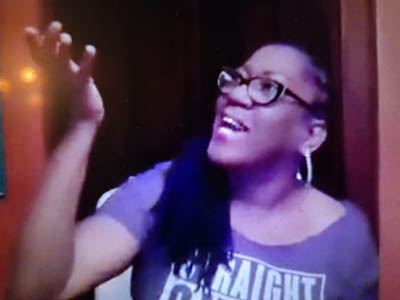 The theme of this year's summit was Women in Hip Hop. Program coordinator and Professor of Communications and Africana Studies Donnetrice Allison, who hosted the event wearing her own "DJ Mello D" baseball hat, said she and hip hop were born at about the same time in the early 1970s.
"Hip hop and I are siblings that grew up together," Allison said. "When hip hop hit, it was like lightning. It spoke to us. It was the soundtrack of our lives."
Allison said today hip hop is still connected to the spirit of those who grew up with it. She noted that before hip hop there was poetry, from Amiri Baraka, Nikki Giovanni, Sonia Sanchez and Audre Lorde.
"Women have always been a part of hip hop," Allison said. "But it was harder to be seen and heard. When MC Lyte hit the scene it brought those stories into the limelight."
Lyte's music career spans some 30 years. She was the first female rapper to be nominated for a Grammy Award, the first rap artist to perform at Carnegie Hall, and the first female rapper to earn a gold single. She has performed at the Kennedy Center Honors and for former President Barack Obama. Her charity, the Hip Hop Sisters Foundation, has presented more than $1 million in scholarships. She is currently a creator and executive produce on the UMC sitcom Partners in Rhyme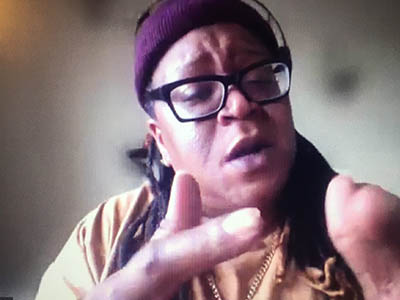 Lyte said she was raised by a single mother who believed in education and the arts and took her to museums and plays and "anything that was free in the city."
She grew to love the entertainment industry, and said the first time she heard hip hop she thought that might be her way into the industry. Whenever she wanted to do something, her mother would make her write persuasive essays to justify it, and through that she started to write poetry and songs. People heard them, and eventually she was offered a recording contract.
She also wanted to act, and took acting classes to prepare. But as she got more well known, and fans followed her, she began to resent the intrusion and wished she was more unrecognizable. As a result, she said, her work suffered for awhile, until she learned she had to hold on to her identity and adapt.
"I liken myself to water that goes over, under, around and through," she said. "There is no stopping. I find the goodness in everything."
She said being considered a legend comes with responsibility, and she is living the life of purpose she always wanted, doing work she loves and helping others.
"I have become the Lyte I wanted to be," she said.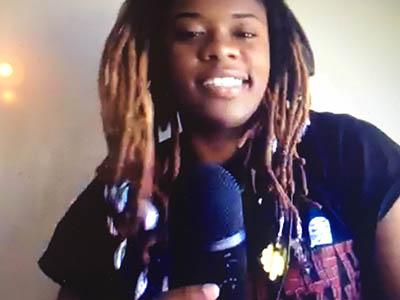 In answer to questions, she advised students interested in a music career to learn about the business of entertainment, and also set their own limits for what they are willing and not willing to do for success.
In response to a question about sexuality among women in hip hop she said each woman has to decide what she is comfortable with. She said lyrically, now is a time when people who want to say something new can find opportunities to do so, but each artist has to find their niche and decide what role they want to play.
"Know what you are in it for," she said. "But don't expect everyone to have the same vision."
To women in hip hop she said "hold your ground. Have self-respect. Know your self worth."
She said in early hip hop the artists never used the "B word" about women, but the word later became popular with the west coast crowd, then travelled east.
"I have seen those who have degraded and dehumanized women," she said. "But until we start acting like queens they will treat us as less. Don't fall into what they expect of you, and that is sometimes what is happening."
The program also included powerful spoken word poetry from Marjorie Barnes, a Stockton alumna. Wearing a t-shirt that proclaimed "Straight Outta Newark." Barnes shared two works titled "I Know My Blues Ain't Over Yet" about life as a Black woman and "Sermon on the Mount" about growing up in the Black church.
Loreal "ElleVintge" Chrisp recited a piece about love and hate and finding one's place in the Black Lives Matter movement.
"There was a protest, and I needed to be there…" she said,
The younger perspective was provided by Sol Chyld, 21, from Camden, who rapped about her experiences growing up in the New Jersey city.
# # #
Contact:
Diane D'Amico
Director of News and Media Relations
Galloway, N.J. 08205
Diane.D'Amico@stockton.edu
609-652-4593
609-412-8069
stockton.edu/media