UBSS Flag Raising Celebrates Black Excellence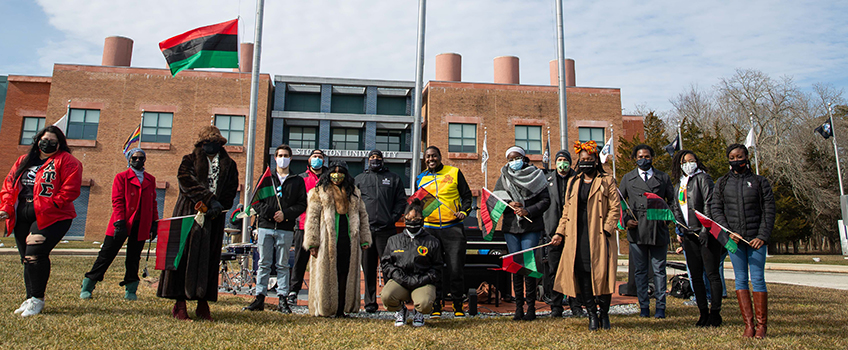 Galloway, N.J. – It was with cold hands, but warm hearts that the Unified Black Students Society recognized Black History Month with its annual flag raising at the Arts and Sciences Building circle on Feb. 10 that celebrated family and excellence.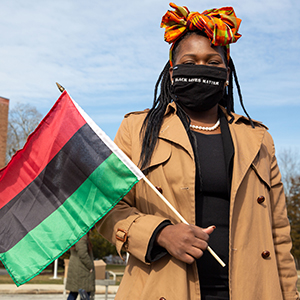 "It is just so wonderful to see you all here," UBSS president Amaiya Roundtree told the crowd of about 25 people. Roundtree said like many students, she is taking her classes virtually from home, and she was thrilled to be on campus with friends, some wearing Black Lives Matter masks.
Roundtree said the Pan-African flag was created to recognize and celebrate Black History.
"Here at Stockton, it gives us a presence," Roundtree said. "It lets you know we are here and we have a voice."
Jesus Barnes, accompanied by Professor of Music Beverly Vaughn on keyboard and music major Charles McBride on drums, gave his voice to the African American National Anthem, "Lift Every Voice and Sing."
Distinguished Professor of Social Work and Africana Studies Patricia Reid-Merritt performed a libation ceremony, which honors ancestors whom, she said, "have lived a good life and left us something to cherish." They included famous activists, actors and athletes, but also family members, victims of the pandemic, and those who will lead in the future.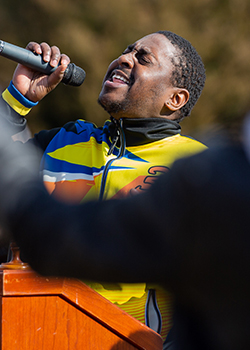 A large number of events are planned throughout Black History Month, and Vice President for Student Affairs Chris Catching encouraged the audience and all students, faculty and staff to participate. He said this year's theme is the Black family.
"Our families are what brought us here, what ground us, gave us a chance to have an education that we can bring back to them," Catching said.
Elizabeth Omolaja, vice president of the African Student Organization read a poem. Assistant Director for Student Development Shedia Laguer, said Black history is American history, and much of what is great in America could not have been achieved without Black people.
"So today, I acknowledge Black excellence," Laguer said. "We are the people who turned oil drums into musical instruments and spoiled fruit into pie."
She said Black excellence is everywhere, even if it is not always recognized or acknowledged.
"Society can hate you, but profit off you," she said. She noted the excellence among faculty, staff and students, including Vera King Farris, who served as Stockton's president for some 20 years.
"Stay excellent," Laguer told the crowd. "Remember who you are."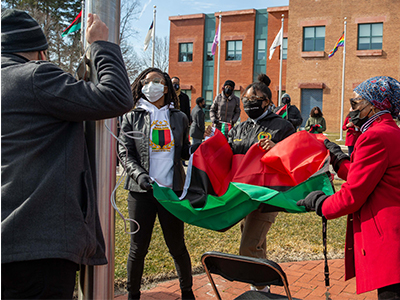 Tricia Onyango from the Stockton chapter of the National Association for the Advancement of Colored People thanked UBSS for their partnerships during the year, and noted that the work continues.
"We have been through a lot, but we are still standing," Onyango said.
Marques Johnson, director of Residential Education and Student Services said those present stand on the shoulders of those who came before them. He told the crowd to keep moving forward with "authority, distinction and purpose."
A calendar of Black History Month events is on the Stockton website.
Photos by Susan Allen/ Stockton University
# # #
Contact:
Diane D'Amico
Director of News and Media Relations
Galloway, N.J. 08205
Diane.D'Amico@stockton.edu
609-652-4593
609-412-8069
stockton.edu/media