Tech Trek 2021 a Virtual STEM Experience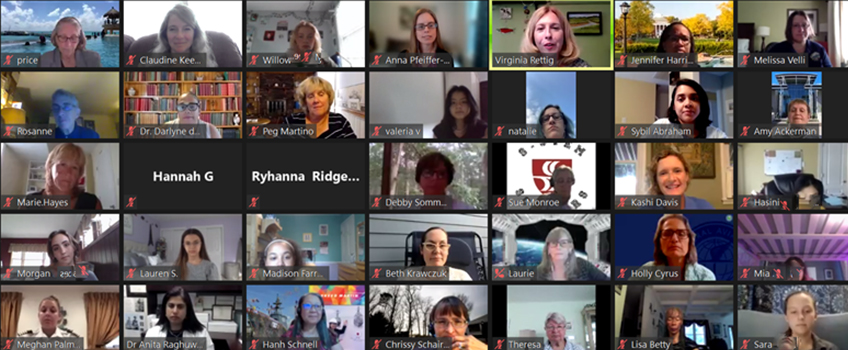 Galloway, N.J. – Forty-seven rising ninth graders from 19 counties in New Jersey did not get to "trek" to Stockton for the annual Tech Trek weeklong summer STEM camp for girls, but they still got a lot of "tech" through virtual classes, projects and field trips.
Co-sponsored in New Jersey by the American Association of University Women and Stockton University, the popular program was cancelled last year by the pandemic. This year the camp was virtual, and each girl received a box full of camp supplies, including robotics, chemistry, biology, art and forensic kits, which were packed by AAUW volunteers and Stockton staff, then delivered to AAUW meeting places around the state where volunteers picked them up and delivered them to the campers.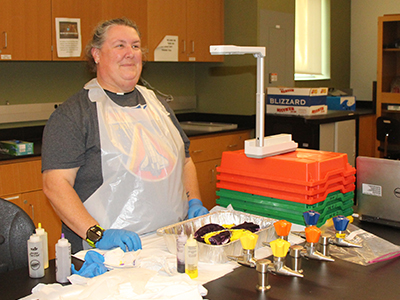 Gina Petruzzelli, a professional services lab specialist at Stockton, led a tie-dye workshop via Zoom from the Unified Science Center, and many of the girls wore their shirts to the closing celebration on Zoom.
Guest art teacher Sara Gray led a class on wire sculpture with Stockton alumna Meghan Hooper-Jackson (TEDU '13) who served as Lead Teacher for the week-long experience.
For Professional Women's Night, students engaged in rounds of virtual speed networking with women in STEM professions at the FAA Technical Center, the Coast Guard, the financial services industry, the computer industry, and the pharmaceuticals industry. Guest professionals included Forsythe Wildlife Refuge Manager Virginia Rettig, Darlyne deHaan (MAEL '13; LEAD '19), educator and founder of Mad About Science, Stockton Assistant Professor of Marine Science Anna Pfeiffer-Herbert, Associate Professor of Instructional Technology Amy Ackerman, and Stockton science and math labs specialist Christine Schairer.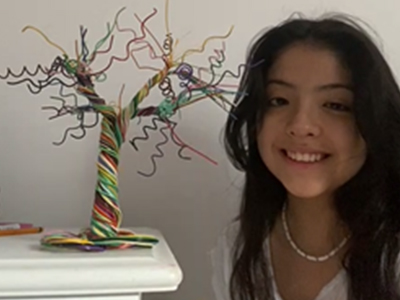 And while there were no actual field trips, the campers did get to see a kidney transplant, solve a forensic mystery, and trace an epidemiological outbreak via virtual field trips to the Liberty Science Center.
"The girls got to talk to a live surgeon, who took their questions during the kidney transplant video presentation," said Claudine Keenan, Dean of the School of Education at Stockton, who coordinates the program on campus.
Camper Lindsey Zaretsky of Northfield wrote that she was grateful for the opportunity to participate, even in a virtual camp.
"I loved being able to spend a week expanding my knowledge of science," she wrote, citing the kidney transplant as a highlight. "Although it was virtual, this camp also gave me an opportunity to connect with people that shared my interests."
New Jersey has participated in Tech Trek since 2015. Its goal is to increase girls' interest and confidence in science, technology, engineering and math (STEM) fields. Girls are nominated by their schools to participate. More information is at https://techtrek-nj.aauw.net/
Stockton and the AAUW also host a one-day Tween Tech for middle school girls on the Stockton campus in January.
# # #
Contact:
Diane D'Amico
Director of News and Media Relations
Galloway, N.J. 08205
Diane.DAmico@stockton.edu
609-652-4593
609-412-8069
stockton.edu/media