Sweeney, Mazzeo Tour Stockton A.C., Meet Students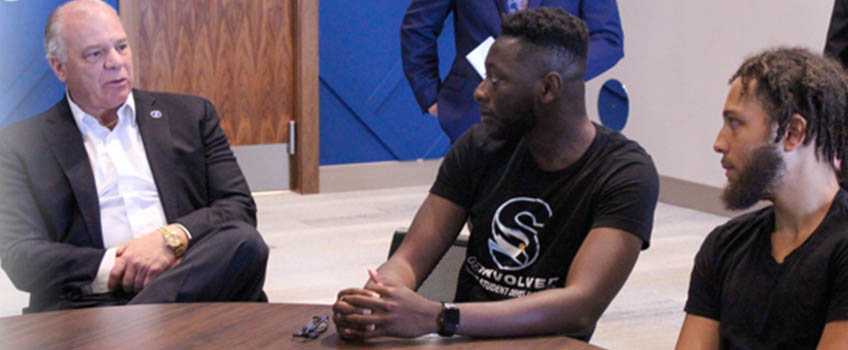 Atlantic City, N.J. - Senate President Steve Sweeney and Assemblyman Vince Mazzeo on July 23 joined Stockton University's President Harvey Kesselman and other officials for a tour of the university's facilities and a discussion with Educational Opportunity Fund (EOF) and Tuition Aid Grant Program (TAG) students regarding the impact of increased higher education funding.
"The Fiscal Year 2022 Budget marked a victory for college access and affordability, especially for low-income students," said Senator Sweeney (D-Gloucester/Salem/Cumberland). "This budget includes substantial increases for EOF and TAG, both programs dedicated to providing aid to low-income students. Everyone should have the opportunity to attend college regardless of their income status and thanks to this budget, we are closer to making this vision a reality."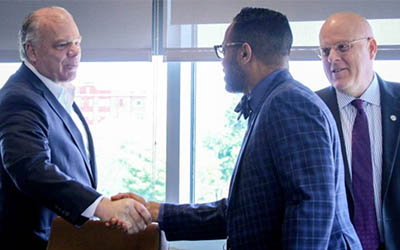 EOF provides financial, academic and personal support to students from disadvantaged backgrounds. The TAG program was established over 40 years ago to help students offset tuition costs at the state's colleges and universities. The programs saw a $4.8 million increase and a $35 million increase, respectively, in this year's budget.
"Investing in higher education has the potential for huge payoffs, and Stockton is already reaping the benefits," said Assemblyman Vince Mazzeo (D-Atlantic). "From new infrastructure projects, to creating a cannabis studies course, it is evident that the university is focused on providing the best educational experience possible for their students. I am proud to have submitted the resolution for this funding for consideration in this year's budget. The increased funding into higher education will be nothing but beneficial for Stockton and I look forward to seeing their future successes going forward."
The tour consisted of visiting the university's Scarpa Academic Center, Residential Complex, and the Atlantic City Campus Phase II site. Stockton Atlantic City opened in Fall 2018 with an academic building, 533-bed residential complex and parking garage. A new 140,000 square-foot student residence hall is currently being constructed and will feature 416 beds, a lounge, meeting room and laundry facilities.
"Thanks to the work of Senate President Sweeney, Assemblyman Mazzeo and their colleagues, the future of Stockton University has never loked better, said Stockton President Harvey Kesselman. "Along with Governor Murphy, they understand the critical role Stockton plays in Atlantic City and South Jersey, and the importance of increased and equitable higher education support statewide in helping our New Jersey students afford college. As Stockton celebrates its 50th year of teaching in 2021-22, their support is one of the best gifts our students and their families could receive. They are truly investing in the future of New Jersey."