Survey Shows 74% of Stockton Students Voted in 2020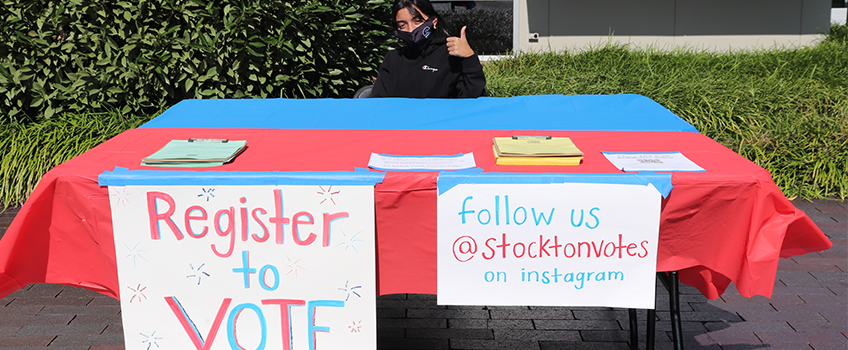 Galloway, N.J. – Stockton University students registered to vote and voted in 2020 at a higher rate than college students nationwide according to a national study released today.
The National Study of Learning, Voting, and Engagement (NSLVE) report on student voting rates in the 2020 election shows 86% of Stockton students were registered to vote in 2020, compared with 74% nationally.
In addition, 74% of all Stockton students actually voted, compared with 66% nationally among the 1,200 institutions participating in the survey.
The percentage of Stockton students voting represents a 23% increase over 2016, when 51% voted.
"This achievement marks continuation of a trend in increasing voting rates at Stockton over recent presidential elections," said John Froonjian, executive director of the William J. Hughes Center for Public Policy at Stockton. "I believe it reflects the good work done over the past decade by members of the American Democracy Project (ADP) coalition."
Froonjian and Associate Professor of Political Science Claire Abernathy co-chair the American Diplomacy Project at Stockton. Abernathy has led multiple voter-registration efforts on campus and the Hughes Center has hosted debates among area candidates in local races.
"Stockton's mission specifically includes preparing students to be engaged in their communities and voting is critical to that process," said President Harvey Kesselman. "I am proud of the work of our faculty, staff and students in producing these impressive results."
Among the report's other findings:
86% of students who registered to vote did vote.
There was high participation across all age groups: 72%-75% ages 18-39, and just over 80% for students 40 and older
There was no difference in voting rates between full-time and part-time students
The highest participation rates were found among students with majors in education (86%), history (84%), interdisciplinary studies (83%), physical sciences (78%) and English and literature students (79%)
2020 statistics reflected the fact that the election occurred during the pandemic, with 94% not voting in person.

# # #
Contact:
Diane D'Amico
Director of News and Media Relations
Galloway, N.J. 08205
Diane.DAmico@stockton.edu
609-652-4593
609-412-8069
stockton.edu/media