Stockton Receives $500,000 Grant to Build Maple Syrup Industry in South Jersey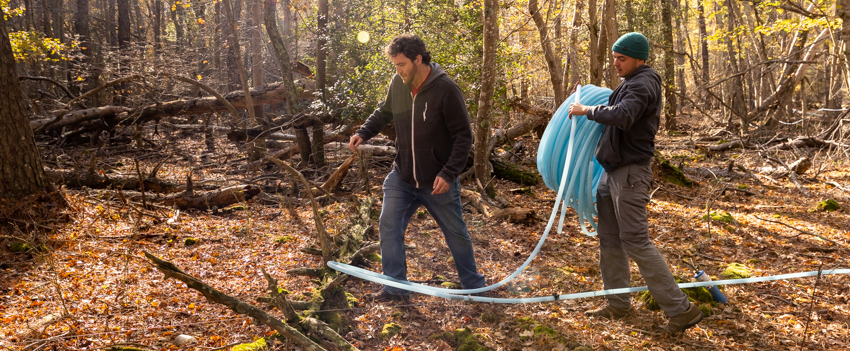 Galloway, N.J. - Stockton University's Maple Grant project gave South Jersey a taste of locally-produced maple syrup, and the reaction was sweet enough that people want seconds.
This year, the project was awarded a second grant from the United States Department of Agriculture for nearly $500,000 over three years to begin building a maple syrup industry in South Jersey.
The funding will be used to develop "production hubs" in South Jersey counties and Philadelphia. Potential hub locations are now being researched. Each hub will receive equipment to efficiently collect sap and produce maple syrup, as well as expert consulting in setting up their operation. In exchange, hub owners agree to tap trees on their property and also receive syrup from local community members who also want a part of the action.
"Whatever trees the hubs tap on their property, they have to accept an equal number of trees offsite," explained Aaron Stoler, an assistant professor of Environmental Science who is leading the grant team. "It's a bit like the apple cider model that exists in some areas: you have an apple tree on your property but no cider press. So you find a local cider press, give them the apples and a small fee, and they give you back some fresh, delicious cider. Except in this case, community members are giving maple sap and getting back syrup."
During the sugaring season, each hub will host an open house to allow the community to "taste, experience and participate to help build that Vermont-esque style culture," said Stoler.
"The second grant is about getting the industry started. This requires two things: people who are excited to produce syrup and a community that is excited to taste and buy the syrup. We need what Vermont has. If you drive to Vermont, you expect to see a sugar shack and you're excited to taste some syrup. People visit sugar shacks in Vermont like people visit wineries around the Finger Lakes," he said.
The grant's engagement specialist, Jethro Heiko, will be working one-on-one with each hub to engage the community and expand outwards. Heiko already has a successful hub model in Philadelphia and hopes to replicate similar models across the region.
The new grant also incorporates an education component that will develop K-12 modules and general educational opportunities to keep the community involved. And in a couple of years, a lending library of evaporators will be created so that schools can borrow the equipment needed to make syrup with students.
A research component will look at sugarbush management. "In southern New Jersey, we are trying to figure out how to best manage forests for red maple growth," said Stoler.
Last year, red maple trees were tapped on campus and in backyards throughout the region. The community connected with nature, spent time outside and made syrup when the world suddenly went into a lockdown.
"The first grant was about building engagement and excitement and developing a sugarbush on campus to show people a Vermont-style sugarbush in southern New Jersey," Stoler said.
Events brought people to Stockton's maple forest and data was collected through soil and leaf litter samples from backyards to help researchers answer questions about the conditions needed for red maples to thrive.
The 90-some red maple trees that were tapped last year taught the team valuable lessons like the ideal time to tap, how to maximize the efficiency of equipment and how many people are needed to run a sugaring operation.
This year, a two-mile web of blue tubing weaves about 400 red maples trees into a network that feeds into a collection tank and quadruples the size of the sugarbush from last year.
Four hundred trees translate into the potential to harvest 4,000 gallons of sap that can be boiled down into 60-80 gallons of syrup.
About a dozen students will be working at Stockton's sugarbush this season, and production will be managed by the grant's research assistant, Ryan Hegarty.
On a fall afternoon, Hegarty and Stoler unwound a roll of tubing through the forest to reach trees that hadn't been tapped last season. The red maple leaves were changing from green to yellow all around them.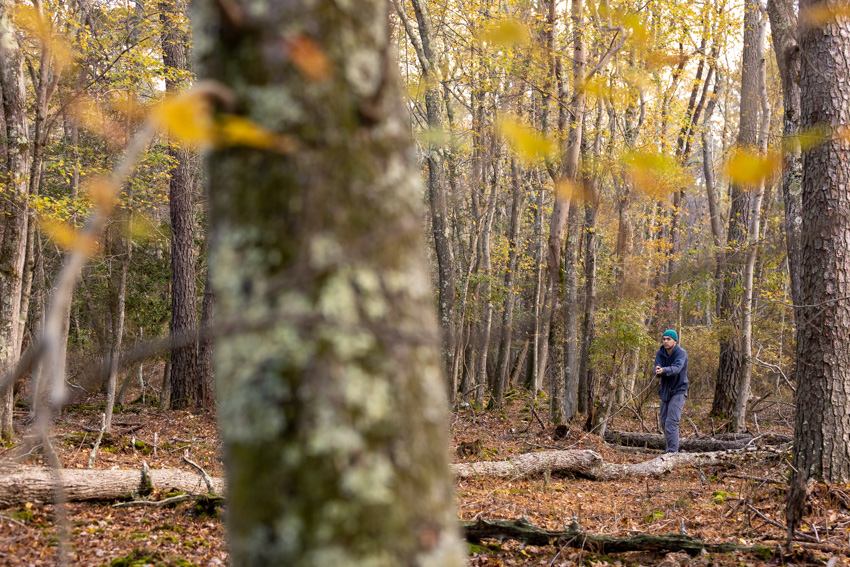 Hegarty, who graduated with an Environmental Science degree this year, said, "It's been a lot of hard work and long hours in the forest this fall to expand our sugarbush to 400 trees for this tapping season. I have enjoyed nearly every second of it because it is so peaceful and quiet working in the forest."
The syrup produced on Stockton's campus is not for sale quite yet. Researchers are still investigating optimal collection and production methods, and all produced syrup will be donated. However, in 2023, maple syrup will be available for purchase to sustain Stockton's hub by funding repairs and employing students who will get hands-on experience.
As winter approaches, Stoler has only one request from Mother Nature. "I'm hoping that Jersey just has a winter like it usually has. That's it. Jersey has a variable climate and that's one of the challenges. We need freezing nights and warm days," he said.
For more information, contact maplegrant@stockton.edu.
Get the latest updates from the Stockton Maple Grant team on Facebook and Instagram or visit www.stockton.edu/maple.
Story and photos by Susan Allen