Stockton Receives NSF Grant for New Sonar System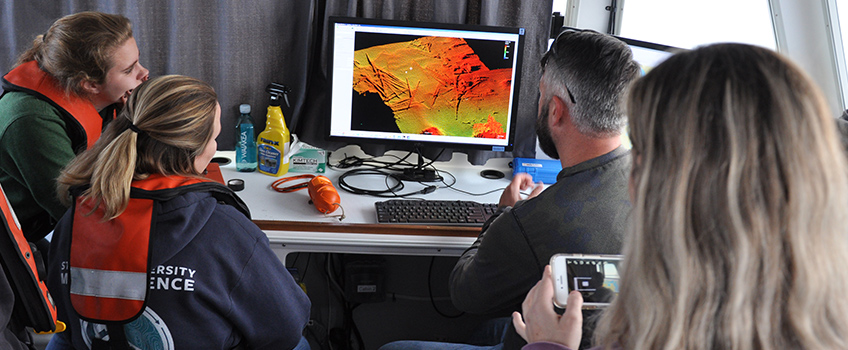 Galloway, N.J. – Stockton University has received a $301,600 National Science Foundation grant to purchase a new sonar system, plus installation, software and training.
The new high resolution multibeam sonar will help researchers visualize the seafloor at greater depths and give students a chance to do real-world hydrography (underwater mapping) work in New Jersey.
Stockton's Marine Field Station in Port Republic, N.J., has been deploying sonar technology with undergraduate and graduate students for more than a decade. Digital side scan sonar, a remotely operated vehicle (ROV) and multibeam sonar tuned for shallow water mapping have created images of shipwrecks, artificial reefs and the ever-changing shape of inlets, and have located abandoned crab pots for marine debris removal.
"Different tools are needed for different jobs. This new sonar will extend our reach from the estuaries and inlets out 50 miles or more," said Steve Evert, director of the Marine Field Station.
The new equipment is scheduled to arrive in the fall. The closest organization with this sonar system is the U.S. Army Corps of Engineers in Philadelphia.
The first project the multibeam sonar will be used for is the mapping of the Little Egg artificial reef, where three vessels were sunk in January 2021. Sonar imagery will document the formation of an ecosystem around the new structures.
Mapping the Brigantine shoals is also of particular interest, since those shifting sands are a main line of protection for Atlantic City.
"Shoals have caused a lot of wrecks, but they also keep barrier islands in position. Sand is always rearranging. You have to know where the sand is to best protect our coastline," said Peter Straub, dean of the School of Natural Sciences and Mathematics, professor of Biology and principal investigator on the grant.
Kimberly McKenna, associate director of the Stockton University Coastal Research Center (CRC), sees the equipment as an opportunity to visualize how to create a more resilient coast and involve graduate students in the Coastal Zone Management program in hands-on research.
Reported by Susan Allen