Stockton Remembers Stephen Dunn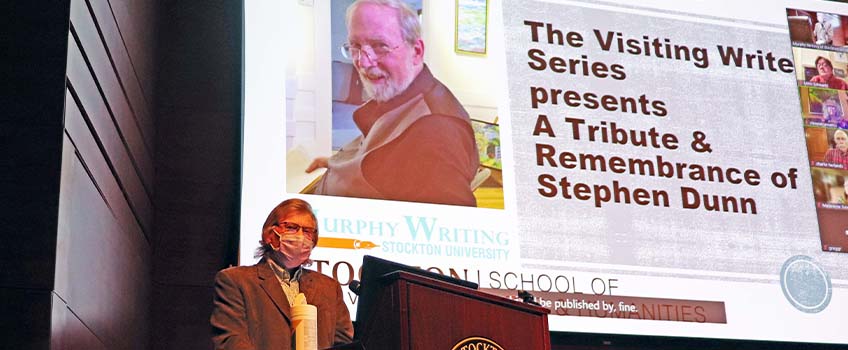 Galloway, N.J. - Much like what Stephen Dunn looked for in poetry, the tribute to his life and work on Wednesday evening was filled with lightness, variety and grace. Tears were shed, but even more laughs were shared as friends, former students and colleagues remembered the man they knew and admired.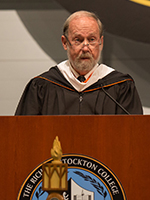 "He loved Stockton, and he loved South Jersey," said Peter Murphy, founder of Murphy Writing of Stockton University. "He wrote many of his best poems about the landscapes and the people who he lived among."
Dunn, a distinguished professor of creative writing at Stockton, authored 21 books of poetry and two books of prose. In 2001, he won the Pulitzer Prize for Poetry for his book "Different Hours." He joined Stockton in 1974 and taught at the university for more than 40 years. He started the Visiting Writer Series at Stockton, which brought some of the greatest writers of the 20th and 21st centuries, including Robert Bly and Lucille Clifton, to the university throughout the years. Dunn passed away in June on his 82nd birthday.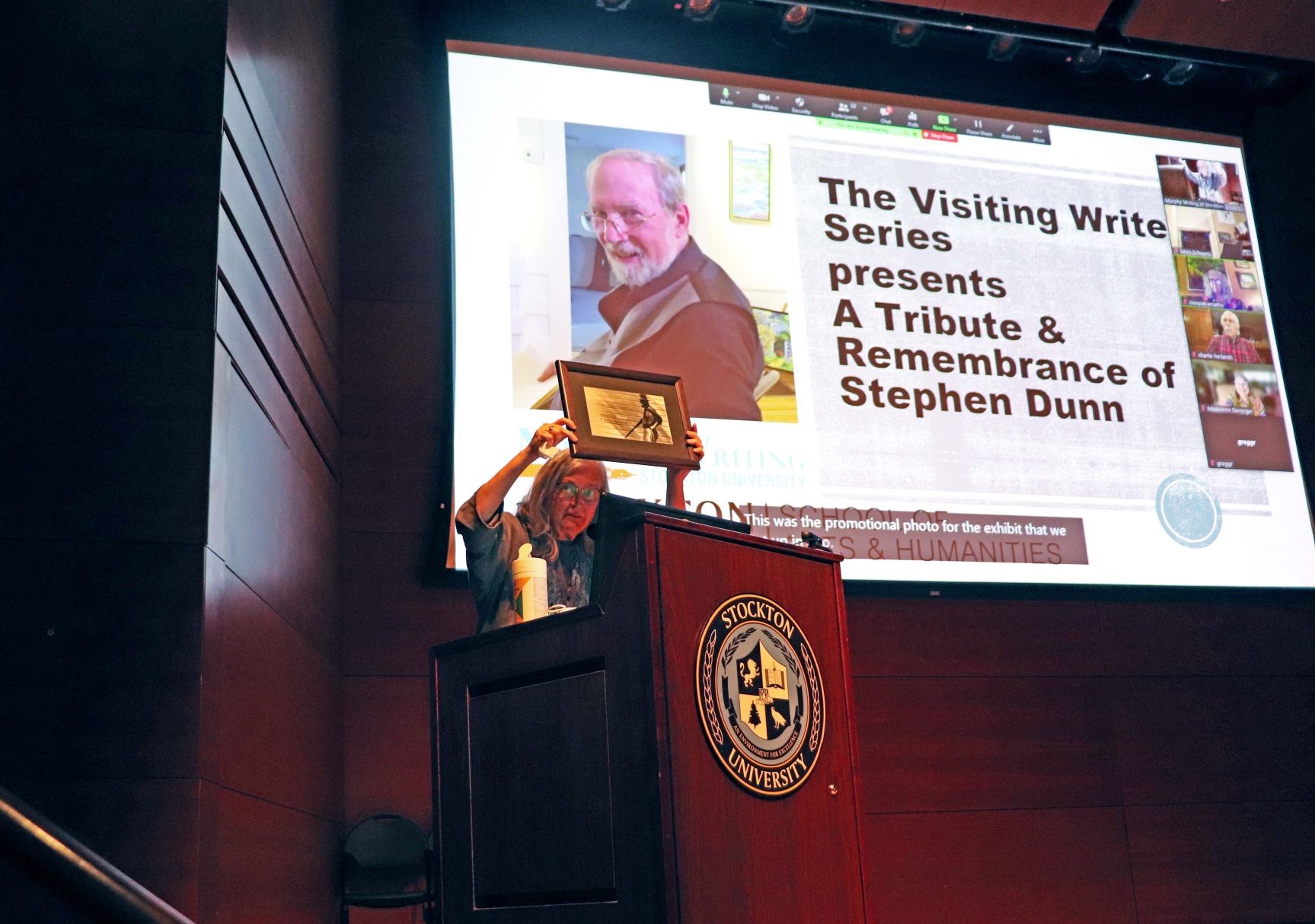 Eighteen people close to Dunn shared their favorite memories and read works by the poet. Lisa Honaker, dean of the School of Arts and Humanities and professor of British Literature, held up a photo of Dunn in a hat smoking a cigar while holding a shotgun, which she explained was used as the promotional photo for an exhibit on Dunn's work in 2011. The photo was gifted to Honaker by B.J. Ward, a former student and friend of Dunn. Ward shared his own story of when Dunn pulled out his shotgun during class and took his students to the lake to shoot their bad poems, sending the pages and words scattering in the air like quails.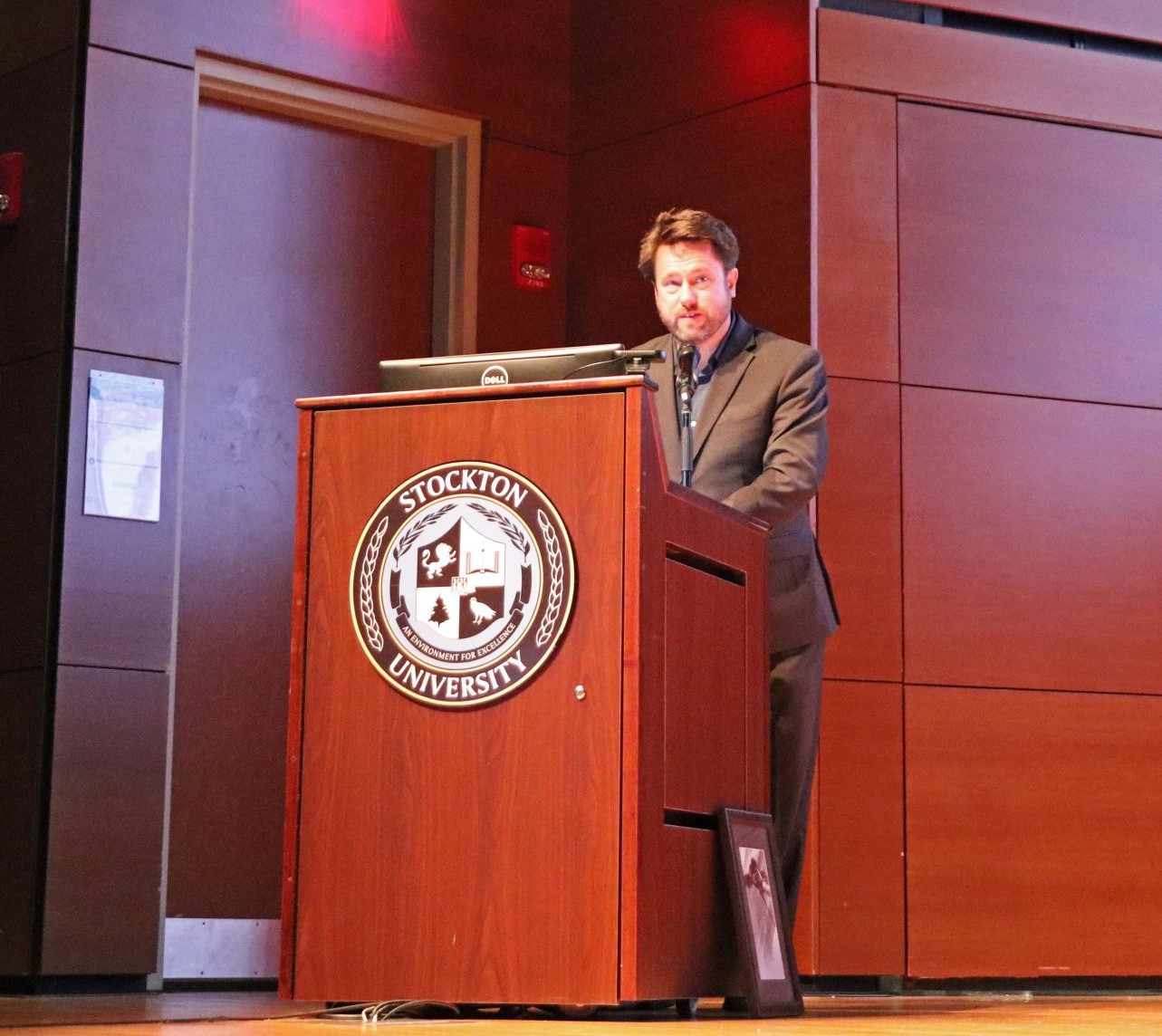 "I can honestly say I've never learned more from a single teacher in class than I learned from Stephen," said Ward. He was by Dunn's side in the last months of his life as they worked together on a new anthology of Dunn's poetry, which is set to be published by W.W. Norton next year.
Professor Emeritus of Mathematics Charlie Herlands was a longtime friend of Dunn. He talked about the bond the two shared over basketball, a theme echoed by many throughout the night. Herlands read a poem Dunn specifically wrote for him on his 40th birthday.
Emari DiGiorgio, faculty director of Murphy Writing of Stockton University and professor of Writing and First-Year Studies, was a student of Dunn at Stockton and New York University. She credited Dunn's belief in her talents for her success as a poet and academic.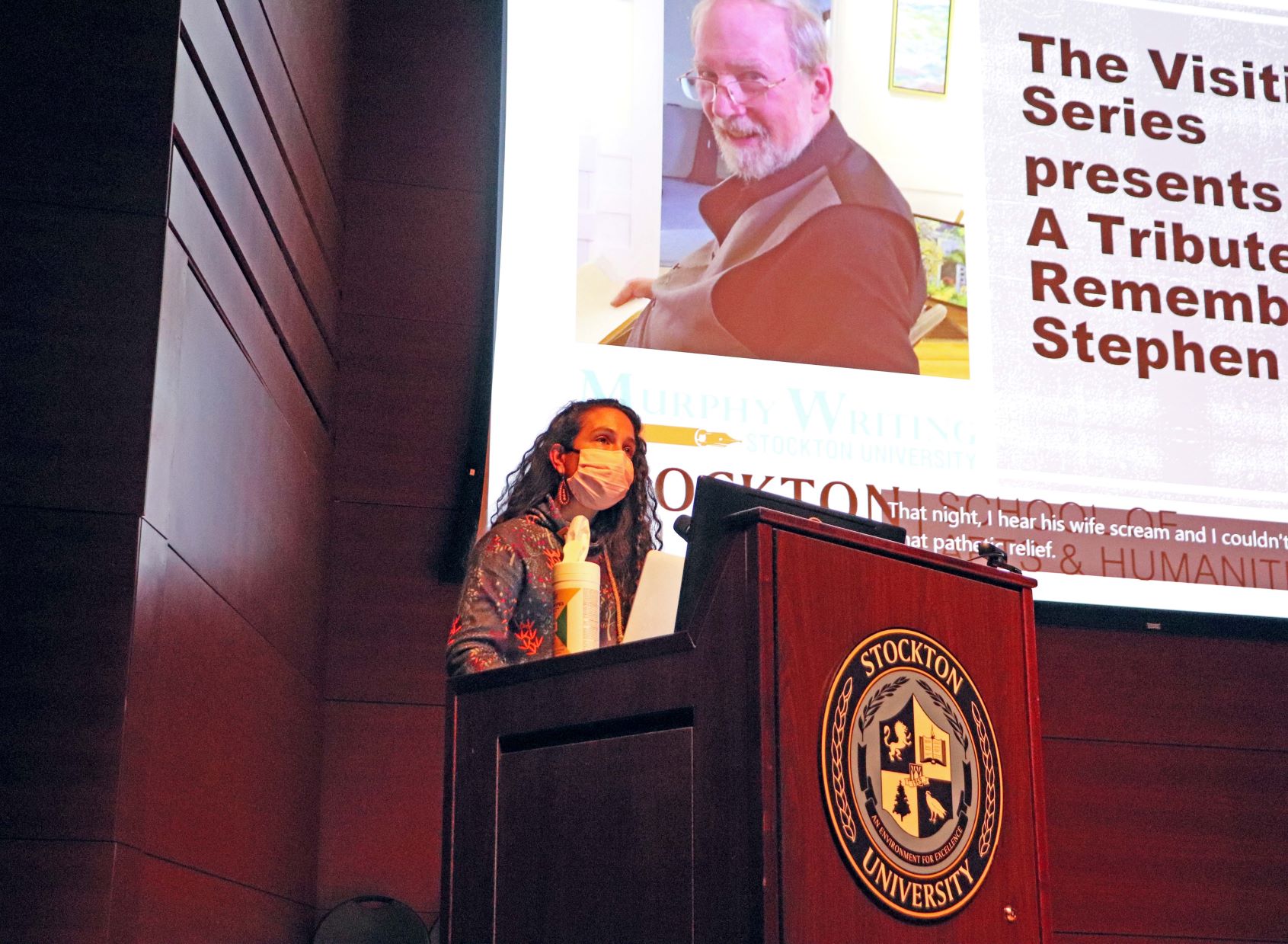 "He saw an intellect and potential that was invisible to me," said DiGiorgio. "And in his quiet, certain way, he asserted that I belonged in those conversations and rooms. Because he only gave praise when he felt it was earned, I trusted when he gave it. Stephen made the life I have now entirely possible, and I'm so grateful for him."
The Stephen Dunn Tribute and Remembrance was coordinated by the School of Arts and Humanities, Murphy Writing of Stockton University, the School of General Studies and Madeleine Deininger '80 of Stockton's Board of Trustees as part of the Visiting Writer Series.
Reported by Eliza Hunt