Spotlight On: Ryan Terrell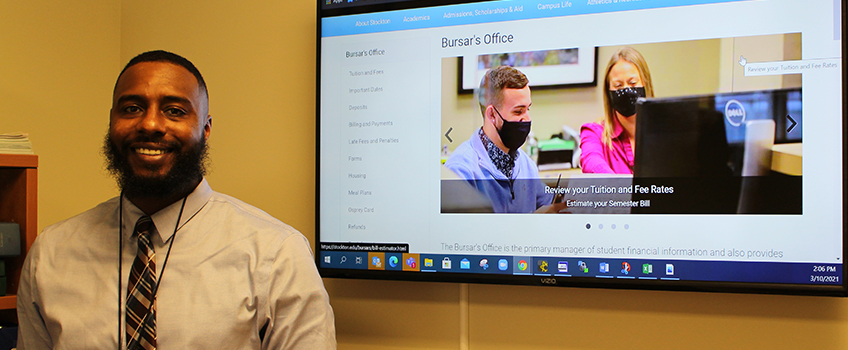 Galloway, N.J. – Stockton University Bursar and Director of Student Accounts Ryan Terrell was named president of the New Jersey Bursars Association at the group's annual meeting March 5.
The association represents the bursars and student accounting professionals at public and private two- and four-year colleges in the state.
Terrell came to Stockton five years ago from Camden County College, where he was the financial aid manager for students with special circumstances. He joined Stockton as an assistant director of admissions and said his experiences in those areas provided him with a broad understanding of student services and how a university operates.
Terrell became bursar at Stockton in July 2020. In his role, he manages student accounts and the central billing of the university. He said the job has become more challenging during the pandemic.
"COVID has affected students, their families and the university," he said. "There are more financial challenges for families, and we do understand. This is about more than just a bill; it's a student's future. We try to clearly communicate with students and be proactive."
Terrell attended Camden County College, where he worked as a custodian while attending classes. He got his bachelor's degree from Rutgers Camden and his Masters in Instructional Technology from Stockton. Since becoming bursar, he has redesigned the office's website to make it more user-friendly and focused on communicating the office's services to students and parents.
He and Director of Information Systems & Business Intelligence Walead Abdrabouh are presenting on Banner Communication Management at the National Association of College and University Business Officers conference in March. Banner is an automated messaging system that allows emails to be delivered in bulk and tracked for delivery.
A native of Philadelphia, he now lives in Washington Township, Gloucester County, with his wife and three-year-old son, and they are expecting their second child in June.
Terrell takes over the role of NJBA president from Leonard Freyre, director of business affairs and bursar at Rowan University. Adrienne Graber from Rowan will serve as vice president & secretary and Jessica Ehlers, student account specialist in the bursar's office at Stockton will serve as treasurer.
# # #
Contact:
Diane D'Amico
Director of News and Media Relations
Galloway, N.J. 08205
Diane.D'Amico@stockton.edu
609-652-4593
609-412-8069
stockton.edu/media