Shoreview Panel Predicts Good Fall Season at the Shore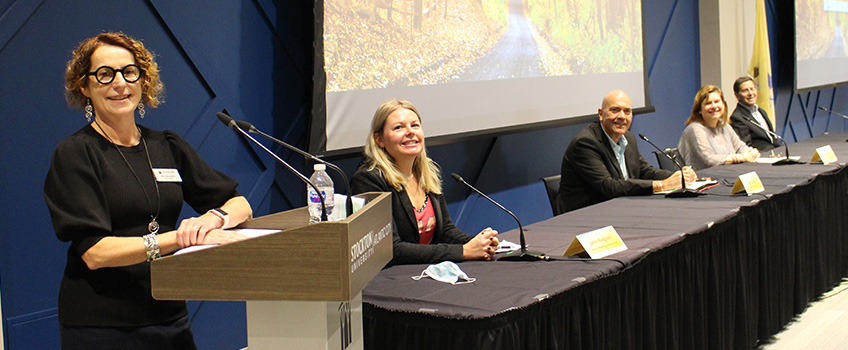 CORRECTION NOTE: One slide on the presentation made during the Shoreview had an incorrect number. There was $35 million in Total Delegate Spending (June-August 2021).
Atlantic City, N.J. - Despite labor shortages, supply chain issues and occasionally less-than-ideal weather, summer 2021 was a success for Jersey shore businesses and fall and winter also look very promising panelists at the annual Shoreview said Thursday.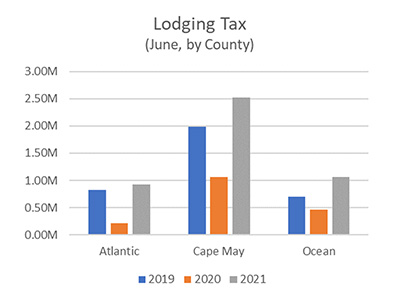 Jane Bokunewicz, faculty director of the Lloyd D. Levenson Institute of Gaming, Hospitality and Tourism (LIGHT), Stockton University School of Business, sponsor of Shoreview, moderated the panel and began with an overview showing the number of vehicles at the Pleasantville toll plaza on the Atlantic City Expressway, and the lodging tax revenue generated in June 2021 were both higher than the same months in 2019, which was considered a good year.
She noted that the only downside was the number of casino employees, which remained about 5,000 below 2019 levels. Panelist Michael Busler later said employment might never totally catch up since casinos adapted and might not need them.
The panelists for the event were:
Michael Busler, professor of business studies and finance at Stockton University
Jamie Hoagland, director of marketing at Tennessee Avenue Liquor
Lori Pepenella, chief executive officer at Southern Ocean County Chamber of Commerce
Larry Sieg, chief executive officer at Meet AC
Following are the questions asked at the panel by both Bokunewicz and members of the audience, and selected responses. The full event can be viewed on the LIGHT website at stockton.edu/light
Q: How was the summer of 2021?
Lori Pepenella: We benefitted from not having as much competition with air travel. People stayed closer to home. The second home sales market was also exceptional.
Larry Sieg: There was live entertainment, and a younger demographic which was more comfortable going out.
Q: How have employment issues affected business?
Jamie Hoagland: We thought we would get a lot of young people, but we didn't. We relied more on our core staff. Some applicants did not have the qualifications. We've been trying to open a pizzeria but can't find a pizza maker and staff.
Lori Pepenella: This was most recognizable in the hospitality business, but that was not the only area affected.
Q: Since 2019, how has business changed, and are those changes lasting?
Larry Sieg: We are working remotely more, on a hybrid schedule, and saw productivity increase. But doing that depends on the job.
Lori Pepenella: We've reimagined events. One day or weekend events may go to monthly. We're tracking the data to see who is coming.
Michael Busler: Technology will stay – touchscreen ordering and delivery. Younger people already did it and older people started doing it and got used to it.
Jamie Hoagland: There is a more relaxed attitude about scheduling to adapt to employee family needs. We're also being more careful about how many takeout packs of things like ketchup we put in an order. We used to just toss them in.
Q: What trends do you see in visitor behavior?
Lori Pepenella: We need to be flexible with things like cancellation policies. Also, the increased use of technology like zoom and online ordering.
Larry Sieg: People are more aware of their surroundings and using things like contactless payment.
Michael Busler: I think every business, no matter how small, needs an online presence today.
Jamie Hoagland: Dining outdoors will stay. Large groups are asking more about the ability to reschedule. We have to be flexible.
Q: What are your predictions for fall and winter?
Larry Sieg: People are doing meetings and events both online and in person, and this has allowed them to grow. Look at the NJEA and League of Municipalities. They are also looking for a clean and safe space.
Lori Pepenella: Labor is still an issue, but there are many weddings and special events, even a bit of a backlog going into 2023.
Michael Busler: Remote work allows people to travel and still work. People can stay in their summer homes year-round.
Jamie Hoagland: We have lots of groups planned and a large tent to dine outside.
Q: What do you see happening with business travel?
Michael Busler: With Zoom, you don't need it as much as it is expensive and time-consuming.
Jamie Hoagland: This week we had to businesses have an event to celebrate their employees for their hard work this year.
Lori Pepenella: We may see new types of business events. People still need to meet.
Q: What is your advice to others in the industry?
Jamie Hoagland: Costs have increased. Be prepared to pay more and spend more.
Larry Sieg: Communicating with employees and customers is key.
Lori Pepenella: Use technology effectively and safely to help people find things. Show them options.
Michael Busler: I would watch inflation. So far higher prices have not slowed spending, but if gas hits $4 a gallon that will slow travel and leisure spending.
Larry Sieg: Look at marketing more regionally. Markets have shrunk, especially for things like restaurants.
Q: Do you have any advice for someone looking for a career in the field?
Jamie Hoagland: Keep an open mind and be patient.
Larry Sieg: Be detail-oriented and creative. There are so many aspects to a busines.
Michael Busler: Be prepared and be flexible. Things will change.
Q: Is video and digital marketing effective?
Larry Sieg: Yes, you are seeing more digital.
Michael Busler: You have to be creative with your marketing. People have to be able to see it for it to be effective.
Jamie Hoagland: Most people say they learned about us on social media.
Q: Why isn't there more local outdoor dining?
Jamie Hoagland: It's expensive to create an outdoor space. If it works, more will invest.
Q: Camping was strong in 2021-22. Do you see that lasting?
Lori Pepenella: Yes, because it was younger people. They wanted pet-friendly, affordable and easily planned.
Larry Sieg: RV sales are also up.
Q: What about the wedding industry?
Lori Pepenella: Planning is back in full force, as well as rehearsal dinners and showers. People are looking at off-site events and being creative. They're not just on weekends anymore. There are no longer traditional constraints.
Larry Sieg: There are also more outdoor weddings. Steel Pier saw an increase of 30%. Venues are becoming more creative.
Q; What about golfing and boating?
Lori: We have seen a lot more first-time boaters.
Q: What about international travelers?
Larry: I think we will see them come back. And I am including Canada on that. We are going to the UK and Germany to generate interest. We want to make Atlantic City part of package tours. Travel has been restricted for so long. People want to come and stay for longer periods.
Michael Busler: It is still difficult to get here. Improving the air travel is a challenge.
"The Jersey Shore is a resilient destination with a lot of appeal for diverse audiences," Bokunewicz said in closing.
# # #
Contact:
Diane D'Amico
Director of News and Media Relations
Galloway, N.J. 08205
Diane.DAmico@stockton.edu
609-652-4593
609-412-8069
stockton.edu/media