Sen. Paul Sarlo Visits Stockton Campuses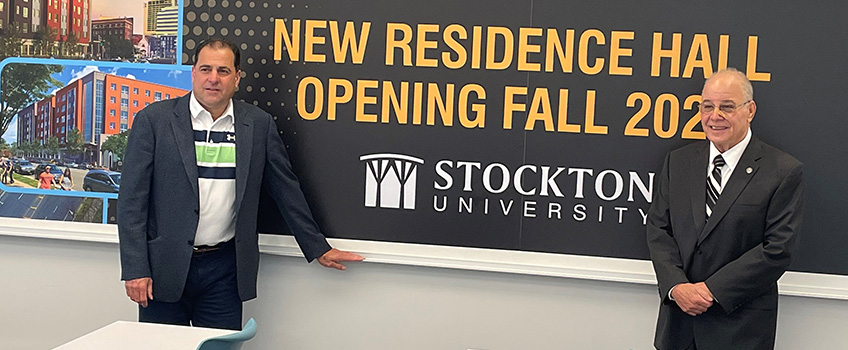 Galloway, N.J. -N.J. Senator Paul Sarlo, (D-Bergen Passaic), chairman of the New Jersey Senate Budget and Appropriations Committee, toured the Stockton Atlantic City and Galloway campuses on Wednesday, Oct. 13 to see the progress of the city campus and surrounding University District, and the main campus growth.
"Sen. Sarlo has been a great supporter of Stockton and a champion for higher education in New Jersey," Stockton President Harvey Kesselman said. "We are thrilled to show him how the state's investment in Stockton is benefitting not just our students, but the city of Atlantic City and the region."
Sarlo toured the John F. Scarpa Academic Center and the Residential Complex located on the Boardwalk in Atlantic City. The campus opened in fall 2018 as part of the Gateway project, which was developed as a public/private partnership between Atlantic City Development Corp. (ACDevco), Stockton, and South Jersey Gas. A second residential complex is also under construction and scheduled to open in 2023.
Sarlo said he was impressed with the campus and its impact on one of the primary entrances into Atlantic City.
"This has been a multiplier investment of taxpayer dollars that is benefitting New Jersey students, preparing our future workforce, and helping to diversify the economy of Atlantic City and the region," Sarlo said.
Kesselman thanked Sarlo for his support for increased state operating aid for Stockton that recognizes the university's growth and contributions to South Jersey. The university is celebrating its 50th year of teaching in 2021-22 and has grown from 1,000 students in 1971 to almost 10,000.
Sarlo also visited the Galloway campus and admired the 1600-acre wooded campus in the Pinelands National Reserve.
"This is such a beautiful campus," Sarlo said. "It's a real asset to the state that students can experience both the scenic pinelands of South Jersey and oceanfront vistas of Atlantic City, all while getting a world class education."
# # #
Contact:
Diane D'Amico
Director of News and Media Relations
Galloway, N.J. 08205
Diane.DAmico@stockton.edu
609-652-4593
609-412-8069